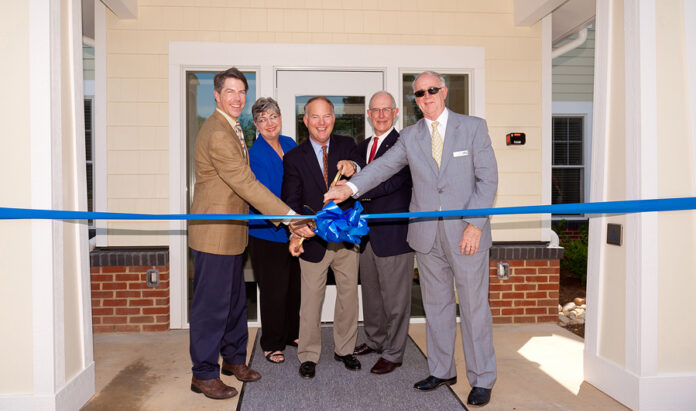 Retirement residents seeking to take advantage of the environmental and health benefits of green living now have a new choice with "The Pines at Brandon Oaks. " City officials, Brandon Oaks executives, construction partners and green business leaders celebrated the completion of the area's first sustainably developed retirement residence with a ribbon-cutting ceremony last week.
"As one of the valley's premier retirement communities, Brandon Oaks is not only committed to the health and vitality of its residents, it is also committed to environmental stewardship. With the opening of The Pines, Brandon Oaks is honoring its commitment to both," said Brandon Oaks Director of marketing Bonnie Allison.
"Residents of The Pines have access to all of the services and amenities that Brandon Oaks provides, including home maintenance, landscaping, housekeeping, community dining, group outings, social activities and much more," explained Executive Director Andy Dickinson. "Living at The Pines, they are also able to take advantage of the health benefits of green living."
Some of the green features that are now available at The Pines include:
• Built on existing and wooded site, featuring native flora
• Energy-efficient lighting, with maximum use of sunlight; Solatube skylights in second floor apartments; motion controlled lighting in common areas
• Tighter thermal envelope with eco-friendly insulation for consistent climate control and maximum comfort all year long
• Water-saving plumbing systems, including on demand gas-fired water heaters, reducing overall water use by 30 percent
• Energy Star windows, appliances and heating and cooling system with eco-friendly coolant
• Low-toxicity paint and high efficiency air filtration for better indoor air quality
• Reclaimed materials from previous residence donated to Habitat for Humanity ReStore
• Fifty percent of construction waste recycled
The Environmental Protection Agency lists poor indoor air quality as "the fourth largest threat to our country," and studies have indicated that pollutants inside a home can be even more dangerous that those found outside.  Short-term exposure can lead to irritation of the eyes, nose and throat, and long-term exposure can contribute to ailments such as respiratory disease and heart disease.
At least two of the new residents at The Pines had this in mind when making their decision about which retirement community to choose.  Margaret Coles, an asthmatic and allergy sufferer, and her husband Skeezix were already impressed with the amenities and services offered at Brandon Oaks.  But The Pines was also attractive to them for many reasons beyond environmental friendliness.
"The Pines are more conducive to asthmatics," says the concerned Skeezix, "especially as Margaret's allergies are so bad we can't even have carpets or drapes."
In addition to being the first to offer green living, Brandon Oaks is the first retirement community in the Roanoke Valley to be certified as a Cool Green Biz by the Roanoke Regional Chamber of Commerce.  In partnership with the Roanoke Valley Cool Cities Coalition, the Cool Green Biz program is designed to recognize member businesses that have made a commitment to sustainable business practices.  To achieve certification, the Brandon Oaks campus was evaluated and scored based on its implementation of green practices, such as reducing waste, promoting clean air and water, conserving natural resources and enhancing the quality of life for employees, residents and neighbors.
Brandon Oaks is a nonprofit lifecare retirement community. Open to everyone, Brandon Oaks operates under the sponsorship of Virginia Lutheran Homes. Established in 1966, Virginia Lutheran Homes (originally Virginia Synod Lutheran Homes) serves residents in three locations: Brandon Oaks in Roanoke, Luther Manor in Virginia Beach and Luther Crest in New Market.
For more information about Brandon Oaks and its new sustainable development, The Pines,  visit www.brandonoaks.net.