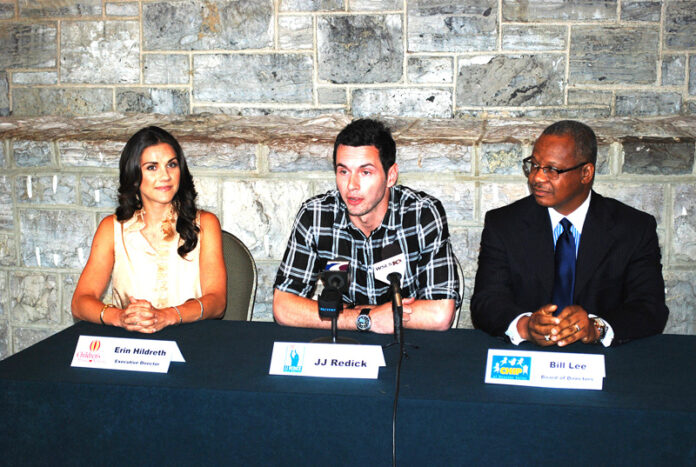 by Bill Turner
Former Cave Spring High School and Duke University basketball standout, and current Orlando Magic guard,  J.J. Redick returned to Roanoke to formally announce the formation of the J.J. Redick Foundation during a press conference held at Hotel Roanoke Friday morning.
The charitable foundation, focused on helping children, is partnered with the Child Health Investment Partnership (CHIP) of Roanoke Valley and Children's Miracle Network Hospitals.
Redick noted that he had worked with mentally disabled children when he was at Cave Spring and, when he was selected to play in the McDonald's All-American game during his senior year, visited the Ronald McDonald House in New York.
"That really touched me and changed my view on things a little bit," he noted Friday morning. "I think in life, no matter what your socioeconomic background, you're going to need some sort of assistance. You're going to need some sort of help to get you where you're going. I wanted the foundation to start with youth and underprivileged kids."
The foundation's initial fundraiser will be a celebrity golf tournament at prestigious Ballyhack Golf Club and gala dinner at Hotel Roanoke scheduled for July 23rd. Although Redick declined to name specific celebrity names, he said "I think it'd be fair to say that there will be some basketball-related celebrities at this event." He added that he would release names as the event draws closer. "There are going to be some well-known names, and some names that have said they're going to come are really exciting. It'll be great for the Roanoke Valley."
In making the announcement, Redick was joined by Erin Hildreth, executive director of Children's Miracle Network of Southwest Virginia, and Bill Lee, a member of the board of directors of CHIP.
"It's been a hard time for nonprofits," Hildreth noted. "To have a celebrity give back, I think that's a really commendable thing."
"J.J. coming and heightening the awareness of the need to help disadvantaged children is great," Lee added. "Every dollar invested in CHIP returns seventeen."
Redick also confirmed the J.J. Redick Basketball Camp for ages 13-18 at the Carter Athletic Center (North Cross) July 25-27th. The camp is limited to the first 60 registrants. "Billy Hicks (Cave Spring HS head coach) is going to be our director," Redick said Friday.
For information on all events visit J.J. Redick's website at www.JJRedick.com