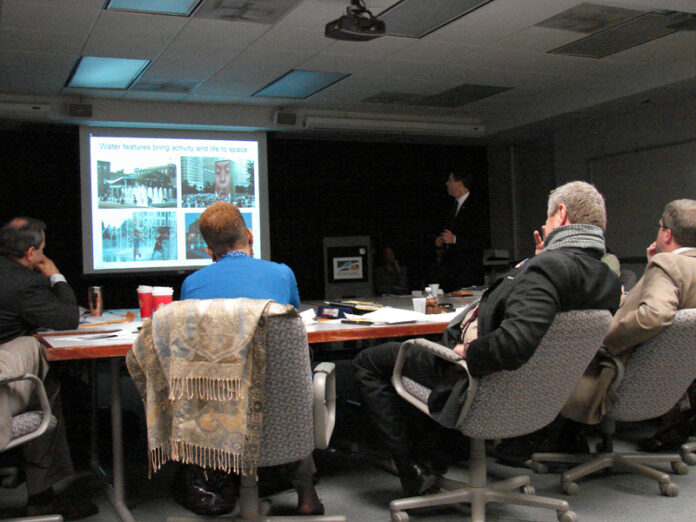 A permanent tent style  stage/amphitheater for Elmwood Park is what City Manager Chris Morrill suggested to Roanoke City Council at Monday morning's briefing. The only problem with such a  structure, "is to get the acoustics right," said Morrill.
Buildings, trees and slopes have to be taken into consideration for the acoustics. The stage will not just be used for large concerts. "To make it multi-use can be a real challenge but it can be done," Morrill explained.
Morrill was careful to say that as many trees as possible will be kept while grading the hill and terracing for seating. Residents have expressed concern over the removal of the shade trees.
The key is to have people still want to visit the park even when there are no events.
"Create active daily use," said Morrill. Relate it to the library better and create a space when programs are not going on. The park as it exists now is closed-in and "the public's perception is that the park is not safe," said Morrill.
"It's not about making it pretty – it's about people," said Morrill. His presentation pictured several variations of possible water features for children to play in. "You want something that kids can run right into," he said.
The internal team will include a design team composed of Parks and Recreation, City Engineer Phil Shermer, Sheila Umberger, Director of Libraries, Debbie Moses City Parking Coordinator, Mark Jamison, Traffic Engineer and Susan Jennings, Public Art Coordinator. All the stakeholders who currently use Elmwood Park will be consulted.
"Public spaces evolve over time," said Morrill. He praised city council for being more realistic in their less expensive approach.
There is $1.2 million previously dedicated for architectural and engineering on the original $12.2 million, 5000 seat amphitheater that resulted from a $211,500 study. The cost stemmed from the debate of whether to place an amphitheater on Reserve Avenue or Elmwood Park.
Council reached consensus Monday on another study that would include Elmwood Park in its entirety. The $300,000 will be used to produce plans that will be ready to be put out for bids.
Though bonds for the project won't be issued until 2013, construction can begin in 2012, according to Morrill.
Councilman Sherman Lea said there are "just a lot of people that don't come to the park. A lot of people separate downtown from the community." Lea reminded Morrill that earlier in the process he stressed bringing in the community and wanted to still see that happen.
Citizens can weigh in at the April 28 public hearing on the budget.
Budget:
John Bingham, Assistant Director of Finance, projected $258.8 million total revenue for fiscal year 2012. Though that is above last years revenue it will be eaten up by inflation.
Cuts: Valley Metro bus service hit the chopping block during budget discussions. Peak service is now running on a 30 minute schedule and will be cut back to one hour. The schedule from 6:15 to 8:15 a.m. and 6:15 to 9:15 p.m. would be reduced to one hour intervals. Also eliminated would be free bus service for college students to downtown. Combined these cuts would save $476,000 and eliminate 14 to 18 driver positions. Assistant manager Sherman Stovall said that drivers were about to enter into union negotiations for a new contract.
Total Action Against Poverty and Blue Ridge Behavioral Health could also be cut but would be restored pending an upswing in revenue.
With ten percent less city employees who are said to be "doing more with less," council discussed a one-time flat monetary bonus distribution.
Schools: Vice-Mayor Dave Trinkle laid out the new simplified school funding formula. It will be based on 40 percent of Roanoke City's local tax revenue.