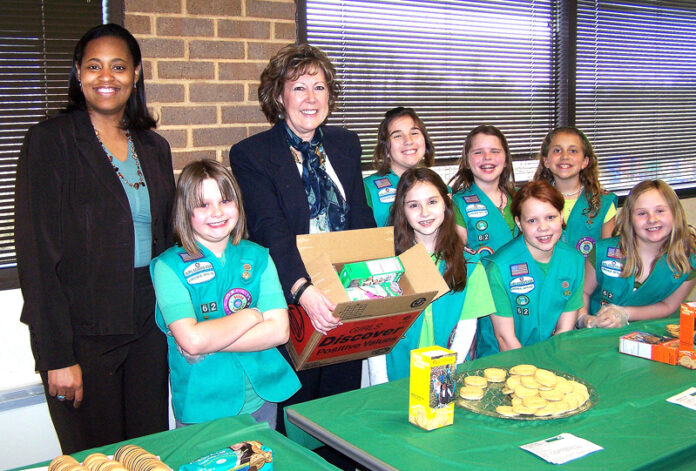 Imagine an afternoon break of milk and Girl Scout cookies, served by the Girl Scouts themselves!
That's the treat that awaited employees at the Kroger corporate center March 17 when they came to the upstairs cafeteria.  At the request of Kroger, Girl Scout Troop 62 of Roanoke had filled long tables with Thin Mints, Caramel deLites and the other six delicious Girl Scout varieties.   Employees could help themselves to the cookies and milk provided by Kroger.
Troop 62 also had a sales table, where anyone could purchase cookies.
The Milk & Cookies Break is a feature — offered by Girl Scouts of Virginia Skyline Council — that gives businesses a simple yet tasty way to thank employees for a job well done.   The business purchases the cookies and provides the milk; the Girl Scouts show up to serve the treats.
"This was a good idea," said Kroger employee Kevin Commons.  "We're getting a chance to relax a bit in the middle of the day."
"It's great," commented Charlie Perfader.  "We should do this every year."
"I love it," said Kristy Call.  "And I love to see the girls come in."
But the best part?  "The cookies," said Jennie Pratt with a hearty laugh.  "It goes without saying."
The Girl Scout Cookie Sale ends March 31.  To order cookies, call Girl Scouts of Virginia Skyline at 540-777-5105.