Add a bit of greenery to your front steps, window box or patio with a winter container garden. You'll find all the ingredients you need at your local garden center, craft store, and maybe even a few in your backyard.
Start with a walk through your yard and look for evergreens and other potential ingredients for your winter containers.  Fruits like rose hips, winterberries, holly berries, crabapples and others add color to the container.  Fluffy seedheads of grasses make a nice vertical accent and add a bit of motion to the arrangement.
Next, convert one or two of your summer or fall containers into a winter display.  The container should be able to tolerate the winter conditions in your area. Concrete, iron, metal, wood and fiberglass containers are best suited for year-round use. Even plastic pots will last for a few years when left outside.
Or start a new container for winter. Repurpose or purchase a container. Nursery pots that once housed trees and shrubs make excellent options. These black containers provide the perfect backdrop for greenery and are available for free from most garden centers and fellow gardeners.
Make sure the pot has drainage holes to prevent water-logged soil and water from overflowing the pot. Fill the container about 7/8 full with a well-drained potting mix.  The soil helps hold the greenery, twigs and other materials in place and adds weight to keep the pot upright throughout the winter.
Consider using a mix of greens for a variety of textures and various shades of green. Pine, spruce, arborvitae, boxwood and junipers may be growing in your landscape and most are available at garden centers. Spruce tips are popular, allowing you to add "mini" trees or create vertical accents in your containers.
Use greens to cover the pot and create an attractive base for your winter display.  Place some branches upright and others at a 45-degree angle so the greens drape over the edge.  Secure the stems by placing them at least four inches deep in the soil.
Now add some color and vertical interest with stems of red twig dogwoods, paper birch branches, berry-laden stems from holly and winterberry and curly willow branches.  Artificial material and outdoor ornaments can also be used. It's your opportunity to get creative.
Do consider adding other elements such as evergreen cones, seed pods, allium seedheads, and balloon plant pods. Leave them natural or add some paint and glitter.
Water thoroughly to remove air pockets and lock your ingredients in place.  Keeping the soil moist until the potting mix freezes can help extend the beauty of the greenery. The winter containers will also last much longer in cooler temperatures. And those displayed in more sheltered locations out of direct sunlight and wind will suffer less drying.
Once your container is complete it is time to relax and enjoy your holiday celebrations.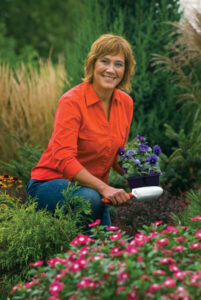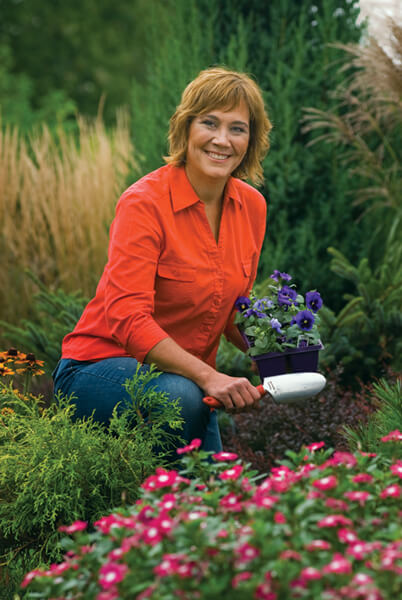 Melinda Myers has written more than 20 gardening books, including the recently released Midwest Gardener's Handbook, 2nd Edition and Small Space Gardening. She hosts The Great Courses "How to Grow Anything" instant video and DVD series and the nationally syndicated Melinda's Garden Moment TV & radio program. Myers is a columnist and contributing editor for Birds & Blooms magazine. Myers' website is www.MelindaMyers.com.