Governor Glenn Youngkin broke ground on the highly anticipated I-64 Gap Widening Project, which will increase capacity and mobility, alleviate congestion, improve safety, and enhance connectivity along the I-64 corridor.

"Transportation drives commerce, economic growth and connects Virginians across the Commonwealth," said Governor Glenn Youngkin. "Through continued investments in our local and regional communities, the I-64 Widening Project will help unlock the corridor to unify the Richmond and Hampton Roads regions and enhance job opportunities and economic prosperity. We've only just broken ground on the project and we're already seeing companies make significant investments along the corridor."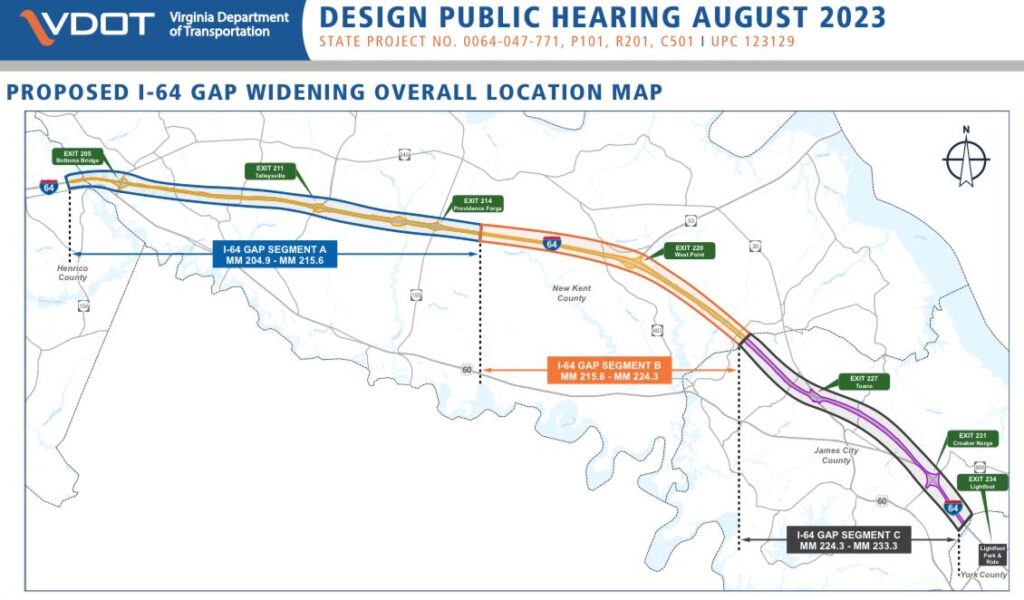 The project, with an overall budget of $756 million, involves expanding the corridor from two lanes to three lanes with 10-foot-wide paved shoulders in both directions. Upon completion, this project will ensure a seamless connection with the Port of Virginia and the rest of the state and nation, driving economic opportunity across the Commonwealth. It will also make travel and tourism easier for families and ensure continued connectivity for Virginia's critical defense community. The economic impact of this project will be significant, with companies like Buc-ee's and Auto Zone already expanding along the corridor.
"The I-64 corridor serves as a key connector between Richmond, Henrico, Hanover, New Kent, Hampton Roads, and James City counties," said Secretary of Transportation Shep Miller. "Connecting the Central Virginia and Hampton Roads regions is critical to growing Virginia's economy, and safety is an important component as well. The I-64 Gap Project will improve traffic flow and operations, including strengthening our emergency evacuation routes and ensuring our communities have a lifeline to safety."
"Adding a third lane in each direction of the I-64 Gap will provide a more efficient and safer connection between Richmond and Hampton Roads," said VDOT Commissioner Stephen Brich. "VDOT is laser-focused on opening this corridor and delivering this and every project on-time and on-budget. Travelers will see work begin on Segment A in mid-November and procurement for Segment C is already underway."
"Interstate 64 is a key evacuation route for Hampton Roads and a major connector for the Commonwealth's defense sector," said House Appropriations Chairman Barry Knight. "The I-64 Gap Widening Project will increase the connectivity of the Commonwealth's national defense infrastructure."
"The I-64 Gap Widening Project will provide generational benefits to the Commonwealth's economic health, quality of life, and our nation's military readiness," said Congressman Rob Wittman. "This is a game-changing project for the communities surrounding Richmond and Hampton Roads, and I am proud to have advocated at the federal level for grant funding for this transformative infrastructure upgrade."
The project has been divided into three sections of I-64, labeled Segments A, B, and C, with each being constructed as an operationally independent project. Shirley Contracting Company, LLC along with Dewberry Engineers, Inc. have been awarded the design-build contract for Segment A which will be administered by VDOT's Richmond District. Work for this segment will begin in mid-November, with an anticipated completion date for all three segments in spring 2028.
Throughout the construction phase, diligent efforts will be made to ensure the continued availability of two lanes of traffic in both directions, minimizing disruptions to the traveling public.
Read more about the I-64 Gap Segment A Widening Project here.