Every gardener, new or experienced, appreciates tools to help them better enjoy their hobby. Some may be looking for ergonomically designed tools to help them garden longer while newbies may need some basic tools as they are getting started. A peek in their shed may help you decide which must-have tool to give them this holiday season.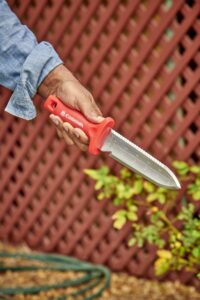 Every gardener needs a bypass pruner for deadheading, trimming and pruning stems between ¼" and1". Bypass pruners have two sharp blades like scissors, making a clean cut that closes quickly.
Bypass loppers allow your gift recipient to cut larger diameter branches and long handles for greater leverage and long reach. The extra reach makes it easier to prune all parts of small trees, shrubs and roses. Consider gifting one with a compound cutting action that boosts cutting power with less effort.
If your favorite gardener doesn't have one, your gift of a weed knife also known as a Hori Hori knife will soon become a favorite tool. It is useful for cutting through sod and roots, planting small bulbs, digging weeds and so much more. Select one like Corona's Hori Hori Garden Knife with a ComfortGel grip (www.coronatoolsusa.com) to help reduce muscle fatigue. The metal runs all the way through, providing added durability and leverage. Include a sheath so they can keep this universal tool handy whenever working in the garden.
Digging small holes for planting in containers and garden beds is a seasonal reality and a hand trowel is the perfect tool for the job. Gift a new durable trowel or upgrade the existing one. Look for one that is sturdy, lightweight and has an ergonomic grip.
A long-handled pointed shovel is a versatile tool. You can plant, transplant, dig holes and more. Look for one with a foot pad to help reduce foot fatigue and shoe damage. Avid flower gardeners may prefer a short-handled spade that makes working in tight spaces easier. Perhaps your gift recipient needs both.
With an expandable leaf rake, you can adjust the width of the teeth, allowing you to reach into tight spaces or cover larger areas. An iron rake is great for moving soil and one with a bow head makes it easier to adjust the depth.
For something different consider an auger bit available in a variety of lengths and bit diameters. Attach this to a cordless drill and you have the perfect tool for planting bulbs and small transplants, aerating soil, and vertically mulching planting beds.
Perhaps you're just looking for a few stocking stuffers. Safety glasses are a must but are often overlooked. Help them protect their eyes from stray branches and debris when in the garden. Tinted ones will also protect eyes from UV light, providing an added layer of safety when gardening in the bright sunlight.
Make it easy for them to keep their tools sharp with the gift of a tool sharpener. Sharp tools make cleaner cuts and require less effort, allowing them to garden longer.  A small sharpener with a cap allows them to keep it handy in their tool caddy or scabbard. If they have easy access, they are more likely to use it to keep their tools in the best cutting order.
Drop a pair of snips in their stocking and they are sure to thank you any time they deadhead a flower, snip off a wayward or dead stem, or harvest herbs and flowers. This is another tool gardeners appreciate duplicates of – one for the kitchen and one for the garden.
Keep them gardening longer throughout the day and for years to come. Gift a kneeling pad or knee pads that protect young and old joints while kneeling in the garden to plant, weed, and more.
Tools make a wonderful gift that will provide years of enjoyment and benefit. Whatever gift you select, your favorite gardener is sure to thank you each time they head to the garden.
Melinda Myers has written more than 20 gardening books, including the recently released Midwest Gardener's Handbook, 2nd Edition and Small Space Gardening. She hosts The Great Courses "How to Grow Anything" instant video series and the nationally syndicated Melinda's Garden Moment TV & radio program. Myers is a columnist and contributing editor for Birds & Blooms magazine and was commissioned by Corona Tools for her expertise to write this article. Myers' website is www.MelindaMyers.com.