The holidays are quickly approaching and finding the perfect gift for those on your list can be challenging. With many people downsizing or striving for a minimalistic lifestyle, finding the perfect gift gets even more difficult. Gifting something that is unique, useful and provides multiple functions may be the solution.
Consider gifts that help family and friends on your gift list save time and space and support their lifestyle and hobbies. These are gifts that are more likely to bring delight than end up in the donation box.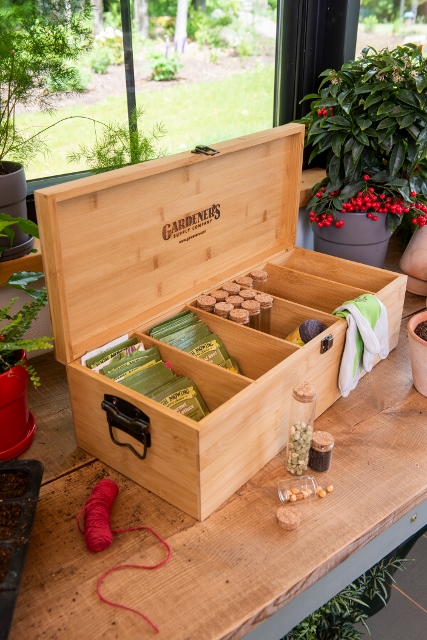 Most people, whether downsizing or not, are looking for ways to organize what they have and save space. Storage bins are often the best solution and come in a variety of styles. Those like the Mod Hod work well for gardeners, crafters and those looking to organize their pantries. Gardeners can use them to harvest their produce, wash off the soil right in the garden, and bring them into the house to store. Crafters can organize their supplies and everyone can stack and store snacks, produce, and just about anything in these.
For a more traditional look, consider the Garden Hod of wood and vinyl-covered mesh. These were originally used by Maine clam diggers to hold and rinse their catch. Gardeners use it to hold and rinse their garden produce, while crafters transport their supplies to their workstations. Those that like to entertain can fill it with and display party supplies at any event.
Help the gardeners on your list keep their seeds organized. Most gardeners have lots of open packets of seeds, newly purchased seeds, and those they have collected from their gardens. It can be challenging to keep them stored properly, safe from rodents, and organized so they are easy to find for future gardens. Management of seed inventory also saves money by preventing the purchasing of duplicate seeds.
Consider a seed-saver kit for the gardeners on your list. Make one from a plastic bin and hand-crafted dividers. Or purchase one like the Deluxe Galvanized Seed Saver Kit for avid gardeners with lots of seeds who prefer a more industrial look. The minimalist on your list may prefer a Bamboo Seed Saver Kit that contains storage envelopes, glass vials and compartments to hold everything in place. Crafters and other hobbyists in the family will also find something like this useful.
Going vertical in the garden and at home is a great way to maximize every square inch. Reaching items on the top shelf may require a step stool. Consider one that also functions as a basket and stool like the Bamboo Garden Stool and Basket Combo (gardeners.com). This sturdy basket with comfortable handles makes carrying tools to the garden, produce back from the garden or any project supplies an easy task. Once you arrive in the garden or workstation, empty the contents and flip it over so you have a comfortable seat.
Gardeners that grow vertically have lots of stakes, trellises, and other items to support plants throughout the growing season.  Leaving them in the garden for winter may not be an option. Stuffing them into a shed or garage can take up valuable space needed for other tools, equipment, and the car. Contain and organize these items with wall storage. Offer to help your gift recipient install hooks on the wall to keep these items organized and out of the way. Or gift them something like the Plant Support Wall Storage container that can be mounted on the wall and is designed to hold plant supports of various sizes and shapes.
Cooks and gardeners alike can always use a cutting board. Gifting one that has multiple functions like the Do-It-All Culinary Cutting Board may eliminate the need for multiple kitchen items. This cutting board has a built-in mortar and pestle, a chopped food compartment, and a knife sharpener on two sides.
And for the person who has everything or wants nothing more, a living gift is the perfect option. A basket of forced spring flowering bulbs can brighten anyone's mood as they watch the plants grow and bloom.
Finding the perfect gift is a challenge but consider the joy it will bring. When you see the look on the recipient's face and the item in use, you'll both benefit from your efforts.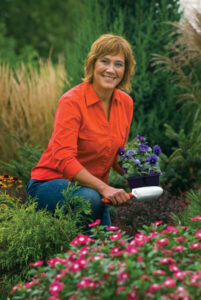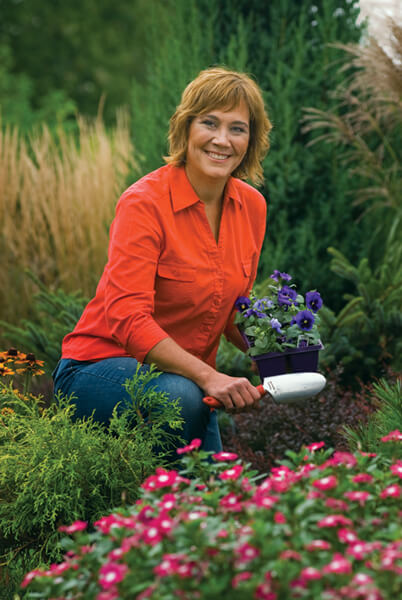 Melinda Myers is the author of more than 20 gardening books, including Small Space Gardening and Midwest Gardener's Handbook, 2nd Edition. She hosts The Great Courses "How to Grow Anything" instant video and DVD series and Melinda's Garden Moment TV & radio program. Myers is a columnist and contributing editor for Birds & Blooms magazine and was commissioned by Gardener's Supply Company for her expertise to write this article. Her website is www.MelindaMyers.com.