The Virginia Department of Conservation and Recreation (DCR) cut the ribbon today at the new Inn at Foster Falls, located within New River Trail State Park. The full-service Inn is the first of its kind within the Virginia State Parks system and offers 10 unique rooms for overnight guests, stately banquet and meeting rooms, a catering kitchen and beautiful two-story porches.
"This historic building played an important role within the Village of Foster Falls for more than 70 years, and now, it has been given a new purpose as a part of the Virginia State Parks system," said DCR Director Matt Wells. "The Inn at Foster Falls is where the past meets the present, and we hope guests enjoy its timeless charm, scenic location and proximity to the 57-mile New River Trail."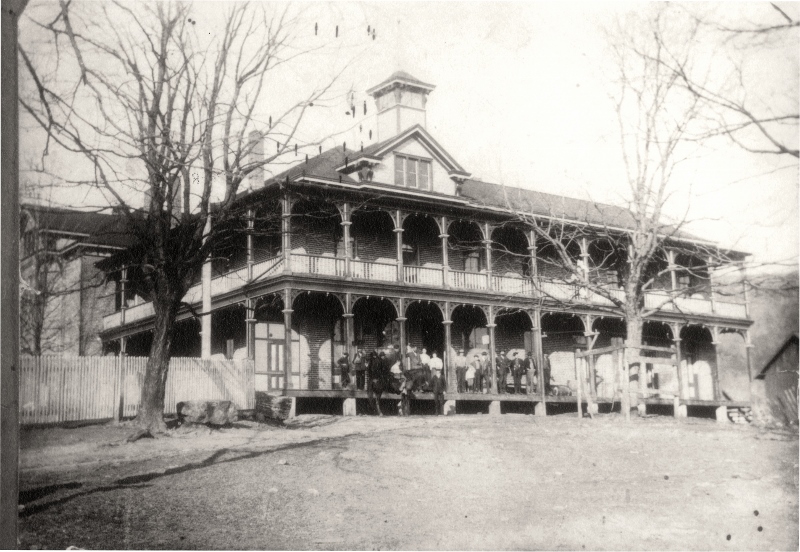 The Inn is housed in a 19th-century building that had been vacant for more than 50 years. In 2013, DCR's Planning and Recreation Resources Department (PRR) started the multi-year process of saving it, a project that required specialized contractors because of its historic nature.
The building has a long history. It opened in 1888 as the Foster Falls Hotel, and for the next 30 years, it also served as a post office, commissary, meeting hall and boarding house for the local mining industry and the Village of Foster Falls.
At the end of World War I, the building was sold and reopened as an industrial school where girls learned cooking, sewing and other domestic skills. Lastly, in 1938, it became the Children's Home of Abingdon Presbytery, a co-ed orphanage with girls in the former hotel and boys in a separate brick house.
The children's home moved to Wytheville in 1962, and decades later, DCR took ownership of the abandoned building as part of an acquisition that would become New River Trail State Park.
Fast forward to 2013, PRR was ready to start the renovation project and selected Greg Holzgrefe, an architect experienced with historic renovations, as project manager. From stabilizing the exterior and new site work to interior renovations and furniture selections, Holzgrefe managed every aspect alongside local architectural and engineering consultant The Lane Group.
For the exterior, the team used vintage photos to recreate the original roofline, which included a vented cupola and two styles of dormers, and the two-story porches, complete with wooden columns, decorative pierced brackets and ball finials.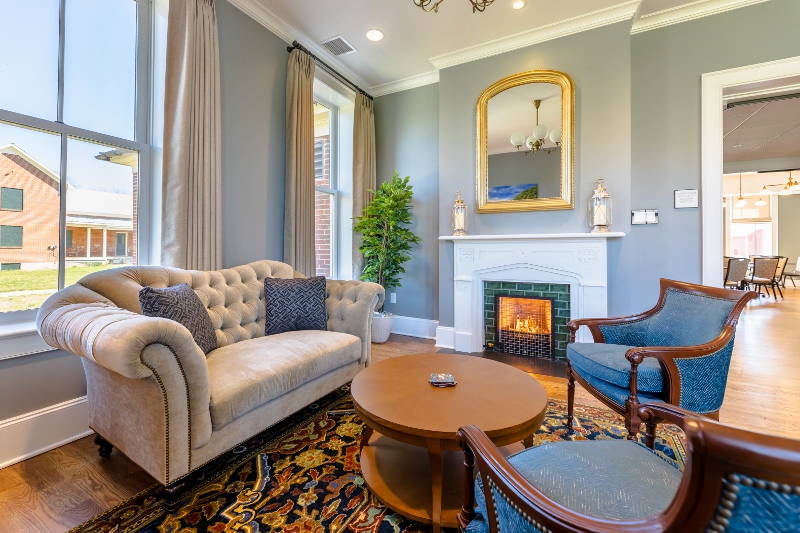 The interior was a full-gut renovation, but a few of the original components were saved, including an original stair and a few walls of tongue-and-groove wainscoting on the first floor. For everything else, the team made sure the rooms had a 19th-century feel but with modern functionalities.
The bathrooms have period tilework designs, often combined with glass showers and other modern amenities. Working fireplaces in the parlor and honeymoon suite look as they did in 1887 but run on gas, not coal. Antique and reproduction furnishings allow for conveniences such as queen- and king-size beds, mini-fridges, microwave ovens and televisions.
Behind all these finishes are efficient, state-of-the-art electrical, HVAC and plumbing systems.
"It is exciting to share the restored beauty of the Inn with the citizens of the commonwealth after years of working on this historic centerpiece at Foster Falls," said Director of PRR Kelly McClary. "I want to thank my team, especially Greg for the attention to detail that was given in this important renovation."
After a competitive bid process, DCR selected a concessionaire to run the facility: New River Retreat LLC. The company opened the Inn at Foster Falls to the public in the spring of 2023.
A centerpiece of New River Trail State Parks, the Inn provides the park with overnight accommodations and other amenities that have been missing for guests since it was formed in 1986.
"We're excited and appreciative that DCR worked to restore this iconic piece of history," said Park Manager Sam Sweeney. "It's taken a decade with a number of individuals and organizations working to see this transformation through its processes, but the end results are spectacular. Everyone is impressed with the beauty and charm. We look forward to visitors from all over coming to visit and stay with us."
The Inn also offers its guests a unique overnight experience complete with a "southern style" continental breakfast, a daily dessert social, dinner service and on-site concierge service.
"We are pleased to restore the Inn at Foster Falls as a place for people to stay while experiencing the park and surrounding communities. Our focus on providing a period experience with modern amenities combined with exceptional service by our partners at New River Retreat is already being appreciated by visitors to the Inn," said Virginia State Parks Director Dr. Melissa Baker.
For more information about the Inn at Foster Falls or to book a room, visit stayinnfosterfalls.com or call New River Retreat at 800-916-9346. To learn more about New River Trail State Park, go to virginiastateparks.gov/new-river-trail or call 276-699-6778.