As reported in Parts One and Two, ten members of the Roanoke College women's swim team held an "NCAA — Save Women's Sports!" press conference on October 5 at Hotel Roanoke, to draw attention to what they described as "emotional blackmail" and "neglect" at the hands of their school administrators, NCAA, and Swim USA.
Although huge headlines seldom spring from our corner of Southwest Virginia, this story has made national and international news. The New York Post, established in 1801 by Founding Father Alexander Hamilton, described the significance of the swimmers' actions this way: "The very public aspect of Thursday's event was in sharp contrast to the culture of fear and silence surrounding the issue of trans women in women's sports.
"When The Post interviewed female swimmers who had to compete against Lia Thomas for an April 2022 story, the majority of parents and their daughters would not allow their names to be used in the story for fear of being shunned, shamed or even retaliated against.
"'This was a historic day,' activist Kara Dansky, president of the US chapter of Women's Declaration International, told The Post after speaking at Thursday's press conference."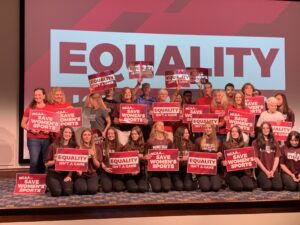 Senior Team Captain Bailey Gallagher, 20, summarized the lifelong love of the sport all the girls alluded to but how they all felt blindsided. "I've been a swimmer my entire life, when my parents enrolled me in a 'learn to swim' program as an infant, and I have been swimming ever since. My first competition was at age 5, and now at almost 21, I see my journey coming to a close.
"This is my senior year, my final year to practice, race, and celebrate with teammates that I now consider to be some of my best friends. Swimming is more than just a sport for me. It's a part of who I am. It has given me discipline, the ability to multitask, a great work ethic, a healthy lifestyle, and some of the very best people to call friends.
"I never expected to be blindsided by a teammate from the men's team wanting to compete directly against me and my teammates on the women's team. When the news broke, I was stunned, as were most of the women on the team.
"I could not eat, could not sleep, and spent a lot of time dealing with anxiety, concerned with how this was going to get resolved. World Aquatics policy protects the Olympians. Where's the NCAA and USA Swimming? Why are they not protecting the rest of us? (…)
"Over the course of the following weeks we were expected to attend our classes and learn, attend practices and perform well, and attend no less than one meeting, six days a week, to discuss this situation.
"During these weeks, not a day went by that I did not feel physically ill. It was hard to even function because every moment I had was being consumed with what I was supposed to accept as the 'new normal,' a 'normal' that I never agreed to be a part of.
"For the first time I considered quitting something that I had loved doing my whole life. I wanted to leave the school I referred to as 'my second home.' It took me a little while, but I came to the realization: 'this is not me. I am not the problem.'
"Throughout the last month, the women's team and I have felt manipulated, helpless, angry, confused, upset, guilted, and most importantly, unheard. The early meetings I attended were not productive. We listened, we spoke, and then quickly learned it was not okay to speak our mind.
"We were somehow 'wrong' in our feelings. After those meetings, I would feel as though my words were manipulated, my feelings cast aside, and I believed that my voice had made no difference. Even worse, the voice of every almost every single woman on my team did not matter, because there was only one person's who did. We were silenced. Where was our right to be considered? Where was our right to be seen as valuable, and most importantly, where was our right to compete fairly?
"How many young women will have to be beaten out by a male, or even have to watch their friends beaten out, before 'enough is enough'? (…) I will continue to fight for the little girl who is learning to swim right now."
The third Captain, Kate Pearson, spoke next. "The sport defines who I am, and has gifted me with endless challenges, opportunities, close friends, and an overall passion for doing what I love. I have felt many feelings throughout my years of swimming, such as determination, joy, disappointment, nervousness, admiration, and excitement. But when I was told that a biological male would be swimming on the women's team, all of my emotions turned to fear.
"Last year our women's swim team ended their remarkable season with a second place finish in the ODAC Conference. This was attainable due to the hard work, motivation, and grit we all collectively put in season long. We were approaching this year hoping to achieve what we had previously accomplished, and even more. But when the team was informed of the issue that would end up fully consuming us, all these motivational factors went right down the drain. Our experience was an emotional rollercoaster that I never want any young girl or woman to ever go on, or deal with. That is why I am standing here today.
"Multiple teammates, even I, have said how these last five weeks have 'felt like years.' The team was put through demoralizing and exhausting meetings, day after day, for the result to be that we were not heard."
The Roanoke Star has reached out to Roanoke College President Dr. Frank Shushok, Athletic Director Curtis Campbell, Swim Coach Brandon Ress, and the alumni association for their statements or perspectives. Director Campbell responded by emailing the official school press release that the school sent out before the press conference; that statement essentially shifted blame to the NCAA. No responses have been received from the others.
TheRoanokeStar.com: more women swimmers' stories are to follow in this series.
–Scott Dreyer