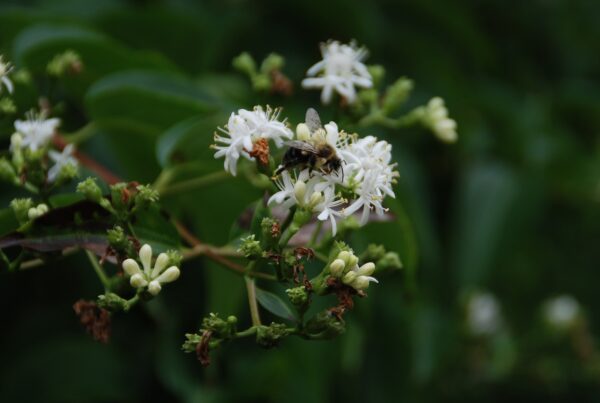 Fall is a great time to add trees to your landscape. Not only do they provide shade, remove pollutants from the air, and help manage stormwater; but many also provide food for bees. Keep this in mind when selecting and planting new trees in your yard now and in the future.
Fruit trees are probably the first "bee" trees that come to mind. These spring flowering trees provide nectar and pollen many native bees, bumblebees and honeybees prefer. They also provide food and habitat for songbirds and other wildlife and fruit for us to enjoy. Many are grown on dwarfing rootstocks, allowing small-space gardeners the opportunity to grow these in their gardens and containers. Just make sure the plants selected are hardy for your location and have the varieties needed for pollination and fruit formation to occur.
Don't overlook the North American native maples that bloom in early spring before most other plants are flowering. Their nectar and pollen provide a welcome food source for native bees and honeybees.  Select the maple best suited to your growing conditions and available space.
Another spring bloomer is black tupelo (Nyssa sylvatica). Its highly prized honey is made by bees visiting the black and water tulepo (Nyssa aquatica). Black tupelo, also known as black gum or sour gum, is hardy in zones four to nine and is an excellent tree for supporting wildlife as well as bees. Water tupelo is a favorite of beekeepers and can be found growing in rivers or coastal swamps but is seldom seen in home landscapes.
Serviceberries (Amelanchier) are a four-season plant with spring blooms, fall color, and attractive bark in winter. These, along with crabapples and hawthorns, are popular ornamental landscape plants with flowers that support pollinators and fruit for the songbirds. Always look for disease-resistant cultivars when selecting the best crabapple for your garden.
The North American native yellowwood (Cladrastis kentukea) is a medium-sized shade tree with attractive spring flowers. It provides winter interest in the landscape, nesting sites for songbirds, and high-quality pollen for bees and other pollinators.
Boost your summer garden's bee appeal with the addition of sourwood (Oxydendrum arboreum), also known as Lily of the Valley tree and sorrel tree. The fragrant and showy flowers appeal to bees and other pollinators. Its ornamental fruit capsules feed songbirds while adding ornamental interest to the fall foliage display and winter garden.
End the season with a burst of fragrance and nectar-rich flowers for the bees, monarch butterflies, and other pollinators with the addition of the seven-son flower tree (Heptacodium miconioides). Once the flower petals fade and drop, the colorful calyx remains adding a vivid cherry red to rose-purple color to the fall landscape. The exfoliating bark adds year-round interest and texture to the garden.
These are just a few of the many bee-friendly trees suitable for home gardens. Try to include a variety of trees so your landscape provides needed nectar and pollen throughout the season or those that fill the flowering voids in your existing landscape.
Don't worry if you have no time to plant trees this fall. Take advantage of the winter to do a bit more research on the best trees for your garden. Then locate potential planting spots with space to accommodate the tree's mature size and the right growing conditions to help it thrive.  Visit your local nursery in early spring and get started planting.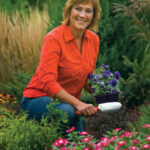 Melinda Myers has written more than 20 gardening books, including the recently released Midwest Gardener's Handbook, 2nd Edition and Small Space Gardening. She hosts The Great Courses "How to Grow Anything" instant video and DVD series and the nationally syndicated Melinda's Garden Moment TV & radio program. Myers is a columnist and contributing editor for Birds & Blooms magazine. Myers' website is www.MelindaMyers.com.