On the evening of Friday, Sept. 22 and on Saturday, Sept. 23, The Virginia Council and Common Sense Society were planning to host citizen-journalist Andy Ngo (pronounced no) at a forum in Richmond. The intention was to hear Ngo speak about his experiences exposing the violence and intimidation from leftwing Antifa and autograph copies of his book, Unmasked: Inside Antifa's Radical Plan to Destroy Democracy.
The original venue was to be at downtown Richmond's Commonwealth Club. According to their website's "Welcome" page, "Founded in 1890, the Commonwealth Club is proud of its history as a premier social club, outstanding event venue, dining destination, and Richmond institution."
However, when word about the event got out, Antifa began an intimidation campaign, club management buckled, and withdrew their welcome. Scrambling, the event sponsors quickly found a second venue: the Westin Hotel, owned and operated by Marriott Corporation.
Seemingly encouraged by their success at intimidating the Commonwealth Club, the bullies next directed their attacks at the Westin by sending threatening phone calls.
As Ngo shared in his PowerPoint, one example of a threat was a tweet on X, formerly known as Twitter, that stated: "Example script: 'Hey, the event this evening features a racist, misogynistic, homophobe intent on provocative neo nazi (sic) speech. His name is Andy Ngo and he's a violent extremist. Many of his attendees are armed neo nazis.'"
The threats fly in the face of all reality. As for racism, Ngo is himself non-white, the first generation son of parents who fled communism in their native Vietnam. As for homophobia, Ngo is himself an open homosexual.
Nevertheless, around 7:00 am on Sept. 22, a mere twelve hours before the event was to begin, Marriott too folded.
The Roanoke Star reached out to the managers of The Commonwealth Club and Westin, Eric Abuneel and Rodney Moubray respectively, asking what was the exact wording and nature of the threats received, and why they chose to cancel.
For generations, the American response to intimidation has been "Do not negotiate with terrorists" because giving in may only invite future attacks. Both managers were asked if they thought, by giving in to threats, they were making future attacks more likely.
In addition, some conservatives are now calling for a boycott of Marriott. They compare Marriott refusing to serve free-speech customers to white-owned lunch counters refusing to serve black patrons during the Jim Crow Era.
No responses have been received from either manager.
Refusing to be intimidated, event organizers scrambled again to find a third venue. Remarkably, within about six hours, they found a spot in Henrico County willing to host the gathering.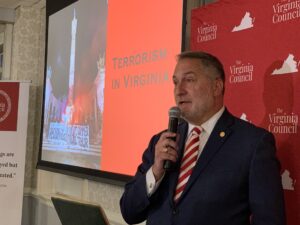 Virginia Society founding chairman John Reid, host of the John Reid talk show on WRVA, had this to say to The Post Millennial:
"The Virginia Council was founded in 2021 to preserve Virginia's history and promote prosperity and the rule of law in the face of violence and destruction by groups like Antifa. We were not intimidated in 2021, and we will not be intimidated now. Good things are worth standing up for. Free speech, the rule of law, truth—these things will prevail over bullying, slander, and intimidation. Andy Ngo was courageous in Portland, and we will be courageous in Richmond. We look forward to an engaging—and clearly very necessary—discussion with him on Friday. And we look forward to partnering with principled Virginians in the months and years to come to advance prosperity in the Commonwealth."
Likewise, the Common Sense Society, the event's co-sponsor, released this statement:
"Andy Ngo has shown courage and resolve in the face of slander and opposition, promoting liberty and exposing hypocrisy despite threats to his physical safety. It is ironic that our original location for Friday's Virginia Forum, The Commonwealth Club, is painting Andy as "problematic" when they only backed out of the event once the truly problematic and disruptive group Antifa applied pressure online. We stand by our friend and guest speaker Andy. We will not fold under Antifa's threats."
To ensure safety, Henrico police were present outside the event, which was held peacefully.
One event organizer gave attendees a welcome message Friday evening from a Henrico County government official. Paraphrased, the message was essentially: regardless of what Richmond City will tolerate, in Henrico County, free speech is honored, this event will happen, and intimidation and bullying have no place in our community.
For those who mistakenly believed that Antifa, intimidation by violence, and domestic terrorism are only problems in "other states," Ngo soberly informed the audience that Richmond's nickname is "Portland East" and is a hotbed for Antifa activity in the American Southeast.
Sadly, Ngo is an expert on the subject of Antifa violence, as he was chased down and attacked by black-clad Antifa thugs in downtown Portland, Oregon in May 2021.
Ngo opened his Friday remarks by explaining that, in high school, he competed in impromptu speaking contests and won some awards. However, the Antifa attack in Portland inflicted a concussion and other brain injury so that now, he must speak from prepared notes and is no longer comfortable speaking off the cuff in front of large audiences.
The audience sat in shocked silence as Ngo explained, due to the doxing, harassment, and death threats against him, he has had to leave his family and live overseas in anonymity.
Although Ngo did not mention the connection, a son of Virginia's junior Senator, Tim Kaine (D), Woody Kaine, has allegedly been an Antifa member, as reported here. The younger Kaine was arrested for his involvement in a riot inside the Minnesota State Capitol in March 2017.
That riot was to protest Trump supporters after President Trump's inauguration two months earlier.
Sen. Kaine will face re-election in 2024.
–Scott Dreyer