Highland County, Virginia's annual fall festival returns with family fun
Highland County's annual Hands & Harvest Festival returns with county-wide fall fun during the weekend of October 6 – 8, 2023, where everyone is invited to celebrate the traditions, harvest, and crafts found in this rural mountain community.
From farms to a fire tower, visitors can experience the sights and tastes of the season while viewing the beautiful countryside of fall foliage.  On the self-guided Harvest Trail, the public is invited to take part in traditional fall staples like cider pressing, making apple butter, or picking pumpkins at local farms and maple sugar camps, or they can try something different like viewing the process of creating colorful barn quilts or taking a tour of a mini equine sanctuary.  While traveling, guests can get their Virginia Maple Syrup Trail passports stamped at five sugar camps – get them while you can before the trail program ends on March 31, 2024 (www.virginiamaplesyrup.com.)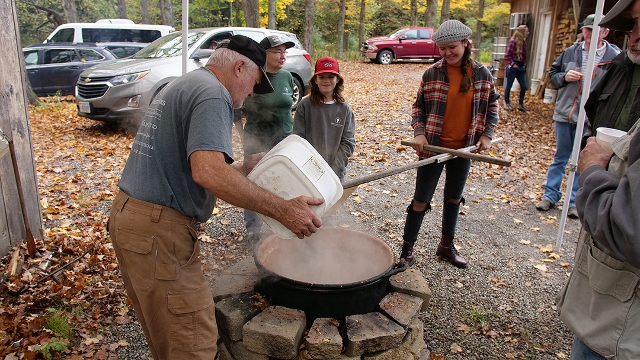 Community activities include an exciting 5K Fall Color Run, Valley AeroSpace Team Rocket Launches, the restored Sounding Knob Fire Tower, popular annual sweater and used book sales, historic Monterey walking tours starting from the Highland Inn, and more.  New attractions like the Charles Pinckney Jones House Museum, the working cattle farm of Hazy Hollow Farm, and the grand opening of the local artist gallery The 3rd Space add to the opportunities to create lasting memories.
Free entertainment in Monterey is also available. Kick off the weekend on Friday afternoon with bluegrass music at the Highland County Courthouse Lawn from Eyes on Him while you shop.  On Saturday starting at noon, children can take a ride on Andy's Bug Train that is sure to bring smiles.  On Sunday afternoon, join in the excitement of an old-fashioned Street Dance on Spruce Street with one of Virginia's oldest clogging groups, the Little Switzerland Cloggers, as well as local square dance callers Ellen and Eugene Ratcliffe for a rollicking performance and interactive fun.
Get an early start on holiday shopping at the Arts & Crafts Vendor Market located on the courthouse lawn.  Complete your shopping needs by visiting an old general store or unique venue nestled among the countryside like Sugar Tree Country Store, Blue Grass Mercantile, Jenny Wren Gatherings, Ginseng Mountain Farm & Store, The Church at the Old Oak, or the new Highland Roots Market.
Bring your appetite, because there will be abundant food options available around the county.  The Friday Highland Farmers' Market, Puff's BBQ, and Martinez Kitchen will be open on the courthouse lawn.  Fall-themed menus at local restaurants with expanded hours are sure to please.  Whether you visit traditional staples like High's Restaurant and Hull's Hideaway Restaurant & Tavern or newer establishments like Claire's Cakes & Café, The Curly Maple, or the Monterey Inn, your taste buds will thank you!  Plus, Big Fish Cider, Co. will be open with their award-winning craft ciders in Monterey.
Many adventures await with a visit to Highland County, Virginia.  The full schedule, details, and addresses of all the festival happenings can be found at www.highlandcounty.org/hands-harvest-festival.  Maps with daily schedules will be available at local stores and on the Highland County Courthouse Lawn in Monterey during the event.
The Hands & Harvest Festival is sponsored to you by the Highland County Chamber of Commerce.  Top sponsors include Bath Community Hospital, Fair Lawn Farm, and the Highland County Arts Council.
  For more information, please visit www.highlandcounty.org