Candace Monaghan, founder of the Beaver Dam Farm Sunflower Festival in Botetourt County, Va., was recognized at the opening ceremonies of the Virginia State Fair on Friday, September 22nd as an Ag Superhero. The Va state fair has been one of Virginia's greatest family traditions since 1854 offering animal and agriculture exhibits, shows, music, fine arts and crafts and more.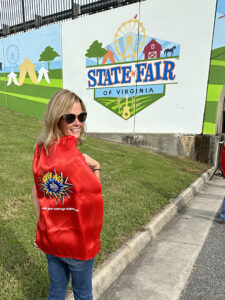 Open each September, the Beaver Dam Farm Sunflower festival has become the largest sunflower festival and vendor show on the East Coast providing over 600,000 black oil sunflowers and 115 food and craft vendors for visitors to enjoy.
"I was thrilled to be included in this group of amazing businesses and individuals! To be recognized for our hard work by the state is a huge honor."
As part of the 2023 State Fair of Virginia Ed Expo, they launched "Superhero" trading cards featuring Virginia's super individuals in Ag and Natural Resources. We asked who Virginia's superheroes are, and you delivered! We turned fifteen incredible individuals across Virginia into modern superheroes– because feeding the world and being a steward of the land is a superpower!
Learn all about the amazing and unique people that make up our industry, take care of the land and put food on the table!
These are not your average superheroes!