Dear Friends,
I'm thrilled to be able to announce that today, on the 159th anniversary of the Battle of Third Winchester, the West Woods has been saved – every dime has been raised – and this priceless piece of hallowed ground is protected for all time!!
We've done it. We have completed one of the largest (valued at over $5 million) and most complicated projects in our history and have forever preserved 34 acres of core battlefield. The West Woods, known as the "Vortex of Battle", was the scene of fighting for more than ten hours. Thousands of troops were drawn in and flung out of the terrible contest that raged there – making this the most heavily fought over parcel of land in the entire Shenandoah Valley.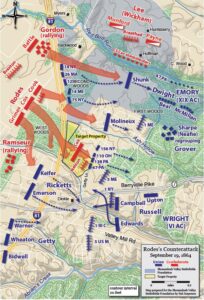 Though not nearly as difficult as the what the soldiers who struggled there faced in 1864, the fight to preserve this property has been uphill all the way and took almost ten years to complete. When we first tackled this project, the property was destined to be developed into a movie complex with multiple theaters and massive parking facilities, but, because of you, the West Woods is preserved and opened to visitors as a part of the Third Winchester Battlefield Park. It was on the cusp of being lost under the blade of the bulldozer but is now a living landscape, an outdoor classroom, where thousands can learn, reflect and remember.
There were many partners over the last eight years who made the preservation of this property a reality – Our friends at the American Battlefield Trust who contributed $100,000, the folks at United Bank who structured our payments to match the irregularity of grant funding and the staffs at the American Battlefield Protection Program, Virginia Department of Historic Resources, and Virginia Land Conservation Foundation who went out of their way bring state and federal funds to the project. It took all of them, and it took every single one of you to get this done and I couldn't be prouder of what we've been able to accomplish together.
Today, large projects and long risks are relatively commonplace around here, but when we began the fight to save this woodlot, we were an untested team, flat broke and rolling the dice on a purchase that could have financially ruined the organization. It was a gamble to say the least. In the end, we put it all on the line because we knew that the property had to be saved and that we were the only ones that were going to do it. Today, we announce total victory! Thank you for all that you continue to do to make days like today possible and victories like this one possible. You are making a real difference . . .
See you at the front,
Keven Walker
Chief Executive Officer / Shenandoah Valley Battlefields Foundation