The Smith Mountain Lake Antique and Classic Boat Society 31st Annual Antique and Classic Boat Show will take place on Saturday September 16, 2023.  This free event will be held from 10:00 am to 4:00 pm at Crazy Horse Marina in Moneta, Virginia.   There will be over 40 beautiful antique wood, aluminum, and classic fiberglass boats, both in the water and on land, displaying the elegance and craftsmanship of America's skilled boat manufacturers.
The show is sanctioned by the Antique and Classic Boat Society, Inc. (ACBS), an international organization devoted to the preservation and recognition of all types of historic, antique, and classic boats, with 54 chapters across North America and Europe. The Smith Mountain Lake (SML) Chapter of ACBS manages this show, which benefits local charities.  Our 70+ local ACBS members, are very active in restoring, showing, and using their antique boats and many will have their boats on display at this show, as well as ACBS members visiting from around the country.
In the last few years, interest has grown in the original fiberglass boats which became popular in the late 1960's as wood boat production was phased out due to shortages of mahogany, production costs, and consumer desire for easier maintenance.  These early fiberglass boats often had unique designs, influenced by cars of the 50's and 60's.  You will see some of these boats at the show, powered by either inboard or outboard engines.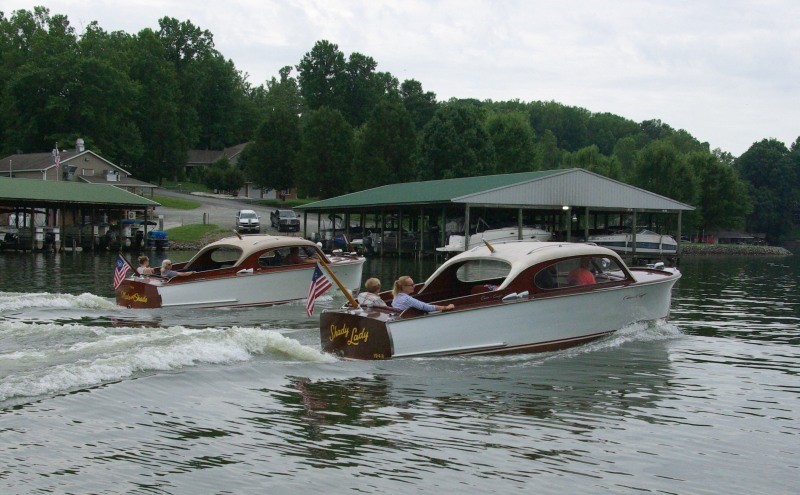 The theme of this years' show is "Double Vision: Celebrating Sister Ships."  Sister Ships are boats built in the same shipyard from the same plans.  As you stroll through the docks during the show, you will see multiple examples of Sister Ships, docked next to each other so you can compare.  Sister Ship brands and models at the show include Chris Craft brand Capri, Custom Sedan, Cavalier and Sportsman Utility models as well as Century brand Coronado's.
Even though boat builders such as Chris Craft and Century built a lot of boats back in the day, their numbers pale in comparison to the production numbers of automobile manufacturers.  For example, in 1957 alone, Chevrolet produced over 700,000 of their popular Bel Air cars, whilst Chris Craft only produced a total of 786 of their popular Capri 19 boats over the four-year period from 1955-1958.
The rarest Sister Ships to be featured at the show are two, 1948 Chris Craft 22' Custom Sedans, "Shady Lady" and "Made in the Shade".  After WWII, Chris Craft and other boat manufacturers switched production back to pleasure craft from military craft and only 436 of these sedans were built over the seven-year period from 1948-1954.  There will be a few rarer boats at the show that are not Sister Ships, which helps us understand just how rare the survival of these Sisters, and especially Twin Sisters, really is.
For further show or chapter information check our website www.woodenboats.net  or contact Chapter President John Coffman at (443) 204-6500 or email: [email protected] .