Governor Glenn Youngkin toured Pointe Du Hoc and the American Cemetery in Normandy, France after the 79th anniversary of D-day on June 6th. The Governor laid a wreath to pay formal respects to the lives lost in World War II, honoring the legacy of American service.
"It was a profound honor to visit the hallowed grounds of the American Cemetery in Normandy, coming face-to-face with the inescapable truth that freedom is never free," said Governor Glenn Youngkin. "On behalf of the Commonwealth of Virginia, I extend my deepest gratitude to the Bedford Boys and all Virginia service members who gave their lives in the name of freedom and in the defense of liberty."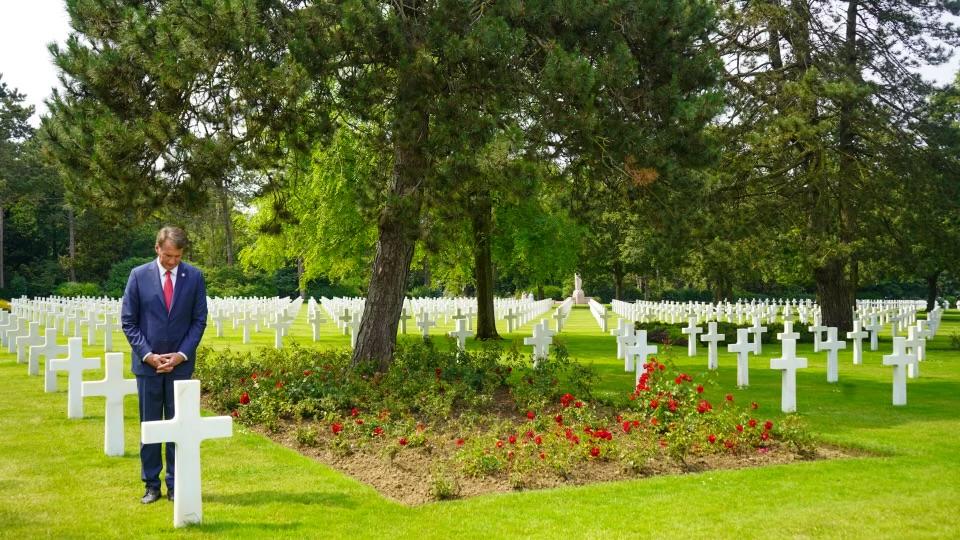 On June 6th, the Governor delivered remarks at the 79th anniversary of D-day in Bedford County to honor the service and sacrifice of Virginia's military heroes. Bedford is home to the infamous 'Bedford Boys,' thirty-five men from the same town who fought on D-Day, 19 of whom lost their lives.
Governor Youngkin also visited the Suresnes American Cemetery and Memorial outside of Paris. This cemetery is the final resting place of the brave Americans who lost their lives in WWI and WWII. The Governor placed American and Virginian flags at the graves of Virginians.
"I am humbled to pay my respects to ordinary Virginians who demonstrated extraordinary courage and made the ultimate sacrifices for their country," said Governor Glenn Youngkin. "It is a privilege to pay my respects on behalf of the Commonwealth of Virginia to these brave heroes."