Carilion has teamed up with DroneUp, a leading autonomous drone delivery provider headquartered in Virginia Beach, to investigate how drones could be used to improve health care delivery in the Commonwealth.
Carilion and DroneUp are conducting a proof-of-concept study to see if delivering crucial medical supplies can effectively be done using drone technology. This three-week trial ending June 22 will explore the ways in which drones can be used to reduce delivery times and costs while allowing frontline caregivers to spend more time with their patients.
"While we're starting in Roanoke and are focused on internal deliveries, this study could have broader applications," said Paul Davenport, vice president of Emergency Medicine. "Curiosity is a core value of Carilion's, and this discovery period will encourage us to be curious about how drones could deliver goods directly to patients who don't have transportation or who live in remote locations. We're asking ourselves: Could drones remove barriers to care?"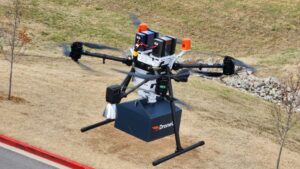 DroneUp's drones are roughly five feet in diameter, fly at around 200 feet in elevation, and typically carry deliveries up to 10 pounds. The drones will operate in an FAA-approved 1.5-mile zone between Riverside Circle and Carilion's Materials Management warehouse on Franklin Road, where they will be launched. During deliveries, the drones will hover above a designated landing zone that's 12 feet in diameter and use a winch to lower their goods.
The drones have a live stream camera feed to allow pilots to monitor navigation from the ground; however, they will not be recording any video.
"Drones present a quicker approach to delivering medicine and medical supplies," said Greg James, vice president of Business Development, DroneUp. "At DroneUp, we're always looking for innovative ways to support consumers through drone delivery. Carilion's core values are aligned with DroneUp's mission and together we will have a positive impact on patient care by revolutionizing the transport and delivery of critical medical supplies, quickly and efficiently, so Carilion's medical team can remain focused on their patients."
Carilion Clinic, recognized by Fortune as one of "America's Most Innovative Companies" in 2023, has long been a pioneer in the advancement of healthcare delivery, having brought Life-Guard, the first air ambulance service in Virginia, to the region in 1982.
"Finding solutions that bring care closer to our patients is part of our DNA," added Davenport. "We think drone technology will help us meet our neighbors where they are."