Freedom First Credit Union commissioned artist James Bullough to paint a new mural on the exterior of the downtown Roanoke headquarters building, located across from Elmwood Park. Bullough is known locally for the striking mural he painted on the West Station building on Salem Avenue next to Big Lick Brewing. On this project, he is collaborating with artist Onur Dinc.
The mural, which faces the 581 Southbound corridor, depicts a woman climbing up a cliff face with the Blue Ridge Mountains and McAfee's Knob in the background. The image is a nod to Roanoke's love of the outdoors and the mountains we call home.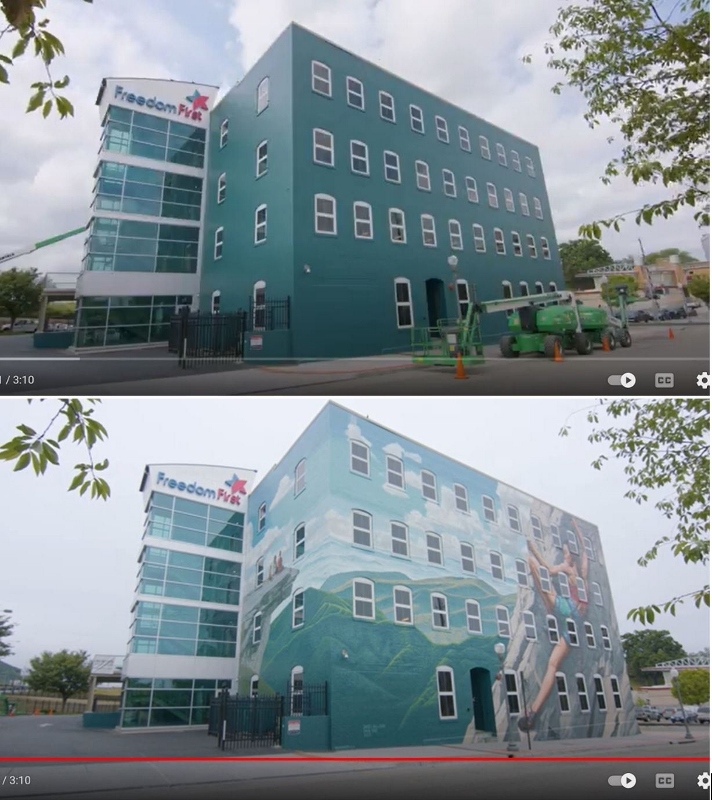 "We seized the opportunity to promote the Virginia Blue Ridge regional brand with this mural," said Freedom First President and CEO Paul Phillips. "This region has such rich culture, arts, and heritage – not to mention the breathtaking mountain views and unique outdoor recreation. It's a destination for people who love the outdoors, and we are proud to be an active partner in promoting that vision for our community."
Freedom First's Elmwood headquarters is located in an Enterprise Zone, an area where Roanoke City is focusing revitalization efforts. Freedom First coordinated with the Roanoke Outside Foundation and Roanoke Arts Commission to develop a concept that would hold meaning for our region while fitting in with the City's numerous other mural projects.
"Freedom First has always been a great community partner, constantly investing in initiatives that build a better community for everyone," said Pete Eshelman, Senior Director of Creative Strategies at the Roanoke Regional Partnership and Director of the Roanoke Outside Foundation. "They support our organization as well as the events we put on – the Blue Ridge Marathon, Go Cross Cyclocross, and the GO Outside Festival. We're excited to see an homage to Roanoke's love of outdoor activity with this mural."
"Folks now get the power of the City's mural projects in helping to re-envision areas ripe for investment and rally community energy," said Douglas Jackson, Arts and Cultural Coordinator for the City of Roanoke. "We're hoping to get even more art onto neighborhood walls and to get more emerging artists involved. We love the opportunity to help our local artists grow."
Watch a time lapse of the mural here https://youtu.be/W4dZ95q8TxA or learn more about Freedom First at https://www.freedomfirst.com.