Leaders of Visit Virginia's Blue Ridge, Roanoke County, Franklin County, and the City of Roanoke have announced the brand-new courses for the 2023 USA Cycling Amateur Road National Championships (June 14 – 17, 2023).
Several hundred athletes from all over the country will be competing for a chance to win national titles in the road race, individual time trial, and criterium.
"We are thrilled to bring the USA Cycling Amateur Road National Championships back to Virginia's Blue Ridge. Few places in America are as beautiful for cycling as the County of Roanoke, the County of Franklin, and the City of Roanoke. The severity of the terrain and the competitiveness of the field will ensure that whoever puts on the Stars & Stripes jersey at the end of the weekend will be a worthy champion!" said Brendan Quirk, CEO of USA Cycling. "If you look at back at history at U.S. Amateur Road winners, it reads like a roll call of the next generation of Olympians, Tour de France stage winners, and World Championship contenders. Virginia's Blue Ridge will be the center of American cycling in mid-June, and it will be amazing to watch the next generation of superstars showcase what they're made of."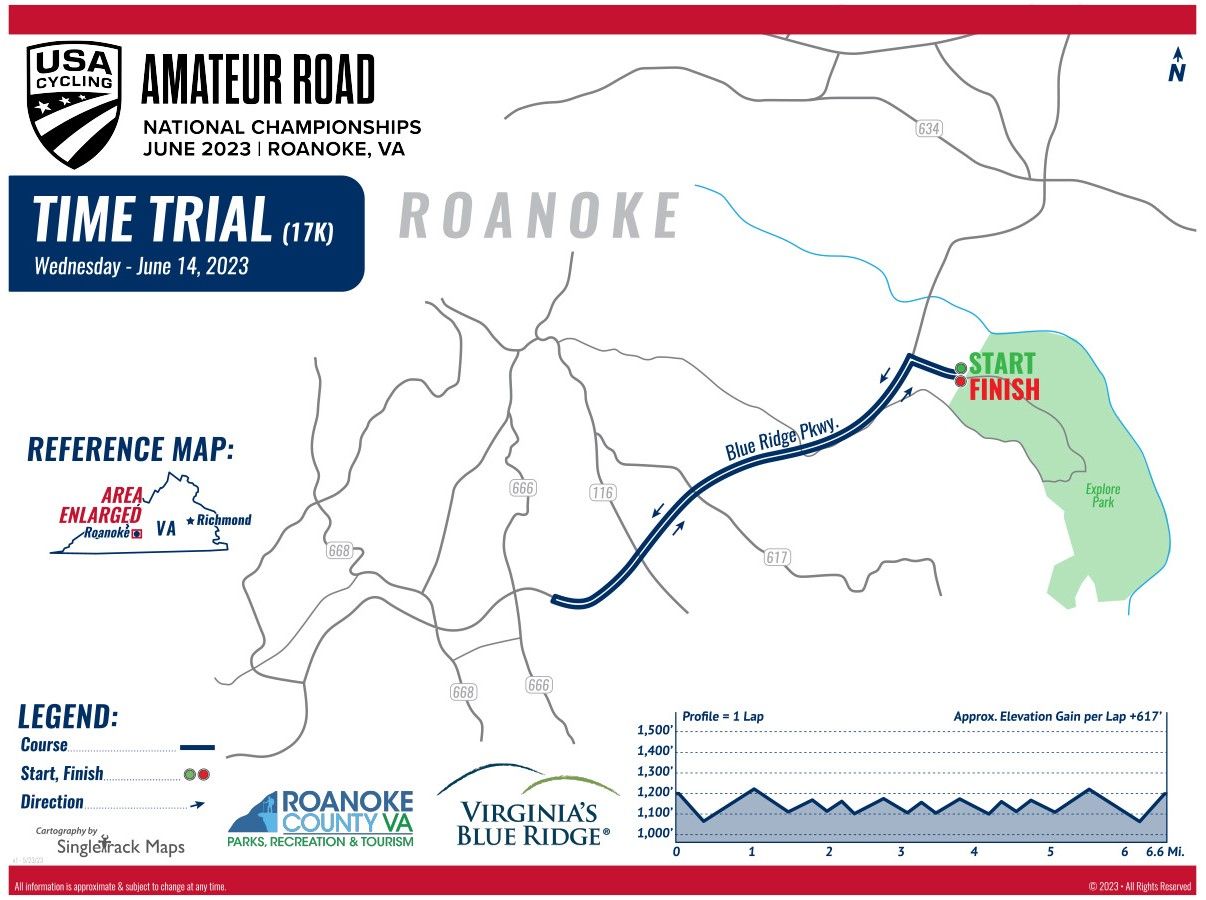 On Wednesday, June 14, racing will kick off with the Individual Time Trial in Roanoke County on the Blue Ridge Parkway, basing operations at Explore Park. Distances include, 6 miles, 10.5 miles and 22 miles. During the week racers will compete in age groups from 11 to 22 years of age in three different races.
"We are truly excited that our region will play host to a national cycling event that not only showcases the natural beauty and hospitality of our communities but also inspires and ignites a passion for cycling in our residents and visitors alike." said Chair Martha Hooker of the Roanoke County Board of Supervisors.
On Thursday, June 15 and Friday, June 16 the road races will begin at Franklin County's Waid Park and traverse the county with age dependent challenging 18-mile and 4.8-mile courses. Athletes will complete multiple laps.
"Franklin County is excited to showcase the natural beauty and top-notch outdoor recreation opportunities that make our community unique." said Chairman Tim Tatum, of the Franklin County Board of Supervisors. "As a county, we pride ourselves in being able to provide first class hospitality, breathtaking views, and an authentic Franklin County experience in any situation. Hosting the USA Cycling Amateur Road National Championship is a great opportunity to highlight what we have to offer to the cycling community both regionally and nationally.  Franklin County looks forward to this being the first of many such prestigious events to be hosted in our community in the years to come."
The four-day event concludes on Saturday, June 17, with a sprinters' race or criterium. The race will take place in Downtown Roanoke. Racers will tackle a unique, broad, five-corner course that will test all riders. The races will kick off at 8:00 a.m. and run approx. 7:00 pm. With speeds approaching 30 mph on a technical course this event is like a Formula 1 car race on bicycles.
"We are honored to be planning and preparing to host the USA Cycling Amateur Road National Championships in Virginia's Blue Ridge for the second year in a row and for the opportunity to showcase the vibrancy of the region. We are also grateful to the County of Botetourt for helping our region lay the foundation for this event by hosting the time trial and road races in its inaugural year of 2022." said Landon Howard, President of Visit Virginia's Blue Ridge. "VBR is excited to welcome these amateur athletes – and their friends and families to our area and we look forward to cheering them in a few weeks."