This annual fundraising event for the 54-year-old non-profit organization that preserves and shares the transportation history of the Chesapeake & Ohio Railway will take place at the C&O Railway Heritage Center museum 705 Main St. Clifton Forge, VA 24422 on Saturday June 10th & Sunday June 11th from 10 AM to 4 PM. Admission is $5.00 per person and, in order to introduce rail history to the next generation of supporters, children three years old and under will be admitted into the event for free.
The region's rail heritage will be celebrated this year with a two-day event that includes a large lineup of fun and exciting features for visitors of all ages.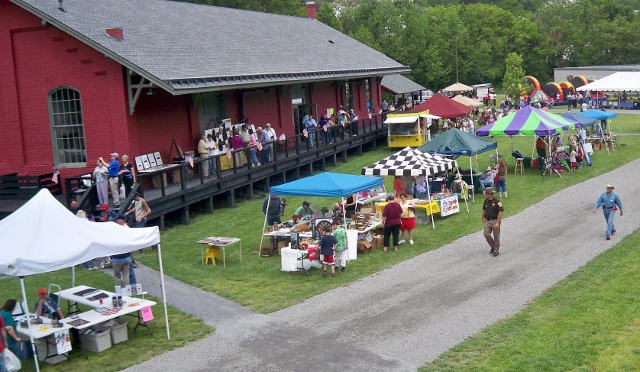 The C&O Heritage Center's popular 7.5″ gauge "Little C&O" ride-on train will be running throughout the extensive museum grounds, which feature a variety of replica railroad structures, such as the 1891 passenger station and the 1920s signal tower "JD Cabin." The two-story structure serves as a great vantage point for watching and photographing CSX's active yard and main line traffic. Beside JD Cabin rests a popular fixture at the C&O Railway Heritage Center: the famed 1948-built C&O J3a 4-8-4 steam locomotive No. 614. During the Heritage Festival, guests can tour the locomotive's cab and sit behind the throttle in the engineer's seat.
Generously donated to the C&O Historical Society by CSX Transportation after a meticulous restoration at the CSX Huntington Locomotive Shop in West Virginia, the SD40 diesel locomotive No. 7534 is the newest example of railroad motive power to be put on public display at the Clifton Forge museum. Now wearing its original C&O Railway paint and lettering, visitors can also take a seat in the restored cab of this 1971-built showpiece.
The C&O Heritages Center's 5,000-square-foot museum, housed in a restored 1896 railroad Freight House, will also be open for visitors. Its indoor exhibits were researched and developed to illustrate the timeline of the railway's push west, taking the visitor through history up to the modern CSX Transportation era.
This favorite event continues with a wide variety of exhibits and vendors covering six acres of the C&O Railway's historic Smith's Creek Yard.
· Over 40 Vendors & Exhibitors
· DJ David Kid
· Big Al from Highlands Media Group (Live on Air)
· 7.5″ gauge "Little C&O" ride-on train
· Great food selection by RJ Concessions
· Twisted Balloons
· Face Painting
· Blacksmith exhibit
· Custom Metal Stamping
· Games
· Train Layouts
· Crafts
And much more – come join us for great food, history, shopping, little train rides and more!