The ribbon cutting and grand opening of Carilion Children's Curiosity Corner at Mill Mountain Zoo took place on May 18, 2023, at 11 a.m. Roanoke City Manager, Bob Cowell, and CEO of Carilion Clinic, Nancy Howell Agee both spoke at the event.
In partnership with Carilion Children's, Mill Mountain Zoo unveiled an educational playground for kids of all ages. Carilion Children's Curiosity Corner will provide a physical outlet where children can learn while they play. The insect-themed playground will showcase life-like insect climbers that will provide fun exercise outdoors while offering up-close exploration for aspiring young entomologists to learn the value of all creatures, great and small.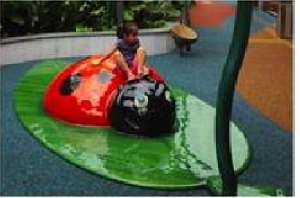 "The goal for this project is to provide a more robust visitor experience while teaching kids and adults about the value insects provide to the ecosystem and that they should be appreciated, not feared," said Niki Voudren, Mill Mountain Zoo's Executive Director.
With the largest team of pediatric experts in the area offering general pediatrics, more than 24 pediatric specialties, a 60-bed NICU, and the region's only dedicated children's hospital and level 1 pediatric trauma center, Carilion Children's was a natural fit to partner in play.
"We are pleased to join Mill Mountain Zoo on this exciting project that demonstrates our shared commitment to the well-being of children in our region," said Agee. "When children are as healthy as they can be, families grow stronger and our whole region thrives."
City Manager, Bob Cowell said, "For more than 70 years the Mill Mountain Zoo has introduced residents of and visitors to Virginia's Blue Ridge to a diverse collection of animals. From its beginning, its mission has remained one built around conservation and education and serving as one of the region's premier destinations. From its start as a children's zoo, Mill Mountain Zoo has had at its core an emphasis on youth – instilling in them a sense of curiosity and wonder about the environment right outside their door and across the world."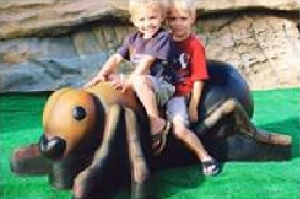 "Niki and her team have done a phenomenal job over the last couple of years of ensuring the Zoo remains relevant and vibrant," Cowell added. 'Today we celebrate the latest of these efforts – preceded by recent celebrations of a new bear enclosure and red wolf exhibit. And I am told there is a small train, known as the Zoo Choo, that is of great importance to this community and is once again running throughout the Zoo."
A growing body of research shows that exposure to immersive, naturalistic exhibits in zoos has proven beneficial to encourage physically healthier children, boosting cognitive and social development, improving sensory skills, increasing attention spans, and stimulating an overall sense of happiness through adventure among children. In addition, studies conducted by Stanford Health report that children who connect with nature are more likely to develop into adults who appreciate nature and become better stewards of the environment.
"Our educational programming of the life sciences aligns with Virginia's SOL academic standards. We are thrilled to partner with our friends at Carilion Children's, and so honored to have their support in bettering our community by helping to provide an accessible, educational, and enriching activity for kids," said Voudren.