Most people have security measures in place to protect their personal information from cyberattacks, but this is not the case for our cow counterparts. While cows may not be sending top secret data between barns or across pastures, the information collected from farms is critical for safe dairy production and distribution.
With support from the Commonwealth Cyber Initiative in Southwest Virginia, Virginia Tech researchers are collaborating with Virginia Military Institute faculty members to address cybersecurity issues in the dairy industry. This collaboration sprang up during the 2022 Agricultural Cyber Field Day, where researchers were challenged to creatively combine their skill sets to solve problems that span multiple disciplines.
The resultant team — composed of experts in dairy science, computer science, agriculture, and cybersecurity, along with Virginia Military Institute cadets and Virginia Tech graduate students — joined forces to improve cybersecurity infrastructure and support workforce development on dairy farms.
"With the limited consideration for cybersecurity in this field, a cyberattack on dairy farm systems would be relatively easy for hackers," said Mohamed Azab, an assistant professor of computer and information science at Virginia Military Institute. "Our project is a workforce development activity that is revealing the vulnerabilities in automated agricultural systems from a cybersecurity point of view."
To strengthen the cybersecurity of dairy farms, the researchers are identifying areas of improvement within farm infrastructure security networks and developing an extended/virtual reality-based platform to train dairy farm workers and familiarize them with best practices.
Prioritizing agriculture cybersecurity
According to the Virginia Department of Agriculture and Consumer Services, agriculture is Virginia's largest private industry, with an economic impact of $70 billion annually. Dairy is among the top five largest agricultural industries in the state. "Cyberbiosecurity" refers to the development of secure automated agriculture systems that can help farmers efficiently and securely keep pace with the industry's economic growth.
"Cyberbiosecurity encompasses all the decision-making from the farm all the way to the food on your table," said Kang Xia, the interim director of the Center for Advanced Innovation in Agriculture in the College of Agriculture and Life Sciences at Virginia Tech. "When you automate farming processes, what vulnerabilities are created, and how can you mitigate the impact?"
On a dairy farm, cyberbiosecurity includes safeguarding everything from data collection networks to cow-tracking devices. Automated systems currently in place on many large dairy farms include pedometers that act like a Fitbit on the legs of cows to track activity as well as systems that assess milk production volume and composition. An automatic calf feeder prepares a computed amount and composition of food for each specific calf.
Because there is an increasing reliance on automation and smart technologies in dairy farms, resilient cybersecurity of the technologies is paramount, according to Gonzalo Ferreira, an associate professor of dairy management in the Virginia Tech College of Animal and Life Sciences.
"The milk supply chain is one of the safest existing food chains, and we want to keep it that way," Ferreira said.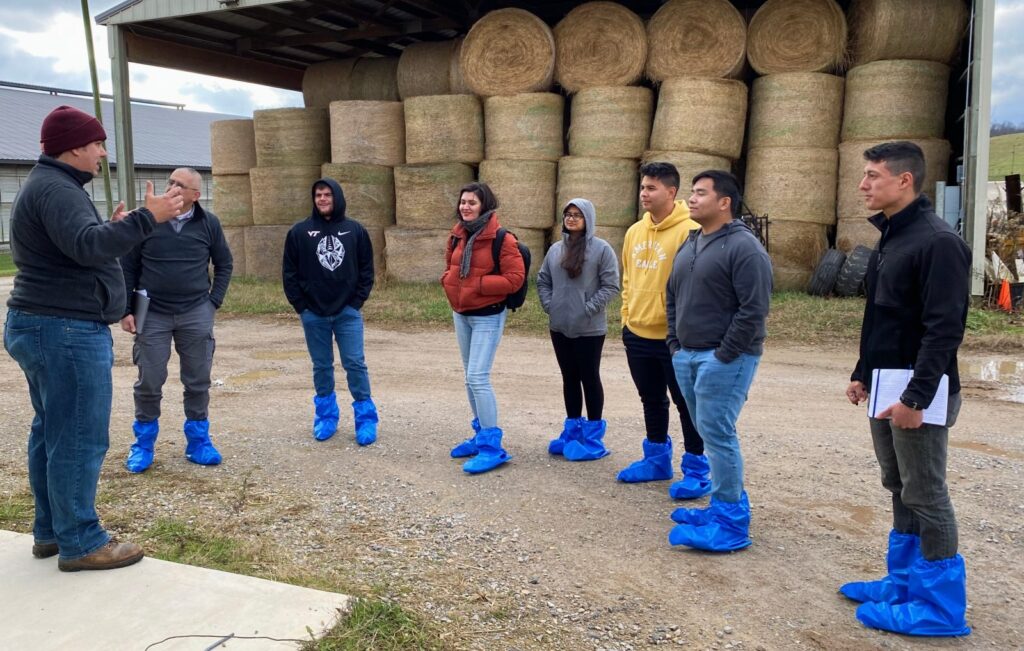 Impact of cyberbiosecurity on a dairy farm
"Think about a fleet of tractors on a large dairy farm getting hacked," said Xia, who is also a Virginia Tech professor of plant and environmental sciences. "That's a huge economic impact."
If a dairy farm was targeted by hackers, the supply chain could be negatively affected, according to Ferreira.
"Anything that messes up the functioning of a robot can be quite catastrophic because cows need to be milked every day, fed every day," Ferreira said. "We make decisions based on the data, so anything that interferes with the data is going to affect the sustainability of that dairy farm."
Many farms use dairy equipment from companies whose servers are located overseas. The data is exported to the overseas servers, then back to the device on the farm, which is a long way for information to travel and significantly increases the chances of interception by a malicious hacker, said Denis Gracanin, associate professor of computer science in the Virginia Tech College of Engineering.
"They can sell data to competitors, they can monitor production, they can even use it to influence the market," Gracanin said.
Bringing the farm to the cybersecurity classroom
In addition to the cybersecurity assessments, the research team is also building an extended reality platform to develop a market-ready training method to simulate farm tasks remotely.
The extended reality platform under development is like a video game that allows prospective dairy farm workers to gain a better idea of how to handle complicated agricultural systems before stepping foot onto the farm.
In the future, the platform will support cybersecurity training modules to elevate dairy farm workers' awareness of cybersecurity issues, their potential impact, and how to detect and handle attack situations on a dairy farm.
Written by Julia Tubridy, a science communication intern for the Commonwealth Cyber Initiative in Southwest Virginia