The impacts that sea-level rise will have on landscapes is one of the looming environmental questions that Virginia will face in the coming decades.
Now, a grant from the NASA Land-Cover and Land-Use Change Program will fund a collaborative research project led by three professors in the College of Natural Resources and Environment to model how those impacts will be felt by coastal communities in Virginia and beyond.
"There are two questions that guide this project," said Elizabeth Hunter, assistant professor in the Department of Fish and Wildlife Conservation and assistant unit leader of the U.S. Geological Survey Cooperative Fish and Wildlife Research Unit. "The first is can we use satellite imagery to detect where landscape change is happening from sea-level rise? The second is what are landowners doing in response to those changes?"
From those two questions, Hunter, along with Fish and Wildlife Conservation Associate Professor Ashley Dayer and Professor Valerie Thomas of the Department of Forest Resources and Environmental Conservation, will create a predictive model that will help landowners, conservationists, and stakeholders better anticipate how humans and ecosystems might adapt to the specific challenges of sea-level rise.
The researchers wrote this three-year grant, which will fund a Ph.D. student and postdoctoral fellow, incorporating preliminary findings from a seed grant from Virginia Tech's Center for Coastal Studies, where Hunter and Dayer are affiliate faculty members.
Salt marshes, satellites, and boots on the ground
The challenge of sea-level rise starts in the salt marshes: those brackish intertidal zones between land and open ocean. This ecosystem is a critical – and critically threatened – habitat for wildlife.
"Salt marshes are homes for numerous birds and aquatic species that are critical to maintaining both biodiversity and certain economies in the state," said Hunter. "As sea levels rise, it is expected that those marshes will migrate toward upland habitats. Most of that land is privately owned, so how we can help anticipate and prepare for those changes will be important in the years to come."
To get a better view of exactly how those salt marshes might migrate, Thomas will use satellite imagery to create a map of the changes that have been occurring along Virginia coastal marshes.
"My contribution to this project will focus on the remote sensing aspect of the research," said Thomas, who specializes in using data to tackle questions about ecosystem functions. "I'll be analyzing multi-temporal data at different resolutions to determine where we can see changes in marshland conditions.
Thomas will combine satellite data from the NASA and U.S. Geological Survey Landsat program that goes back to the 1980s with newer lidar and synthetic aperture radar technologies, which are capable of measuring dimensions such as tree canopy cover and soil moisture.
"It's challenging to merge information from different sources," notes Thomas. "But we have algorithms and techniques that will allow us to determine changes and degradation in the landscape in something close to real time."
For Dayer, who is leading the social science component of the project, a central goal of this research is finding solutions that balance positive ecological outcomes with results that benefit the people currently living on the land.
"In order to address the challenge of sea-level rise, we need to better understand the needs and interests of the people who will be impacted by this challenge and how they might be interested in working with the conservation and management community to find mutually beneficial solutions," Dayer said.
Having previously studied private landowner decision-making in the face of sea-level rise on the Long Island Sound, Dayer will conduct interviews and collect survey data for this new project from agricultural and forest landowners whose land has the potential to be impacted by sea-level rise. She is optimistic that an outcome is possible that benefits landowners while ensuring conservation aims.
"I believe the best solutions will be those that bring together social and natural science," said Dayer, an affiliate of the Global Change Center. "We can determine how to have gains for marsh species that will lose their fragile homes as sea levels rise, while also maximizing benefits to human livelihoods and well-being."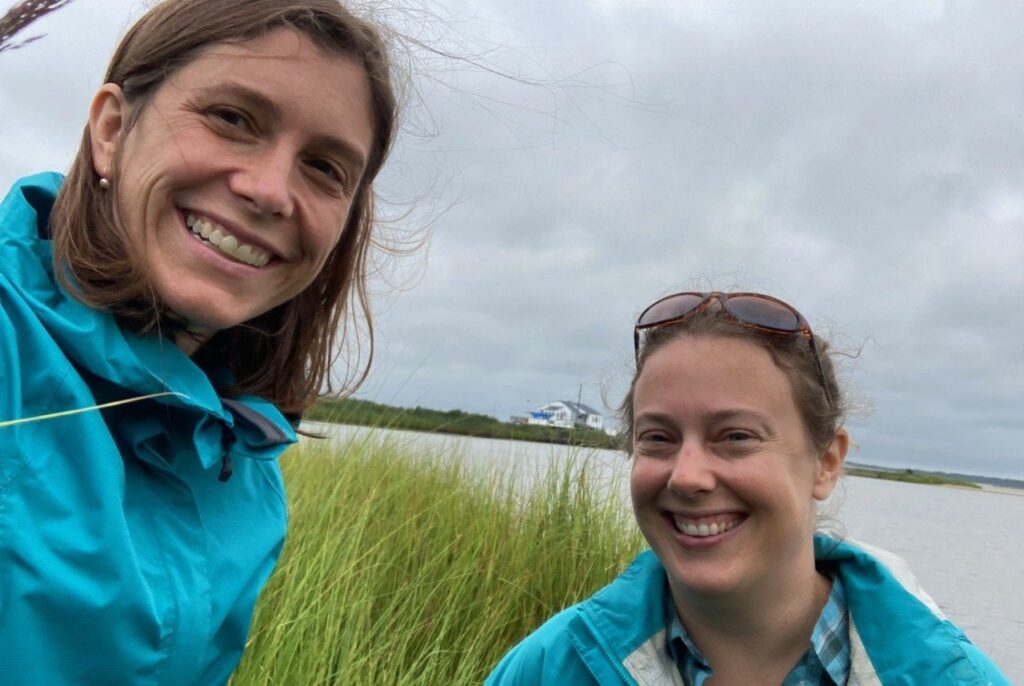 Finding victories in a loss that is inevitable
With sea levels expected to rise approximately two feet along U.S. coastlines by the end of the century, a loss of some land is inevitable.
"In conservation, we often try to look for win-wins, for outcomes that are positive for both humans and ecosystems," explained Hunter. "But with sea-level rise, there's no getting around it. There is just going to be less land."
Hunter said there are numerous adaptation strategies that would ensure outcomes that could benefit landowners and ecologies simultaneously. Landowners who currently use land for agriculture or timber production could alter crop or tree plantings or even incorporate "barrier" species that reduce the encroachment of salt water to inland landscapes. The installation of preventative structures could also be trialed, and some regions along the eastern coast have experimented with using floating marsh platforms to replace marshlands lost to environmental degradation.
"There are plenty of ways of making the land productive that are amenable to wildlife conservation efforts," Hunter said. "One priority is communicating our results effectively to land agencies and Extension agents, so they can let people know that there are some strategies to consider."
In addition to communicating with and assessing the priorities of landowners, the group will be collaborating with local conservation groups to utilize all resources available to communities.
"Throughout this project, we will be working with stakeholder groups such as the Virginia Eastern Shore Conservation Alliance and the Atlantic Coast Joint Venture," said Dayer. "These collaborations will help ensure that our work will be applicable to natural resource decisions on the ground."
Thomas hopes that the project's effort to collate geospatial data gathered from multiple sources will be applicable to other regions where sea-level rise poses a risk to humans and environments.
"Virginia isn't the only place with a coastline having these impacts," Thomas said. "My hope is that the data we collect and the methods we use to identify degradation will be broadly applicable to coastal regions throughout the world."
Hunter stresses that the Virginia and other coastal communities at risk from sea-level rise are vibrant places that merit protection.
"The Virginia Eastern Shore is an incredible human community, both in how connected people feel to the land and what it means for them to continue to share that place with future generations," Hunter said. "I hope that our research can help facilitate solutions for the people who will be impacted by sea-level rise, while also protecting our natural ecosystems."
– Krista Timney