As Hokies take part in Virginia Tech's Ring Dance on March 24 and 25 – a tradition dating back to 1934 that celebrates the transition from junior to senior years and the presentation of the class ring – one alumnus also is celebrating his ring this spring.
John Leschinskey '97 has been reunited with his class ring lost over 25 years ago.
Leschinskey, who earned a degree in hospitality and tourism management, was playing volleyball on Eggleston Quad as a student when he lost his ring.
"I was playing volleyball on the Owens sand court, which was something I did fairly often. I had set my sandals, shirt, watch, and ring by the post so that I could play. When finished, I went to gather my things and saw that the ring was missing," said Leschinskey.
Leschinskey and his friends searched the area, but were unsuccessful in finding his ring.
"My things didn't appear disturbed, so I assumed it was stolen," said Leschinskey. "I had just gotten the ring a little bit before, so I didn't have it long. To add insult to injury, I paid for my class ring and that money was lost."
Leschinskey, now a senior network engineer at Wells Fargo in Winston-Salem, North Carolina, did not replace his lost class ring.
"I was paying my way through college, so I did not have the money to spend on an additional ring," said Leschinskey.
It turns out, Leschinskey's missing class ring never left Eggleston Quad.
In early January, Virginia Tech's Division of Campus Planning, Infrastructure, and Facilities' heavy equipment crew was working on volleyball court drainage improvements in Eggleston Quad when heavy equipment operator Pat Saylors noticed a small shiny object in the dirt.
"As I was excavating the area, I saw what appeared to be a ring. We stopped operations to get a closer look, and sure enough – it was," said Saylors. "I wanted to make sure the owner was reunited with his ring. There was the name 'John Leschinskey' engraved on the inside, so I looked for him on social media."Saylors, along with one of Leschinskey's friends, sent him a message to let Leschinskey know his class ring had been found.
"I was puzzled at first. I was also shocked to hear from them," said Leschinskey. "Most people would not have gone through the trouble to hunt someone down to return a ring."
Saylors mailed Leschinskey's class ring to his home in North Carolina. Finally, over 25 years later, Leschinskey was reunited with his class ring.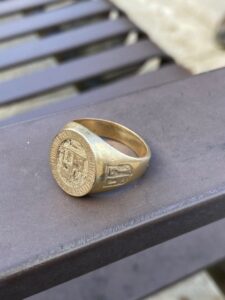 "When it arrived, I looked at it and found it hard to believe that it was actually recovered and returned to me. Given all the years in the sand and outdoors it looks like it's in really good condition," said Leschinskey. "It's good to see that there are still honest and decent people out in the world."
Surprisingly, this was not the first Virginia Tech class ring found by Saylors. While shopping at a local retailer, Saylors found a class ring and returned it to its owner.
"It means a lot to me to help return lost rings to their owners," said Saylors. "Class rings hold a lot of significance to their owners and help them remember their college experience for years to come. Even my sister has had her class ring returned to her. It's the right thing to do."
"I am so proud of all the work that the heavy equipment crew does around campus. The value of having an in-house team in this case is that they go that extra mile and uniquely care about the Virginia Tech community because they are a part of it," said Assistant Vice President for Facilities Operations Wendy Halsey. "This type of good news story is a great example of Hokies caring about Hokies."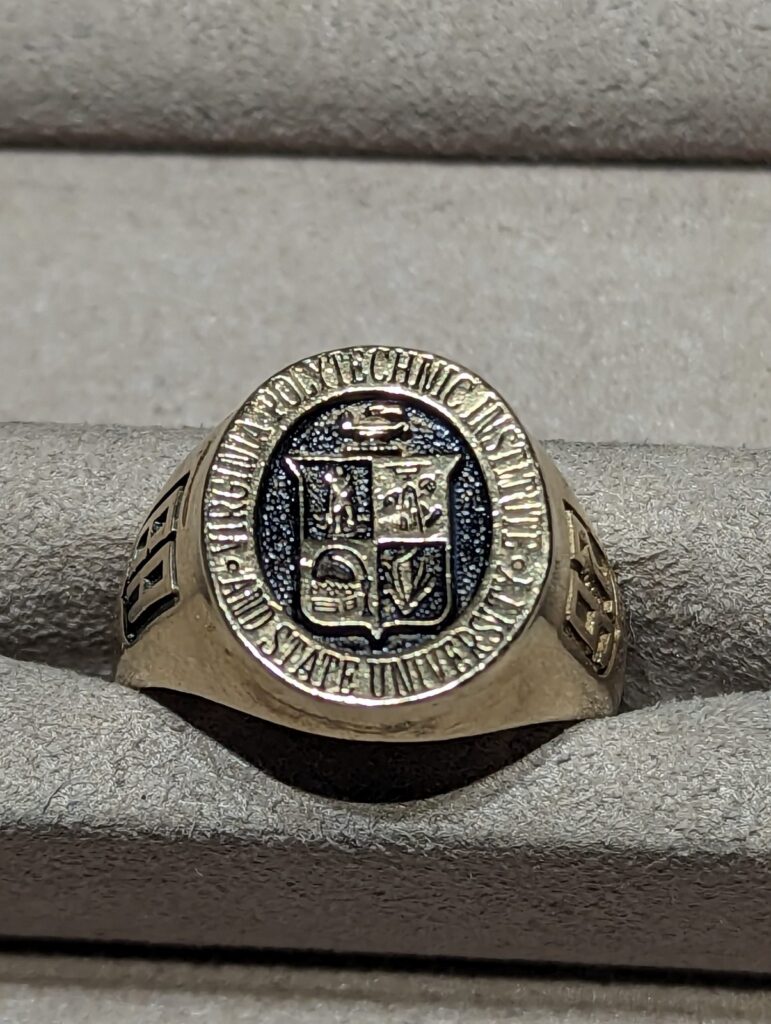 Lost and found class rings
If you have found a Virginia Tech class ring, please check for a name and/or Social Security Number on the inside of the ring. Contact Eryn Peters at the Virginia Tech Alumni Association, [email protected] or 540-231-4613. Provide the name, year and college, and any other identifying information on the class ring to help us find the owner.
If you have lost your Virginia Tech class ring, you may leave your name and contact number with Eryn Peters at [email protected] or 540-231-4613.