In summer 2002, Amy Johnson was working as an EMT in between graduating from Virginia Tech and enrolling at Jefferson College of Health Sciences. She responded to a call on a farm outside Pilot, Virginia, where a farmer had been in an accident out in his fields. It had taken six hours for his cries for help to be heard, and another hour passed before she and her team finally found the man, pinned between a fallen tractor and a hay cart.
She recognized him, a Hokie who had graduated with her just weeks before. Despite their best efforts, his injuries proved too severe, and he passed away that night. The experience never left her, and years later, as she pursued a Doctorate of Nursing Practice at Radford University, she knew where to go for her doctoral capstone. "I decided to meld the two worlds of agriculture and health care," she said, "focused on farm injuries and farm safety. And that's how the rest of my life began."
Johnson grew up on her family farm in Highland County, giving her early hands-on experience with the agricultural world. Her interest in the field grew as she got older, and by high school, she was involved in livestock judging competitions through her local 4-H Club. The experience solidified her passion for animal science, and Matthew Miller, then a graduate student in the animal science program at Virginia Tech and the coach of the Virginia Tech Livestock Judging Team, mentored her path to the program.
"It requires a tremendous amount of public speaking and quick decision-making. I watched her gain a lot of confidence over the course of the program," he said. "Amy seized every opportunity for success and advancement and appreciated all the opportunties that livestock judging presented her."
Miller, now a Virginia Cooperative Extension agent, kept in touch as she started her studies at Virginia Tech and is currently her colleague at the Virginia Farm Bureau.
"He always expected the best from me, wouldn't accept anything less," Johnson said. "His support and his confidence was huge for me."
At Virginia Tech, she saw similar support and guidance from her professors, who encouraged her to approach problems creatively and to attempt things that were out of the ordinary.
The summer before her sophomore year, the organization she was working for had a shortage of medical staff, and she began EMT courses. Returning to Virginia Tech, she joined the Christiansburg Rescue Squad, where she stayed a member through graduation.
She pursued stints as a paramedic and both emergency room and forensic nursing while continuing her education at Jefferson College of Health Sciences and Radford University. "I always told my mom growing up, I was never going to be a nurse. And so I ate a lot of crow when I graduated, but I loved every minute of being a nurse."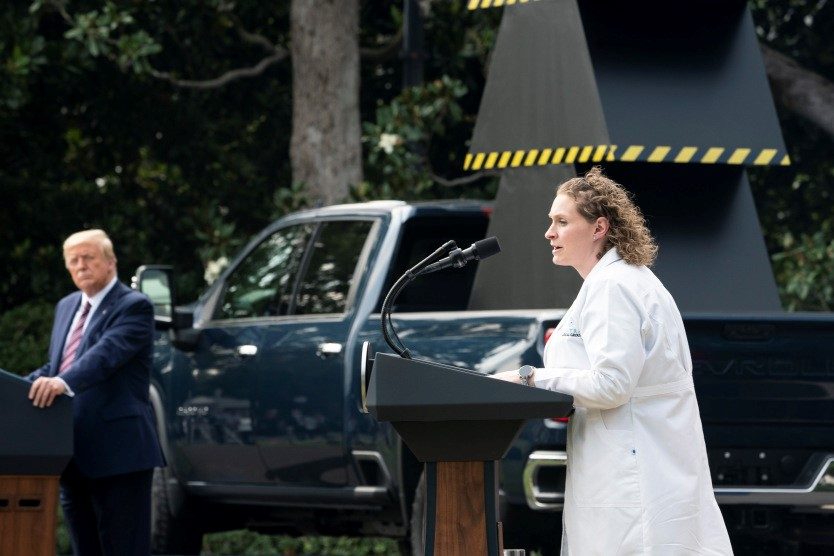 At each stop, however, she found she didn't have the autonomy she felt she needed to optimally treat her patients. "I decided I was going to finish out with a terminal degree, to be able to provide the absolute best care to my patients," she said.
While working on her capstone, she interacted with the Virginia Farm Bureau staff as she conducted her research. The bureau's safety coordinator had recently left his position, Johnson ended up giving his safety presentations to local farming communities.
After graduating with her doctorate, she quickly found work as a nurse practitioner, but she remained involved with the farm bureau. "I worked at the grassroots level to demonstrate to Virginia Farm Bureau the value of the safety programs, of having a dedicated safety coordinator within our organization," she said.
Soon after joining the Virginia Farm Bureau, she met Megan Seibel, a faculty member and the inaugural director of the Virginia Agriculture Leaders Obtaining Results Program (VALOR) at Virginia Tech. Also a graduate of a nursing program before pursuing a doctoral degree in agricultural and Extension education, Seibel quickly became a mentor to Johnson.
"There's a common connection between people who are in health care spaces, and the way they view engaging, developing, and caring for people, from their family to their communities," Seibel said.
As Johnson worked on her first safety initiatives for the farm bureau, she talked with Seibel about her goals and the steps she was taking to accomplish them. "It was exciting for me to have those conversations with her, seeing her develop and articulate her ideas for her data collection and research," Seibel said.
Johnson's work led to the creation of the Safety Advisory Committee, an organization that brings in members of the industry from around the state to develop an evolving safety program. These members go out into the community — sitting on task forces, presenting at conferences and meetings, and seeking training to improve the support they can offer local farmers. They also created a website that provides their farmers with guidelines, resources, news, and alerts to help them stay on top of their mental and physical wellness.
The committee also created the AgriStress hotline, a dedicated mental health response line specifically for farmers, giving them a confidential resource to call or text when they encounter mental health crises. Committee members spread the word about their initiatives through a large advertising campaign, educating farmers with billboards and state fair displays.
Johnson has spearheaded other initiatives over the years focused on improving safety and wellness through both community outreach and research and data collection. For example, she pushed to begin tracking farming injuries and fatalities across the state, creating a database that could be used for research on preventative measures.
Johnson recently attended and graduated from VALOR, a two-year program designed to train professionals in agriculture to become advocates and leaders in their industry. Seibel said VALOR is a development tool for those like Johnson who are driven to help their peers to take the next step forward in their work. "She could have seen what she had accomplished so far and been content, but she saw that she still had room to grow, which speaks to her passion."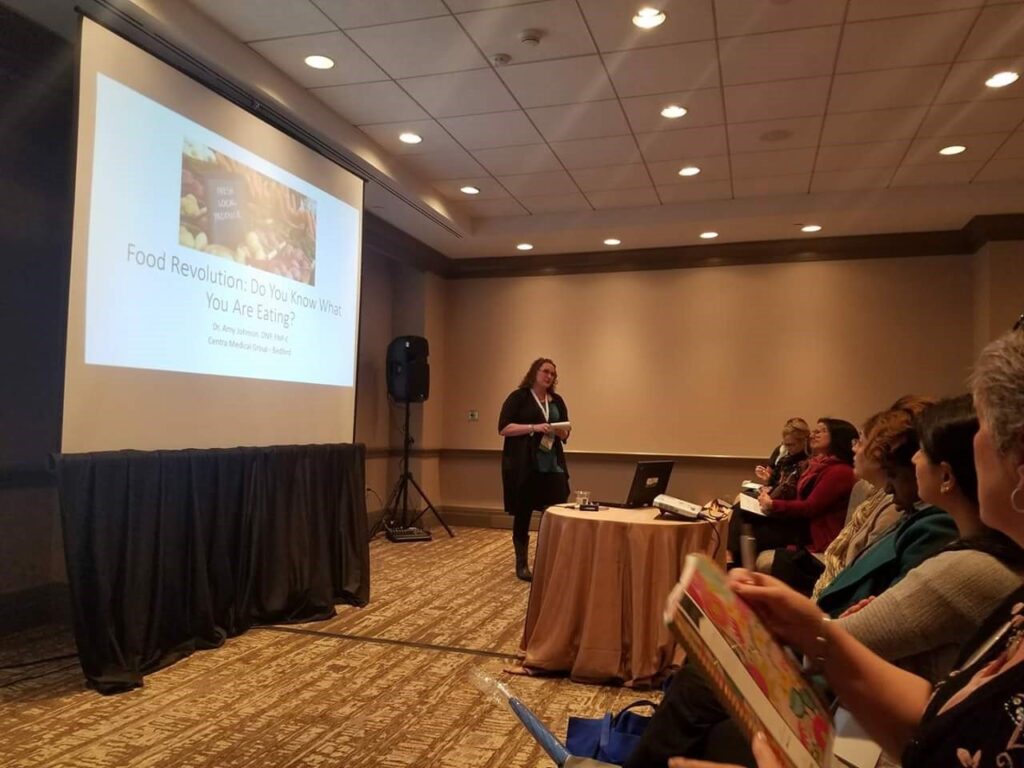 When Johnson first started her farm safety talks, she sought to make incremental impacts on farmers. "If I can get them to change one thing to make them a little safer, then I've accomplished something," she said. As she continued to speak, establishing herself as a consistent presence in the industry, she began to see farmers take more proactive steps to address their health and safety, reaching out for help before they reach a crisis state.
Recently, Johnson said, the attitude toward health and safety shifted in the Virginia farming community. "I had a conversation with a young man the other day who is actually doing an interview with someone else about his mental health experience. His issues were in the past, and he was now in a good spot. He said, 'If I can help somebody else deal with what I went through, I'm ready to do it.'''
Seibel has seen this change as well, and she attributes a lot of it to Johnson's work. "She's taken a cause that she's passionate about and created a collective momentum, having a grassroots impact and creating a groundswell around those issues."
Miller, too, sees Johnson as the right person to continue leading this push. "She's always been exceptionally positive and high energy, able to find the correct approach and pursue it to its end. Whatever path she takes, she will always be a dedicated advocate for rural Virginia."
Reflecting back on her education and career path, Johnson said, "I feel like every bit of education that I've had has been valuable and has played into what I do. Without my [animal science] degree, I'm not sure I could have met these farmers on their level, to convince them to take their health more seriously."
She sees her journey as an example for students who may feel themselves similarly drawn to a calling different from their initial studies. "Don't get trapped in a box. Whatever you can dream and imagine, the world is yours."
Johnson has received several accolades over the years for her advocacy as well as her work as a nurse practitioner. These include the 2017 Outstanding Advanced Practice Provider from Bedford Memorial Hospital, the 2020 Distinguished Nurse Practitioner Award from the Virginia Council of Nurse Practitioners, the 2020 Culture of Yes Award from Centra Medical Group, and the 2022 Outstanding Woman in Agriculture from the Virginia Farm Bureau.
Johnson sees a lot she can still accomplish in health, safety, and wellness in agriculture, but she's already established a legacy of impact in the Virginia farming community. "I frequently think about my classmate, how it was his accident that pushed me in this direction. I think he would be proud of what we've accomplished, all the good that we've done in his memory."
Max Esterhuizen