-By Maynard Keller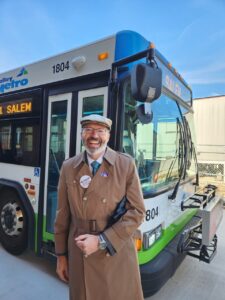 Be honest. How many of you have ridden a public bus to work, to the grocery store, or to a doctor's appointment? Though I have lived in Northwest Roanoke since 1994, until last fall, I knew very little about Valley Metro and the behemoth buses barreling down the boulevard. In fact, I could not see a compelling need for bus service in the Roanoke Valley.
That all changed in September when the Bus Riders of Roanoke Advocacy Group (BRRAG) invited all Roanoke City Council candidates to attend one of their monthly meetings to learn more about bus service in the Roanoke Valley. As a candidate, I tried to attend as many meetings and events as my busy schedule allowed. Bus service sounded intriguing—a mystery to be solved. The learning curve can be steep for those new to buses; and since the best way to learn is by doing, I decided to take the bus to work.
How do I regularly get to work? On average, I ride my bicycle four days per week as long as it's above 15 degrees. Riding to work is not a problem as I've biked across America with Team Roll Over Cancer. I do occasionally drive an older car to work. One of my hobbies is collecting and restoring classic cars, and I serve as president of the Roanoke Valley Region Antique Automobile Club of America (AACA).
Since I was a newbie to the bus system, I downloaded the Valley Metro app; but apparently, there was no service in my area. Well, that app was for Valley Metro of Phoenix, Arizona! The VMGO app for Roanoke Valley Metro, however, wasn't very helpful either. Not until I downloaded and printed the entire bus route map from ValleyMetro.com could I make sense of the bus system. On Google Maps I selected the bus icon to find the best route and times for my destination.
To reach my bus stop on Melrose Avenue, I walk a half-mile of rollercoaster hills. At about 7:54 a.m., Bus 92 picks me up, making frequent stops to its Third Street Station, which is the main hub. My downtown office is only a five-minute walk from the station. All buses leave the Third Street Station at 17 minutes after the hour starting at 6:17 a.m. They complete their routes and return to the station at the top of the hour to repeat the cycle. The last buses leave the station at 8:17 p.m. Riders may need to make a free transfer to another bus to complete their commute.
Advantages of Riding the Bus: Less stress than driving. Reliable transportation. Inexpensive bus tickets. No car maintenance costs. No car insurance expenses. Meeting new people. Great exercise walking to and from your bus stop.
Disadvantages of Riding the Bus: Confusing routes and maps. Limited routes to Salem and Roanoke County. No service on Sunday. Only one stop per hour. Takes extra planning. Poor condition of some bus stops. Limited mobile app usefulness.
Who rides buses? People from all walks of life. Many are going to and from work. My daughter Sarah, a freshman education major, regularly takes the bus to Roanoke College. In fact, she prefers the bus because "It's less stressful than driving my car." One of Governor Youngkin's current priorities is workforce development and making Virginia competitive with other states. An excellent public transit system makes Roanoke more attractive and competitive to prospective employers. Public transit is an essential resource and part of an infrastructure that helps the regional economy and is deserving of bipartisan support.
Learning to use the bus system has been an incredible journey. When it comes to transportation, I take an all-of-the-above approach. Buses, planes, trains, automobiles, bikes, and pedestrians can work together. Thank you, Dr. Laura Hartman for your leadership and for inviting me to attend the monthly BRRAG meeting.
-Maynard Keller and his family have lived in Northwest Roanoke since 1994. He is a business owner, a CERTIFIED FINANCIAL PLANNER™, an elder at Hope of Israel Congregation, and a community volunteer. He has served on numerous citizen-led commissions, committees, task forces, and has run as a candidate for City council.