Virginia firefighters will be required to complete a training program starting next year, about the risk of electric vehicle fires.
Del. Israel O'Quinn, R-Washington, proposed House Bill 2451 to require the executive director of the Virginia Department of Fire Programs to develop a training program for electric vehicle fires. The program must be developed and available by July, 1 2024, according to the bill. All firefighters, including volunteer firefighters, must complete the training by Dec. 1, 2025.
The bill unanimously passed committees and both chambers. Sen. Bryce Reeves, R-Spotsylvania, asked for one clarification in the Senate General Laws and Technology committee, about whether the program would be offered both in-person and virtual.
"I heard from some of my fire folks, and they were concerned that this is more time away," Reeves said. A lot of the annual firefighter training is done online, according to Reeves.
Spencer Willett, government affairs manager for the Virginia Department of Fire Programs, assured the Senate committee the training would be offered in multiple modalities.
"The agency's plan would be to offer an online version for departments and then also offer an in-person version for those that would be willing to want to take that training," Willett said.
The number of electric vehicles on Virginia's roadways is set to increase with the soon-to-be implemented Clean Car law. The law states 35% of all new cars and trucks sold in Virginia with a 2026 model year must be electric. Then 100% of new models on the market must be electric by 2035, according to the law, which is based on California's final regulation order.
Del. Mike Cherry, R-Colonial Heights, a co-patron of the bill, said it is important to implement mandated training statewide, even for areas like Southwest Virginia where electric vehicles aren't prominent.
"Anytime a fire department deals with something new and unique, they will then figure out a protocol to deal with it again in the future," Cherry said.
There is currently no mandated electric vehicle training for Virginia firefighters, according to William Boger, District 5 vice president and communications director for the Virginia Professional Fire Fighters.
However, departments can currently seek out training from car manufacturers like Tesla or Toyota, he said.
The future training program will greatly help firefighters better understand electric vehicle fires and the best ways to extinguish them, according to Boger.
Firefighters use approximately 50 gallons to 100 gallons of water to extinguish a regular internal combustion engine, or gasoline, vehicle fire while electric vehicles require about 10,000 gallons of water, according to Boger.
"They are very stubborn and very difficult to extinguish," he said.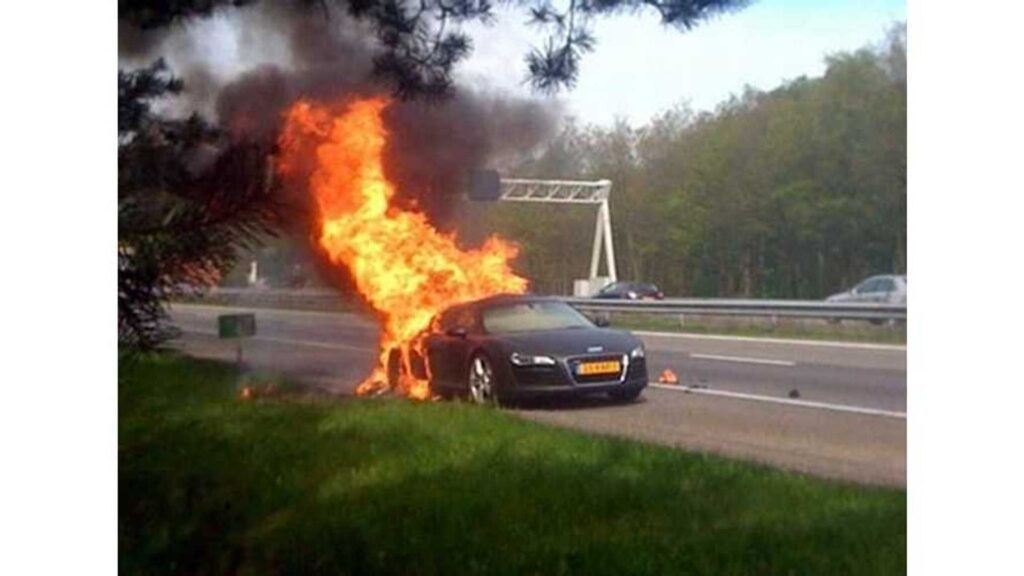 Most electric vehicles carry large lithium-ion battery packs underneath the vehicle, where they are not very accessible. These batteries can overheat, which leads to a reaction called thermal runaway and requires thousands of gallons of water, according to Boger.
Firefighters also need to be aware that the battery is not necessarily finished burning just because the fire is finally put out, according to Boger.
"The problem with these cars is you have to put the fire out, then you have to continuously cool the battery," Boger said.
Some electric vehicle batteries will reignite on the way to a junkyard if the battery is not properly cooled down and observed after the fire is put out, according to Boger.
Some batteries can even catch fire two to three days later, according to Doug Reynolds, battalion chief of the Henrico County Division of Fire.
"You may have to have several tankers bringing you water, so it's not the easy, you know, fire that it used to be," Reynolds said.
Dry chemicals and fire blankets have been used, but are not considered as effective as water, according to Boger.
Andrew Klock, senior manager of education and development with the National Fire Protection Association, said the best recommendation is still water.
"It's the most effective to date and if it's placed in the proper location, it can put out the fire and drain the heat from the battery pack," Klock said.
Electric vehicle fires are not more threatening than gasoline vehicle fires, which occur every three minutes, Klock said.
"But I do think that the risk and the inherent problem is that firefighters have had a 100 years to figure out and perfect how to put out an internal combustion engine vehicle [fire]," Klock said. "But it's not so with this new technology or newer technology of hybrid and electric vehicles."
Reynolds' department looks forward to seeing the curriculum and learning everything they can about this unique type of vehicle fire, he said.
"It affects every firefighter, you know from paid to volunteer, big departments, small departments, you know, the car fires are out there every day," Reynolds said. "So it's just better to protect us to learn how to fight those fires because it's important."
The Virginia Department of Fire Programs will develop the training program, utilizing fire experts and industry representatives, according to Will Merritt, VDFP marketing and communications manager.
A workgroup will create the curriculum in concert with VDFP staff, Merritt stated via email. The curriculum is then "piloted, finalized and posted for registration in VDFP's learning management system, Cornerstone OnDemand," he stated.
"As electric vehicles become more popular, it is important that Virginia's fire service be adequately trained to fight electric-vehicle fires," Merritt stated.
By Adrianna Lawrence / Capital News Service