Using the best available science to inform public policy and sound decision-making has been a guiding theme for William Hopkins' career of service at Virginia Tech.
"Science can be a powerful force for good and a critical service to society," said Hopkins, a professor of fish and wildlife conservation in the College of Natural Resources and Environment and associate executive director of the Fralin Life Sciences Institute. "I have been extremely fortunate to have opportunities to share the best available science with decision makers on a diversity of topics."
Over his 18-year tenure at Virginia Tech, Hopkins has embodied the university's motto, Ut Prosim (That I May Serve), representing Virginia Tech in advisory capacities at the local, state, national, and international levels on issues pertaining to waste management and pollution, water resources, and the global decline of biodiversity.
"When it comes to the conservation and management of natural resources, the job is really not complete until the science has been communicated to and considered in policy decisions," said Joel Snodgrass, department head and professor for the Department of Fish and Wildlife Conservation. "Dr. Hopkins has taken this very important step to heart through his service and detailed communication and synthesis of scientific findings to both state and federal agencies."
But Hopkins' greatest passion and the underlying motivation for all of his scholarly work relates to water resources and the conservation of biodiversity. For example, he served as an expert on the Species Status Assessment Committee for the U.S. Fish and Wildlife Service that critically evaluated the state of the science regarding mysterious declines of one of North America's most unique salamanders. The committee's comprehensive assessment resulted in the species receiving federal protection under the Endangered Species Act in an isolated portion of its range.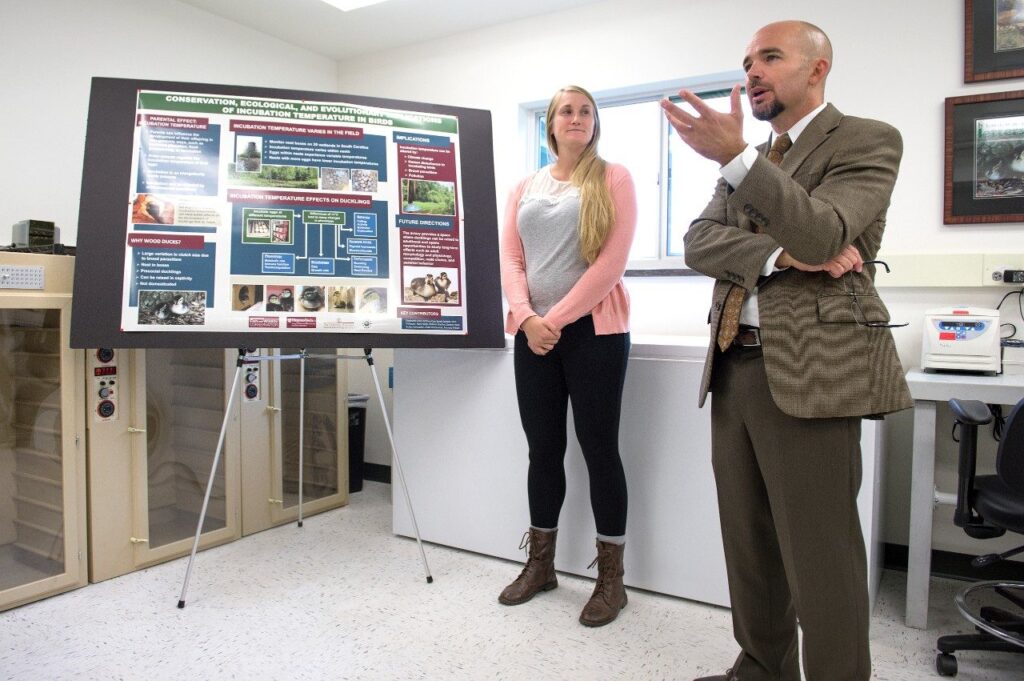 Scientific service
Closer to home, Hopkins has worked for the last 15 years with the Virginia Department of Wildlife Resources to study and protect this same species in Virginia. In April, he will lead a roundtable discussion sponsored by the National Fish and Wildlife Foundation, where he will present a 30-year conservation plan for the species in Virginia that he authored in 2022. The roundtable will be followed by extensive discussion with state and federal agencies, nongovernmental organizations, and academic entities.
Hopkins regularly is called on by government agencies and stakeholder groups to share his expertise on the effects of solid waste produced from coal combustion on wildlife populations. These materials contain high concentrations of a variety of toxic elements such as arsenic and selenium and represent the second largest type of solid wastes produced in the United States.
As Virginia grappled with difficult policy decisions related to safe disposal of these wastes from 2008-11, Hopkins was recruited as a subject matter expert to serve on both the Technical Advisory Committee and the Regulatory Advisory Panel to the Virginia Department of Environmental Quality.
National Academies' committees: Shaping societal solutions
Since 2004, Hopkins has served on five National Academies of Sciences, Engineering, and Medicine committees, addressing issues of natural resource extraction, water and air quality, human health, and data quality assurance at federally funded research facilities. He served as chair for the two most recent studies, including "The Potential Impacts of Gold Mining in Virginia" report released in November 2022.
"In his National Academies work, as a committee member or chair, Hopkins is known for collegiality, good humor, and deep engagement in the process, and he is always considerate and supportive of the committee and staff," said Stephanie Johnson, study director with the National Academies.
The National Academies is a private nonprofit organization founded by Congress in 1863 to provide independent and objective guidance to the nation on the most pressing societal issues of our time. Committees assembled by the National Academies typically work together for one to two years to produce comprehensive consensus reports.
Committee composition is typically highly interdisciplinary, drawing expertise from numerous fields and sectors including academia, industry, and nonprofit. Studies conducted by the National Academies' committees make recommendations on some of the most important issues that society is facing and have strong influence on public policy.
"Having the opportunity to serve the country in this way is one of the most impactful things that I can do as a scientist," said Hopkins, who also serves as founding director of the Fralin Life Sciences Institute's Global Change Center and Virginia Tech Graduate School's Interfaces of Global Change interdisciplinary Ph.D. program.
U.S. Department of Interior: Restoring natural resources
Concurrent to his National Academies appointments, Hopkins has worked as a researcher, scientific advisor, and consultant with the U.S. Department of the Interior's Natural Resources Damage Assessments and Restoration (NRDAR) program. Its mission is to restore natural resources injured as a result of oil spills or hazardous substance releases into the environment.
Hopkins has been a key scientific contributor to five NRDAR cases, including those surrounding the BP Deepwater Horizon oil spill in the Gulf of Mexico, the TVAash spill (Kingston, Tennessee), the Olin Superfund site (Saltville, Virginia), the South River mercury spill (Waynesboro, Virginia), and the Los Alamos National Lab in New Mexico.
His contributions to these damage assessments have proven vital toward understanding the physiological and reproductive responses of diverse animals to the contaminants of concern.
In his more than decade-long contributions to the South River NRDAR case, Hopkins worked alongside the Department of the Interior and Industry to develop practical, science-based restoration strategies and long-term monitoring plans based on the science his team provided during their ecological damage assessment.
– Jenise L. Jacques