It was with a heavy heart that we share the news that Sports Editor and Columnist Bill Turner has passed away.
"Wild Bill," as his faithful Roanoke Star readers knew him, was truly (and I say truly) one of a kind. If you were a regular reader of his 200+ columns written over the course of the entire 15 years and 3 months that we've been in existence ("see, you always learn something when you read this column …") then you knew that between all the sports news and hijinks, you were reading the words of a very gifted and fun-loving sports-writer.
But far more importantly Bill Turner was also gifted as a giving human being – one of those rare people who is never truly happy unless everyone around him is happy. Indeed, Bill's life embodied the truth that "our lives flow into each other as wave flows into wave – and unless there is peace and joy and freedom for you, there can be no real peace or joy or freedom for me." (Frederick Buechner.)
Perhaps the best evidence of that reality was his outright refusal to tell others anything about his health situation over the last two decades which, between diabetes and other challenges, was anything but "good." He wasn't so much embarrassed by being debilitated and finally confined to a wheelchair as he was appalled by the idea that his infirmities might diminish the joy of others.  Simply put, Bill Turner was the last person on earth who was going to slow down the party of life for anyone.
How many people do we know like that?
Bill's wife Linda confirmed in a recent conversation that he was a daring and expert prankster and even family members were not outside his target window. This made sense to me as I was "pranked" on a regular basis in Bill's columns as he would take real life events and stretch them into wildly imagined tall-tales of "The Chief" (me) and "Beautiful Captain Caro" (my wife) in exploits that could only be conjured in Bill's wild imagination. After the high reader response in reaction to his first few columns referencing "The Chief" I knew we were in trouble for the long haul.
C'est la vie avec Monsieur Wild Bill  . . .
Before his health slowed him down Wild Bill was an accomplished athlete and a wilderness adventurer. He lettered all four years for the Andrew Lewis golf team (serving as captain his senior year) and explored many rivers throughout the U.S. – including the Colorado River through The Grand Canyon – an adventure that ultimately wound up costing him part of his foot.
The first time I met up with Bill on the sidelines of a local High School football game I asked him why he was limping. "Oh, its nothing," he said. I assumed he had an ankle sprain. About five years later he finally told me the real story about the Colorado River trip. It's a bit gruesome so I won't recount it here. Suffice to say, he was lucky to survive. You just never knew what might be coming next from Wild Bill.
One quiet Tuesday the office phone rings.
"Roanoke Star – how can we help you?"
"Hey Stuart – Wild Bill. Guess what, you and I have been invited to go down to Bristol Motor Speedway and meet all the NASCAR drivers – one of them is going to take us out on a few practice laps so it should be fun. Oh, there's also an Amateur's Race and a banquet after the race . . ."
"Wow," I replied, "How in the world did we get invited to that?"
"Don't ask," he said.
"OK – I won't, but it sounds pretty good – when is it?"
"Friday," he replied.
"Sheesh – kind of short notice?!"
"Sorry, I forgot to tell you. And, oh yeah – I entered you in the race – hope you don't mind."
"You what?"
"I entered you in the race – you and I are going racing brother!"
"What – you entered ME . . . US, in a race? We'll both be in a car?"
"No, just you – I've ridden with you before though – I'm sure you'll do fine . . ."
I could only imagine the massive grin on his face – because he knew I thought he was kidding. But when we arrived three days later at Bristol International Speedway, ("The Colossium" as it is known due to its capacity of 153,000), I saw my name up on the competitor's board. He wasn't kidding at all.
"Dear Lord Turner, what have you gotten me into . . ."
To make a very long story short, I wound up actually winning the amateur race – as it turned out the laps were timed (not run in a pack) and for the first time ever some of my less than wise youthful habits came back to help in lieu of haunt me. Shortly after that NASCAR driver Greg Biffle whipped us around the track at 140+ MPH which was followed by a drivers interview and banquet. I never did find out how he managed it, but there we were – hob knobbing with the cream of the NASCAR racing scene.
C'est la vie avec Monsieur Wild Bill  . . .
During Bill's years with the Play By Play sports magazine and The Roanoke Star he has covered an exhibition boxing match with Evander Holyfield, a tennis match between John McEnroe and Pete Sampras, a captain's choice gold tournament with Arnold Palmer, Jack Nicklaus and Gary Player and, of course, the aforementioned spin around Bristol Motor Speedway with NASCAR driver Greg Biffle.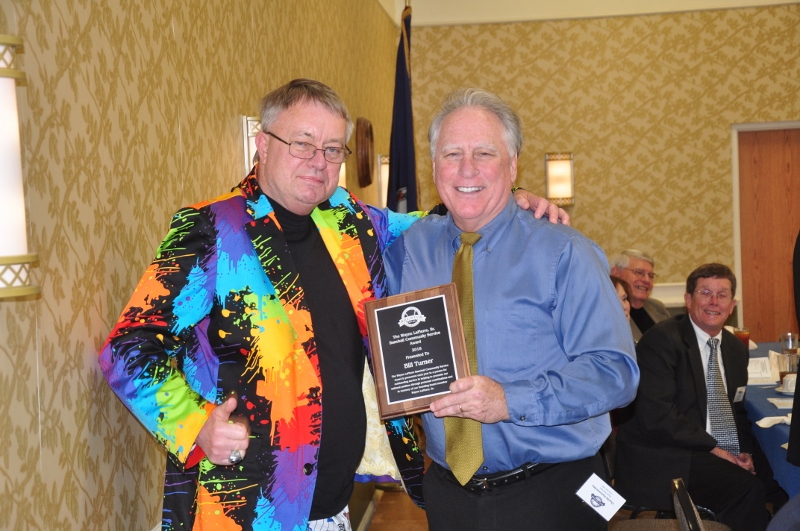 In addition to this he worked as a Photographer for the Washington Nationals between 2006 and 2011, landed a full-time sponsorship in 2014 from Loudmouth Golf for his regular Roanoke Star columns, and won the Wayne LaPierre Baseball Community Service Award in 2018. He also served on The Roanoke Valley Sports Club board.
Bill took good advantage of the opportunities that were put before him and was deservedly proud of the involvement they allowed. But if I had to guess he would say that his most important and meaningful work was covering High School Sports in the Roanoke Valley and the relationships he forged with players, students and coaches in doing so. Especially at his beloved Cave Spring High School where he regularly volunteered and was an honorary coach.
Bill is survived by his wife of 40 years, two children and four grandchildren.
Fare thee well old friend – you will be greatly missed by all.
– The Chief