U.S. farmers utilize land to grow food and raise livestock, support their livelihoods, contribute to the food ecosystem, and, in some cases, carry on the family heritage. According to the Farm Bureau of Virginia, 90 percent of Virginia farms are owned by families or individuals, not corporations.
Land use-value assessment, which supports the preservation and typically the reduction of the tax burden on owners of land used in producing food, fiber, and timber, is found in some form in every state. The assessment is done by taxing real estate based on usage instead of its fair market value. Land use-value assessment helps ensure that the land that grows your corn on the cob can stay in agricultural production despite the rising production costs, including property taxes.
The Farm Bureau of Virginia estimates that the commonwealth has over 43,200 farms covering nearly 8 million acres. Since the inception of the Virginia Tech Land Use-Value Assessment program (LUVA), 88 localities with agricultural and horticultural land, 74 localities with forest land, and 56 localities with open spaces have adopted their use-value assessments.
The program develops use-value estimates for agricultural and horticultural land annually. The assessments are then presented to the Virginia State Land Evaluation Advisory Council (SLEAC) for consideration.
Once approved, these recommended use-value estimates may be utilized by commissioners of the revenue and assessors throughout Virginia to consider in the administration of their programs.
In 2020, according to data collected from the Virginia Department of Taxation, localities deferred over $202 million in property taxes through land use-value assessment, supporting the preservation of farmland, forestland, and open space in their communities.
LUVA is led by Jennifer Friedel, director of the program and assistant professor of practice in Virginia Tech's Department of Agricultural and Applied Economics, and Patrick Kayser, program analyst.
"Virginia Tax has partnered with the Department of Agricultural and Applied Economics for more than 45 years to deliver agricultural and horticultural values for the State Land Evaluation Advisory Council," said Rod Compton, Virginia Tax's assistant commissioner for general, legal, and technical services.
"Virginia Tech continues to deliver accurate, uniform, and equitable agricultural and horticultural use values through their thorough research and innovative valuation process," Compton said. "I appreciate Jennifer's and Patrick's enhancements to the Virginia Tech LUVA program and their commitment to this long and successful key strategic partnership. Together, we are benefitting localities and agricultural stakeholders throughout the commonwealth."
The Projects
LUVA conducts a survey every 10 years among all commissioners of the revenue and relevant constitutional officers in every locality to study the procedures and implementation used for the program.
In 2022, the survey was sent to 133 counties and independent cities in Virginia to determine ways to improve the usefulness of agricultural and horticultural use-values, capture how each jurisdiction is using SLEAC estimates, understand how each jurisdiction implements and enforces its respective program, provide insights into how agricultural and forestry districts are administered, and to better understand how land in conservation easements is valued.
The results indicated that the SLEAC values for the agricultural, horticultural, forest, and open space lands are used by most localities as a significant factor in determining their land use-value rates. While the SLEAC estimates are important in establishing a jurisdiction's rates, each locality may alter these figures to accommodate its own unique characteristics. The number of properties enrolled and the economic climate are common factors that drive whether the values increase or decrease.
Friedel, Kayser, and their undergraduate research assistant, Stephanie Hentemann, presented the survey results at the Virginia Association of Assessing Officers at its annual conference this past summer. Friedel and Kayser analyzed the Virginia Tax data on land sales and then broke the data down by jurisdiction. The data helped them look at average fair market land value trends at the county, regional, and state levels.
The findings determined that Virginia's agricultural land sales increased in both volume and value. An important result in analyzing actual arms-length transactions is that agricultural land's statewide data-based market values were often higher than reported in the opinion-based U.S. Department of Agriculture-National Agricultural Statistics Service surveys for the study period.
The Student Experience
The projects that LUVA executes are made possible by student research assistants. Friedel and Kayser work with undergraduate and graduate students to help conduct research and analysis as part of their experiential journey at Virginia Tech. This provides out-of-the-classroom, real-world experiences.
"If I can impact a student's career path and help them find their true passion, that is what it is all about," said Friedel.
This past year, Friedel and Mia Bostic, a student studying environmental economic management and policy, assisted the Virginia Department of Forestry in developing reliable data to implement a new legislative initiative, the Virginia Forest Sustainability Fund, aimed at softening the financial impact of land use-value assessment forestry programs across Virginia localities.
Forestland provides timber, wildlife, and recreational advantages to landowners and communities while benefiting from watershed protection, clean air, and the land's beauty. Realizing these benefits, the General Assembly passed a bill setting aside funds encouraging forest sustainability in 2022.
This legislation enables localities to continue providing use-value taxation that can assist owners in keeping their land as forests. Under use-value taxation, properties are taxed based on the productive value of the land rather than the current market value, which may result in lower property taxes. To learn more and see if you are eligible, visit the Department of Forestry's website.
LUVA also is working with students on other research projects. Anukul Bhattarai, a third-year Ph.D. student, is working to improve hay volume conversions to pasture productivity.
Defining hay and pasture yields isn't a simple task. A yield per acre will give farmers a better understanding of how much feed they have for their livestock or if they sell hay. Bhattarai's calculations use statistical methods, some of which utilize soil data and regression equations, to determine pasture yields for each Virginia county on an annual basis.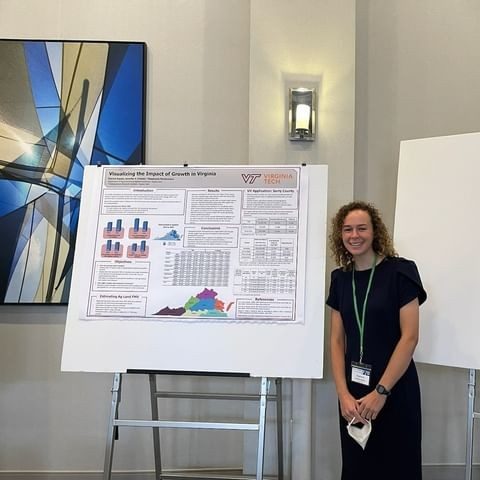 This past summer, student Stephanie Hentemann, attended the Northeastern Agricultural and Resource Economics Association annual meeting to present research and data that provided insight into agricultural land values in Virginia from 2010-18 along with potential impacts of land use-value assessment.
Hentemann and the team summarized the averages of market-based agricultural land transactions at the multicounty district and statewide levels. It was determined that several areas experienced particularly high farmland price appreciation and the highest growth rates were observed in the western part of the state. This population growth and farmland price appreciation caused agricultural landowners to face increased development pressure.
The team recommended the use-value ordinance that local governments may implement to reduce the tax burden on agricultural landowners, so that they may not sell their undeveloped land to developers. The message Hentemann and the team wanted to convey is that land use-value assessment is an important taxing mechanism that localities can use to reduce development pressure, preserve ecologically valuable lands, and protect property owners in their communities.