The scoop shop at Greengate Shopping Center will be the fifth for Blue Cow in Virginia
On Friday, March 24, Roanoke-based Blue Cow Ice Cream Co. will open its second Richmond location at Greengate Shopping Center in Short Pump, marking its fifth location in the state. With stores in Roanoke, Virginia Beach and Fredericksburg, Richmond will become the first and only market to have two Blue Cow scoop shops.
Blue Cow offers a fresh take on familiar classics and a creative approach inspired by the craft food scene. All flavors are made by hand using simple, quality ingredients.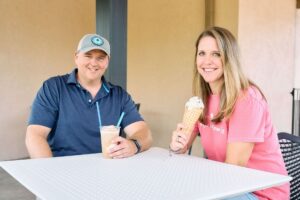 "When my wife and I started the business in 2017, we saw an opportunity to elevate the classic ice cream shop with local, fresh ingredients," said Jason Kiser, co-owner and founder of Blue Cow Ice Cream Co. "With each new opening, we're making a commitment to serve up unique flavor combinations in a fun, community-oriented shop."
Just in time for spring, the Greengate grand opening is set for March 24. To celebrate, Blue Cow will offer a free single scoop and unlimited flavor samples to everyone from 6 p.m. until close at 10 p.m. The first 50 people in the door will get an ice cream pint coozie.
The first Richmond location opened in the Village Shopping Center in August 2022.
"The reception in Richmond so far has been a warm welcome and we're excited to expand our footprint in the area to continue providing quality ice cream that everyone can feel good about," Kiser added.
Popular menu items include classics like Birthday Cake and Cookies & Cream to chocolate favorites Blue Cow Patty and Chocolate Brownie. Goat Cheese with Blueberry Swirl and Sea Salt Brickle are other original menu items with a cult-like following.
Partnering with local coffee roasters in each market, Blue Cow also offers an Ironclad Coffee with Bittersweet Chocolate Chips in each Richmond store. In addition to classic flavors, dozens of seasonally available flavors rotate on the menu. Non-dairy and gluten-free scoops are available daily.
The new space at 12171-C West Broad Street is just over 1400 square feet, next to The Cocky Rooster and Mellow Mushroom. Blue Cow locations are open daily with scoop shops open from 12-9 p.m. Sunday-Thursday and 12-10 p.m. Friday and Saturday. From Memorial Day to Labor Day, hours are extended to 11 a.m.-10 p.m. daily.
For more information about Blue Cow Ice Cream Co. and to see available flavors and store details for each location, visit https://bluecowicecream.com/.