Streaks come and streaks go. Most streaks are destined to eventually end.
Tuesday night in the Hidden Valley High School gym, the Titans were looking to end a streak they'd just as soon forget.
It was the regular season finale between the two Southwest County rivals that has gone Cave Spring's way in all matchups since the 2017-2018 season, a span of 10 games and staring down number 11. Upsets are brewed from this type of rivalry, but the Knights ensured the streak will remain alive for at least another season by easily taking down Hidden Valley 74-51.
"Really…11
th
 straight?… I had no idea'"Cave Spring head 
coach Jacob Gruse noted afterward. "Rivalry games are always interesting."
The Hidden Valley student section brought a raucous crowd hoping to unnerve the Knights, but never underestimate the famed Cave Spring 6th-man student section who made the 2.2 mile trek from Chaparral Drive to clearly swing the fan momentum in favor of Cave Spring.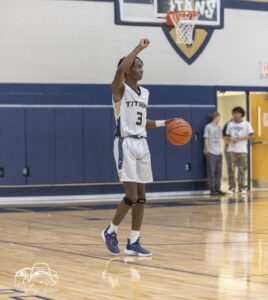 Although Cave Spring took a little while to get its game in gear in the first quarter, especially being in a foreign gym, once the Knights' swarming defense hit its stride led by a full-court trap, and the rebounding on both ends fell in place, it was only a matter of time that the fast-paced Cave Spring motion offense flexed their muscle by following those leads.
"I was proud of our effort tonight," Gruse said after the win. "It took a while for us to focus in."
While Hidden Valley hit only 3 shots from the field in the opening frame, all three came from long-range to account for 9 of their 10 first quarter points. The Titans knew they needed a career night from leading scorer Tyus Johnson, but Cave Spring had him covered like a blanket. Johnson was held to 4 points in the first half and only reached double digits in the fourth quarter, long after the outcome was obvious. Cave Spring led 20-10 after one quarter.
"Tyus can go," Gruse pointed out. "A good player and he was our focus."
A late run in the second quarter by Hidden Valley closed their deficit, but the Knights still led 32-21 heading to the halftime break.
Cave Spring was finding backdoor breaks, full court breakaways and a couple fan-favorite slam dunks to put the game away in the third. The Knights outscored the Titans 23-9 to head to the final 8 minutes up 55-30. Both coaches played subs liberally in the fourth quarter before Knight senior JaSean Robinson closed out the scoring on a driving layup before the final buzzer to secure the 74-51 margin.
Senior Stark Jones, who topped the 1,000-career point mark last Thursdsay, had another big night with a game-high 24 points. Senior guard Graham Lilley, who has committed to play lacrosse for Liberty University, followed with 14 points and provided a slick dunk feed to Cave Spring 6ft8 Fairleigh-Dickinson commit Dylan Saunders, who added 13 points. Jones got an extra bonus when he picked up an offer from Bluefield College Tuesday night.
"Stark was strong again tonight and our top-5 all played well," Gruse added.
Johnson led Hidden Valley with 13 points, while Braxton Nichols added 11 and Gavin Iott netted 7 for the Titans.
Cave Spring is the second seed in the upcoming River Ridge District Tournament that opens Friday night when the Knights entertain 3-seed Blacksburg in The Castle.
"We'll be fired up to be be back in The Castle,"Gruse said. "Love our home court and love our student section."
Bill Turner