Top distance runners in the country recently competed at Pole Green Park in Hanover County for a chance to land a spot on Team USA in the upcoming World Athletics Cross Country Championship in Bathurst, Australia.
Over 450 participants participated in the USA Track and Field Cross Country Championship held on Jan. 21 as part of the Richmond Cross Country Festival. There were 12 qualifying Team USA spots between the men's and women's teams.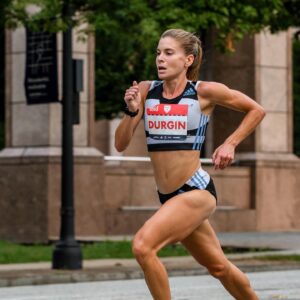 Professional runner Emily Durgin, who represents Adidas, competed in the women's 10K and punched her ticket to the World Championships.
"I did not really prepare much for this race, but I think that's what made it just so fun and exciting," Durgin said.
Durgin dropped out of the New York City Marathon last November for personal reasons, she said. She decided to take care of her body and rested until three weeks before the championship qualifier race.
"Not that I was necessarily planning on putting pressure on making the team and moving forward, but I knew I just wanted to compete, and I love to front run," Durgin said.
Her training runs felt good and she was ready to return to her cross country roots, she said.
"I was like, 'all right, let's just kind of brush off the end of last year and start on a positive note and run hard from the front,'" she said. "I knew if I did that, it would produce a good result."
Durgin has competed in national championships, but this will be her first time competing in the World Championships. She wants to ensure she is doing everything to set herself up for a good performance and represent USATF, USA, and her brand Adidas.
Runners were divided into sex and age brackets for the long distance 6 kilometers, 8 kilometers, and 10 kilometers races.
The six women who placed on Team USA in the 10K category were, in order: Ednah Kurgat, Makena Morley, Durgin, Emily Lipari, Weini Kelati and Katie Izzo.
The six 10K runners who placed on the men's Team USA were: Emmanuel Bor, Andrew Colley, Anthony Rotich, Leonard Korir, Sam Chelanga and Dillon Maggard.
Pole Green Park has hosted cross country championships more than five times, such as the Atlantic 10 Conference Championships, according to the Collegiate Running Association. The USATF Championship has never been held in Virginia, according to Steve Taylor, the race organizer. Taylor founded the Collegiate Running Association and coordinates with the USATF national development team.
Taylor was excited to see six years of planning become a reality.
"Yesterday, I was out at the course, and there were Olympians out there," Taylor said. "Just jogging the course, and they're right here in Richmond."
Track and field fans came out to watch and buy Team USA gear from the onsite shop.
Organizers wanted this to be a community event, Taylor said.
"We wanted it to be free so people could come in and see our nation's best cross country runners compete and earn a spot on Team USA," Taylor said.
The first race of the day was a community 6K race, which brought 12 people to the starting line. A race for ages 10 and under followed. The competitive races were underway by 10:30 a.m., with the last one at 2:50 p.m.
Top athletes from around the globe will compete in the World Championships in Bathurst, Australia, on Feb. 18.
By Janae Blakeney / Capital News Service