Former Carilion Chief Executive Officer Tom Robertson and his wife, Sue, have given $250,000 to establish a fellowship training program at Carilion Clinic in honor of Charles L. Crockett, M.D.
For more than three decades Dr. Crockett served as director of medical education at Carilion Roanoke Memorial Hospital, overseeing the development of fully accredited residencies in a half dozen specialties with 100 residents each year.
Dr. Crockett, a hematologist, came to Roanoke Memorial in 1967 from the University of Virginia, where he was assistant dean for continuing education and associate professor of internal medicine.
"He recognized from day one the potential of education to set Roanoke Memorial apart," said Tom Robertson, who retired in 2001 after 15 years as Carilion's CEO. "It is extremely rare for hospitals not affiliated with universities to have such a robust training program."
Today, Carilion offers 29 nationally accredited graduate medical education programs. They include 13 residencies and 16 fellowships involving 340 trainees. Following medical school, physicians continue their training through residency programs. Fellowships provide the opportunity for advanced training in a specialty or subspecialty.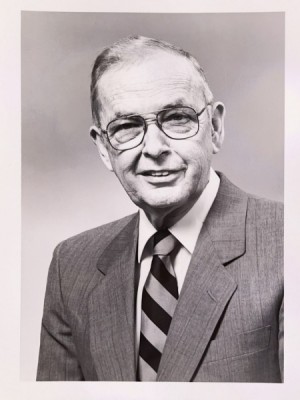 The Charles Crockett Endowed Fund for Hematology Oncology will establish and provide ongoing funding to support a fellowship focused on the treatment of blood-related cancers, including Hodgkin's disease and leukemia. It will be the health system's first cancer-related graduate-level training program and support plans to expand Carilion's cancer program.
"We wanted to do something meaningful to recognize Dr. Crockett," said Sue Robertson, who worked in the hospital's medical records department during his time there. "He was not only a great physician, he also loved to teach. He was so well respected in the community, and we miss him."
Dr. Crockett died in 2001 at the age of 78.
"We are deeply grateful to Tom and Sue for the opportunity to honor Dr. Crockett's memory," said Nancy Howell Agee, Carilion Clinic's president and CEO. "They will always be a part of the Carilion family and through their gift will continue to make a lasting impact on care as we build a world-class cancer program."
Graduate medical education at Carilion dates to the 1950s and has been an effective strategy for recruiting physician specialists to the region, compelling the health system's significant investment beyond the cap of 190 residents and fellows set in 1997 by the Centers for Medicare & Medicaid Services, a primary funder of graduate medical education.
Expanding cancer care is part of Carilion's continued evolution and has become a strategic priority in response to the growing number of patients in the region with cancer.
Like most health systems nationwide, Carilion operates as a not-for-profit entity. All operating income is reinvested in facility upgrades, new equipment and technology, and efforts to attract and retain the best talent. The generous support of donors enhances care and accelerates Carilion's ability to meet the region's health needs.
Carilion Clinic traces its roots to 1899 when Roanoke Hospital was established as a not-for-profit charitable organization with the mission of providing health care to citizens regardless of their ability to pay. Although it has evolved over the years from a single hospital into a nationally ranked health system, Carilion continues to rely on the generous support of donors to advance its mission.
For more information, visit CarilionFoundation.org.