Savannah Gregg vividly remembers the summer she spent with the horses at the Middleburg Agricultural Research and Extension Center.
She stood in awe the first time she saw one of the 1,200-pound thoroughbreds exhibit powerful athleticism and eloquence as it galloped on a treadmill at 30 mph. The specially crafted machine is part of ongoing research at the center that tests the horses' strength, endurance, and recovery.
A horse on a treadmill is an eye-catching sight that evokes a sense of pride in Gregg and other students in the Virginia Tech College of Agriculture and Life Sciences who intern at the center each summer. It's also a visual representation of the experiential learning, advanced research, collaboration, and many more components that have made the center a hub of innovation and connectivity.
Racing toward the research
The Middleburg Agricultural Research and Extension Center, fittingly known as the MARE Center, is home to a herd of thoroughbreds, all former racehorses. Some have had better careers than others, but they all know how to work a treadmill, said Sally Johnson, who leads the center's equine exercise program.
Johnson's area of expertise is muscle biology, and she oversees several ongoing research projects at the center that examine the muscle growth, strength, and metabolism of horses.
"Skeletal muscle accounts for nearly one-half of the body weight of a mature thoroughbred and is the driving force behind the athletic performance," Johnson said. "Ensuring timely recovery and repair of muscle allows for fewer injuries and training days."
Johnson layers the research with nutrition, another integral component of a horse's performance, especially for a racehorse that can burn up to 30,000 kilocalories daily.
To assist in this research, the MARE Center hosts several interns each summer from Virginia Tech, mainly School of Animal Sciences students. As part of the experience, they study alongside Johnson, work with the horses, and learn from local veterinarians and in-house Virginia Cooperative Extension agents.
Former intern Megan Pelletier, who double majored in animal poultry sciences and biochemistry, had very little experience with horses before she interned at the MARE Center.
"But that all changed that summer," Pelletier said. "I got comfortable with the horses and bonded with some of them."
Being knowledgeable of different types of animals and their skeletal systems will help diversify Pelletier's portfolio, one she hopes will help propel her veterinary school aspiration.
"At the MARE Center, I learned so much about basic veterinary practices," she said. "Being able to shadow the vets was invaluable."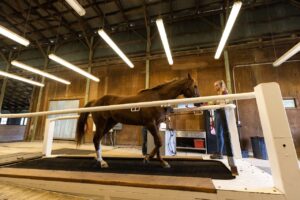 When Gregg, also a former intern and student in the School of Animal Sciences Graduate Program, reflects on her summer at the MARE Center, she immediately recounts the research they conducted using the treadmill.
The specially equipped treadmill is used as a tool to help researchers better understand muscle recovery in horses. During a race, horses travel about a mile and a half. For their muscles to repair, stem cells called satellite cells activate and help with the recovery process.
"One of our long-term goals with this research is to try and understand, what is the level of work a horse — fit or unfit — has to experience for the satellite cells that are contained within the tissue to activate?" Johnson said. "We are ultimately trying to find ways to speed up the recovery process."
That's where the treadmill comes in.
The treadmill at the MARE Center simulates what a horse might go through on race day. It is raised to mimic a race track, and its max speed is 50 mph.
During exercise tests, the horses will first walk on the machine for a few minutes. Then, they start warming up with a trot for about four minutes, followed by a cantor of 8 meters per second. Every minute, the speed is increased from 9 to 10 and so on. Johnson and the student researchers encourage the horses along by banging a whip on a bar mounted beside the horse. They also monitor the distance the horse maintains from the front bar. Should the horse start slipping too far behind, they stop, the machine stops, and the test is complete. Horses cool down for about five minutes, and blood is drawn for further tests.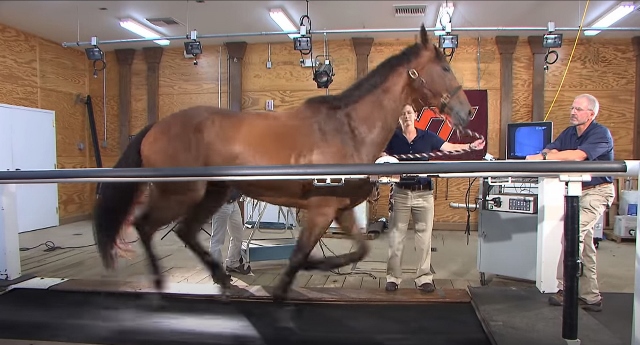 Also key to muscle recovery is a proper diet, and horses, like humans, require the appropriate mix of minerals and vitamins to maintain good health.
"It's very common in the horse world to feed a variety of supplements, and most of these supplements are not often validated for what they are supposed to do," Johnson.
Johnson and her students also spend the summer internship partnering with large feed companies, such as Purina and SmartPak, to ensure what companies are proposing in a supplement is valid. They also study how effective, or not, the supplements speed up the activation of satellite cells.
That research extends to Johnson's lab at Virginia Tech, where Madison Gonzalez '22 spent the majority of her time when on campus.
Gonzalez started riding horses when she was 10 years old. Until she entered the animal science program and "Sally's lab," "I never knew that I could combine my love of horses with my love of science," she said.
"The only reason I'm here is because of Sally and the undergraduate research I was able to conduct in her lab and at the MARE Center. This has been a great opportunity, and because of it, I'm inspired to work for a feed or supplement company," said Gonzalez, who earned her doctorate in animal and poultry science this summer.