Gearing up for your spring cleaning? Donate your used books to TAP Books and give them a second life. TAP Books sells pre-owned books online and uses the profits to fund other TAP services. Not only does the program purchase wholesale used books, but it also relies heavily on community support. "Donations are the absolute lifeblood of the program," says Chad Hill, the program's coordinator.
More than just books
TAP Books sells more than books. It sells CDs, DVDs, Blu-rays, and video games too. "We can take any media except for VHS tapes. If people have old DVDs or video games, we'd love to take them off of their hands," says Chad.
In terms of book donations, TAP Books takes almost anything.
"With every book that is given to us, there is an option for us to resell or recycle it and make profit," Chad explains. "Obviously, we want new, good books that we can sell on Amazon and eBay, but even things that are old and in shreds can be sold by the pound to be recycled."
Resell, Reuse, Recycle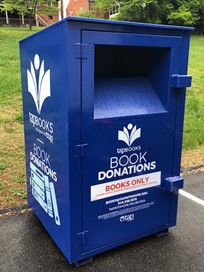 By donating to TAP Books you're supporting a program that gives old books new life and works for the greater good. Profits fuel other TAP programs, and books that can't be sold are recycled to further extend their use.
Donating is easy—TAP Books has 24/7 donation bins stationed throughout the community.
With spring (and spring cleaning) just around the corner, now is the perfect time to go through your old collections and contribute to the TAP Books mission.
Drop-off locations:
TAP Books Warehouse
(new location on the corner of 11th St, NE, and Rhodes Ave, NE)
24/7 Location
901 11th St NE, Roanoke, VA
Roanoke Higher Education Center
108 N Jefferson St., Roanoke, VA 24016

Monday-Friday from 7:00 a.m.-10:30 p.m. and Saturday 7:00 a.m.-6:00 p.m.

TAP Covington Office
24/7 Location
118 S Lexington Ave., Covington, VA 24426

24/7 outdoor donation bin located at in the parking lot of our Covington Office.

Westhampton Christian Church (Grandin Road area in Roanoke)
24/7 Location
2515 Grandin Rd SW, Roanoke, VA 24015

24/7 outdoor donation bin located in the parking lot.

Growing Years Daycare (Hardy Road area in Vinton)
24/7 Location
2102 Hardy Rd, Vinton, VA 24179

24/7 outdoor donation bin located in the parking lot.

Bank of Botetourt
24/7 Location
3130 Peters Creek Rd, Roanoke, VA 24019

24/7 outdoor donation bin located in the parking lot.

ReStore- Habitat for Humanity in the Roanoke Valley
24/7 Location
3435 Melrose Ave NW, Roanoke, VA 24017

24/7 outdoor donation bin located in the parking lot.

TAP Roanoke Headquarters
24/7 Location
302 2nd St SW, Roanoke, VA 24001
Learn more about TAP Books at tapintohope.org/books.