McAfee Knob, one of the Appalachian Trail's most popular overlooks, draws thousands each year to its awe-inspiring summit in Roanoke County. But especially on pretty autumn weekends, that popularity has made parking increasingly difficult for hikers hoping to take in the view.
Now, just in time for the fall hiking season, a new trailhead at the Virginia Tech Catawba Sustainability Center will help ease that load.
The Catawba Greenway, a 2.9-mile looped trail that officially opened with a ribbon-cutting Sept. 30, winds its way through the 377-acre Virginia Tech property before connecting to the Appalachian Trail. The trailhead includes a 25-space parking lot.
In addition to easing parking congestion, the trail also improves safety for hikers along state Route 311. Crossing the busy road at the McAfee Knob trailhead can be harrowing. Plus, an ever-growing number of Appalachian Trail thru-hikers now will have an alternative, off-road path to visit Catawba and its farmers market and post office.
"The Catawba community is a gem in northern Roanoke County. This project demonstrates the importance of partnerships in implementing a regional vision to support that community and to create a recreational facility that individuals and families will be able to enjoy for years and generations to come," county supervisor Martha Hooker said.
Roanoke County and Virginia Tech formed a partnership nearly 10 years ago to develop the Catawba Sustainability Center into a laboratory supporting university research and community engagement.
"Roanoke County has been a true partner with Virginia Tech. We see the promise of this land and the connection with the people of this county in deep and profound ways," said Guru Ghosh, vice president for Outreach and International Affairs. "This area, and Virginia Tech's engagement with Roanoke County, is in many ways the cathedral of community mobilization and community engagement. It exemplifies a deep commitment by the university as well as this community."
McAfee Knob — along with neighboring Dragon's Tooth and Tinker Cliffs trails — is part of Virginia's "Triple Crown" of hiking, each year bringing about 70,000 outdoors enthusiasts from near and far to see its 270-degree vista. The summit has become a key part of the region's identity and is even featured in the county's logo.
That pride shows clearly in the community. Almost 40 Pathfinders for Greenways volunteers spent thousands of hours building the trail, including hand-building rock staircases where it connects to federal land.
For Virginia Tech, the trail will showcase research at the farm, which has been a landmark in the Catawba community since the early 1900s, when it was a dairy farm that supported the Catawba Sanitorium. It was given to the university in 1988 and is now part of Outreach and International Affairs.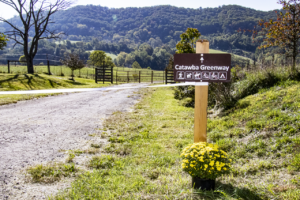 "Seeing how the farm transforms and changes has been part of my daily happiness for the past five years," manager Adam Taylor said. "Tucked away in the hills and the hollers, our projects strive to not only work to feed people and represent agriculture in our rural valleys, but also to represent farming in a way that is looking to the future through environmental stewardship, building soils, and creating a local food economy."
Taylor hopes the trail will allow visitors to reconnect to the land and consider the importance of food production and the environment.
"People visiting this farm can walk through on this beautiful trail and see firsthand what food production looks like when it's done in a way that's protecting our environment and our natural resources," Taylor said.
This year, Virginia Tech reaffirmed its dedication to sustainability through recent revisions of its Climate Action Commitment, which provides an actionable framework for advancing sustainability and energy efficiency in campus operations, academics, research, and more. Among its goals is to engage the university's land-grant extension and outreach programs to reflect the principles of sustainability and help implement them in communities throughout the commonwealth.