John Dooley sat at his desk on the last day of summer camp when a young boy walked up to him and told him how great the last week had been. It may have been the best week of their life, he told Dooley.
"That is fabulous!" Dooley said. "If you thought this year was good, just wait until you come back next year."
The camper paused as the excitement drained from his face.
"No, Big John," the boy said slowly. "I don't know if I will be alive this time next year. I just wanted you to know you had a major impact on who I am."
That was in 1985, the third year of Camp Fantastic, a summer camp for children who have cancer or have recovered from it that is run out of the Northern Virginia 4-H Educational Center, where Dooley was director at the time.
Thirty-six years later, Dooley still remembers that boy — and the impact of helping youth through 4-H has had on him over the years. Though Dooley has had a plethora of roles at Virginia Tech – including being the CEO of the Virginia Tech Foundation, a role from which he recently stepped down— he said his experiences in 4-H shaped who he is both as a leader and a person.
"4-H has contributed so much to who I am today," Dooley said. "I would not have had the life that I have without 4-H."
And some say that 4-H has benefited from Dooley just as much as Dooley benefited from it.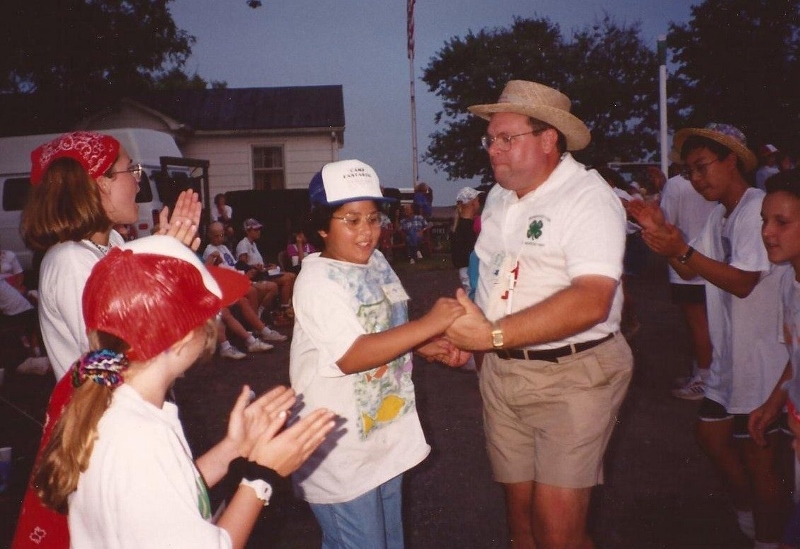 "Without John Dooley, Virginia 4-H would not be what it is today," said Jeremy Johnson, state 4-H program leader. "He has been instrumental in truly giving youth the opportunities to succeed and become strong, confident leaders in their communities, the commonwealth, and the nation. He spent his entire career making the best better. We are all thankful for John's many contributions to 4-H and Virginia's youth."
Making the best better
Dooley got his first taste of the 4-H experience in 1965 when he attended a 4-H science camp in West Virginia as a youth. He's been involved with 4-H in some capacity ever since.
He volunteered for 4-H as a teenager and young adult, and in 1982, he became the director of the brand-new Northern Virginia 4-H Educational Center.
In Dooley's nearly nine years as the center director, he had the opportunity to build the facilities from the ground up and was charged with raising funds to expand the facility and build an auditorium.
But one of his proudest accomplishments was his partnership with Camp Fantastic.
Camp Fantastic was founded in 1983 when Tom and Sheila Baker — who lost their daughter, Julie, to lymphoma — were inspired to start a camp for children with cancer or who were up-to-three years post-treatment. They approached Dooley about holding the camp at the 4-H center.
To make the experience possible, the doctors and nurses from the National Institutes of Health who treated Julie volunteered to oversee the medical needs of the first 29 campers.
"I will never forget the day the campers first arrived," Dooley said. "We could see the bus approaching and I had a big gulp in my throat. They had limited interactions with other kids in recent years and that day was just remarkable."
What makes this camp truly special is that it accepts some of the sickest children in the nation and lets them forget their circumstances.
Camp Fantastic was modeled after the traditional 4-H camping experience – something about which Dooley was adamant. The only difference in the camps is that there is medical support to ensure children, including those undergoing active cancer treatments, could participate. Camp Fantastic is run by the Winchester, Virginia, based nonprofit Special Love, Inc.
Over the camp's nearly 40 years, more than 3,500 children have attended, and countless stories have made a lasting impression on their fellow campers and counselors.
There was the child who just had his leg amputated and came to camp asking to learn how to ride a bike. By the end of the week, Dooley was running alongside him, holding the boy up as he began pedaling on his own.
The camp has expanded its offerings to include camps for siblings of cancer patients, outings for cancer patients, and parent get-away weekends, but it still has the same original vision: give children battling cancer a place where they can just be kids.
"This is one of the things I am most proud of," Dooley said. "This camp gives them the excitement of understanding of what a future can be for them. It's such a transformative experience."
Leading adults and youth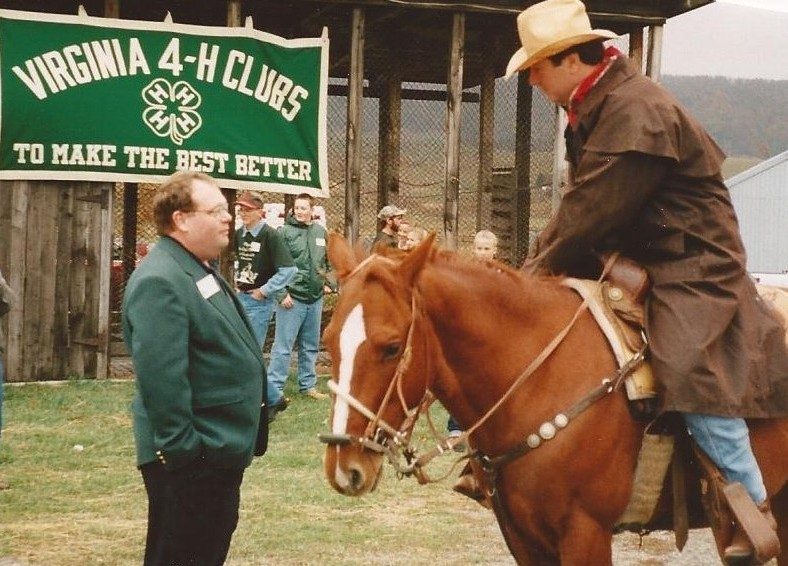 Dooley's experiences in 4-H served him well as he moved around various roles at Virginia Tech and he made lasting impressions on those with whom he worked. Cathy Sutphin, for one, considers Dooley a valuable mentor.
"He coached me along the way and gave me honest feedback at every step," said Sutphin, the associate director of youth, families, and health for Virginia Cooperative Extension. "He's so positive but tells you what you need to hear. He uplifted me and gave me the tools to succeed."
Sutphin said that what stood out about Dooley's leadership is that he truly values everyone's contributions.
"His legacy is partly about empowering other leaders," Sutphin said. "He truly left every position that he had in a better place and with leaders that were ready to take the reins."
Through his many endeavors, Dooley never forgot 4-H, and always stepped up to the plate when he could help. In 2021, Dooley received 4-H's Emerald Clover for his significant 4-H involvement and contributions to his local, state, and national communities.
The COVID-19 pandemic had a particularly hard impact on the 4-H educational centers. With in-person learning and camping not possible in 2020, there are significant negative financial impacts on the six educational centers located throughout the commonwealth.
Dooley felt it was his responsibility to help raise $4 million as a member of the Blue Ribbon Committee, which led the Virginia 4-H Educational Centers Campaign. Dooley was instrumental in Virginia 4-H receiving its largest cash gift – $1 million – from Dominion Energy.
He continuously works to help youth across the commonwealth so the life-changing experiences he had are available for years to come.
"There is nothing I can do to repay what 4-H has given me over the years," Dooley said. "Every little thing I can do to help make sure that other young people have the opportunity to have the same experience that I had is my responsibility."
A career dedicated to the land-grant model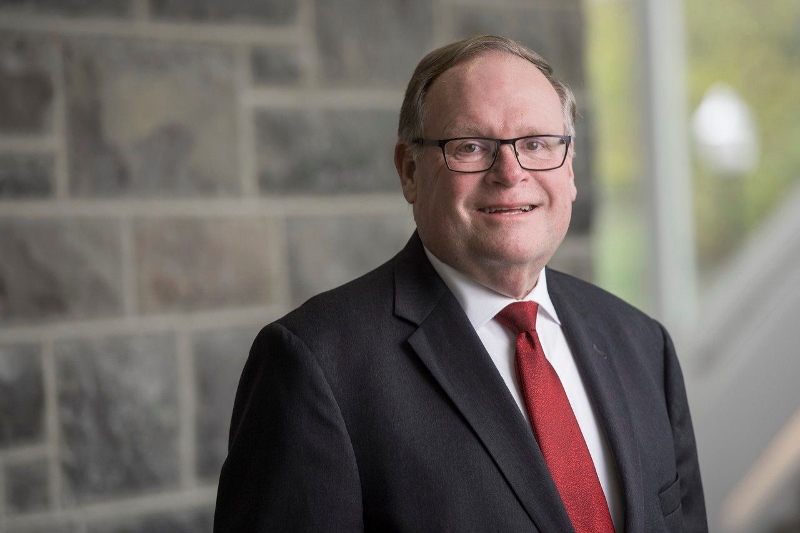 From his early dedication to 4-H as a volunteer, center director, and eventual 4-H state leader to his roles as vice president for Outreach and International Affairs and CEO of the Virginia Tech Foundation, Dooley has been a tremendous asset in helping Virginia Tech meet its land-grant mission.
"I am proud of how Virginia Tech continues to embrace and champion the unique calling that it has as Virginia's senior land-grant university and as an agent of change through education, research, and outreach," said Dooley, who earned his master's and Ph.D. from Virginia Tech. "Virginia Cooperative Extension is the vehicle through which the Commonwealth of Virginia thrives. We have a very unique role in the higher education system in the state."
Dooley isn't stepping away from Virginia Tech just yet, as he will serve as a special assistant to Whit Babcock, Virginia Tech's director of athletics. Dooley will work with Babcock and the Hokie Club as well as Tech coaches and staff as a resource to support the $400 million Reach for Excellence campaign that launched in April 2021.
In all of his endeavors, Dooley lived by one personal motto, which echoes a 4-H slogan: "You don't make the best better by going halfway."
"As long as I can get up in the morning and my feet hit the ground, I am going to get out there and make sure I do something that makes a difference in someone's life."