Billy Ray Mitchell felt at home Saturday night, despite being hundreds of miles away from Blacksburg.
"Everyone was bummed out that we couldn't go the game," said the 2016 graduate and former Hokies offensive lineman. "But it's been amazing to see how creative we've been able to get to keep Hokie Nation connected."
Mitchell was one of thousands of Hokies across the world who tapped into aspects of the virtual game day experience before, during, and after Virginia Tech's 45-24 win over North Carolina State. He and a group of fellow Hokies bought out the entire section of virtual tickets where they normally sit through the Virginia Tech Virtual Sellout campaign.
"It just comes down to, we love Virginia Tech, we love getting together, and we love being a part of something bigger than ourselves," Mitchell said.
Typically the epicenter of Virginia Tech football, attendance in Lane Stadium was limited to 1,000 people due to restrictions to help fight the spread of COVID-19. As a result, Virginia Tech Athletics quickly assembled a flurry of safe ways to keep Hokie traditions alive and students, alums, and fans engaged throughout the game.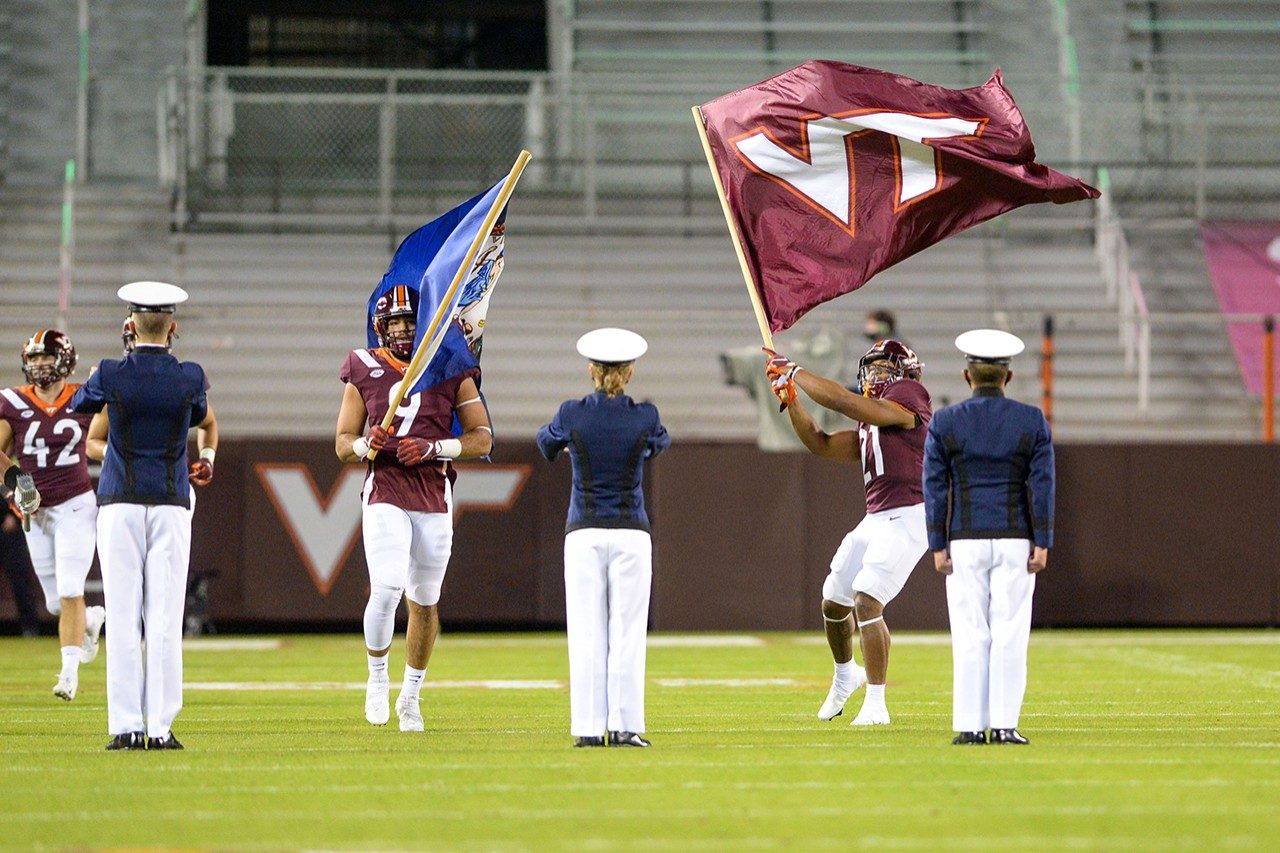 Prior to the game, hundreds of Hokies from around the globe chimed in during a virtual roll call and viewed the Hokies Walk Through on Facebook Live, while more than 9,000 used some feature of the Hokie Sports mobile app during the 7 and 8 p.m. hours.
The app provided a variety of trivia and contests, as well as the chance for fans to receive a push notification, accompanied by lights and a playing of "Enter Sandman," as the football team entered the field in real time. The app can be downloaded for iPhone here and Android here.
The pandemic restrictions prohibited other staples of Virginia Tech football to be physically present in Lane Stadium, but the unbound nature of Hokie Spirit prevailed.
The Highty-Tighties and Color Guard performed the national anthem and "Tech Triumph" via videotape at the beginning of the game. Skipper was fired at the end of quarters and for every Hokie score. The Marching Virginians, Virginia Tech Spirit Squads, and the HokieBird live-streamed various performances from nearby English Field throughout the night.
When the players and coaches hit Worsham Field, they weren't just greeted by the limited family and friends allowed, but also a flurry of friendly faces via the Lane Stadium Fan Cutout program. The Hokie Club fundraiser allows fans to have weatherproof photos of themselves, or others, placed on stadium seats. Legendary Hokies, such as alumna Hoda Kotb and the campus' beloved therapy dog Moose could be spotted in the West Stands, as well as pop culture icons like members of the band Metallica and famed professional wrestler Ric Flair.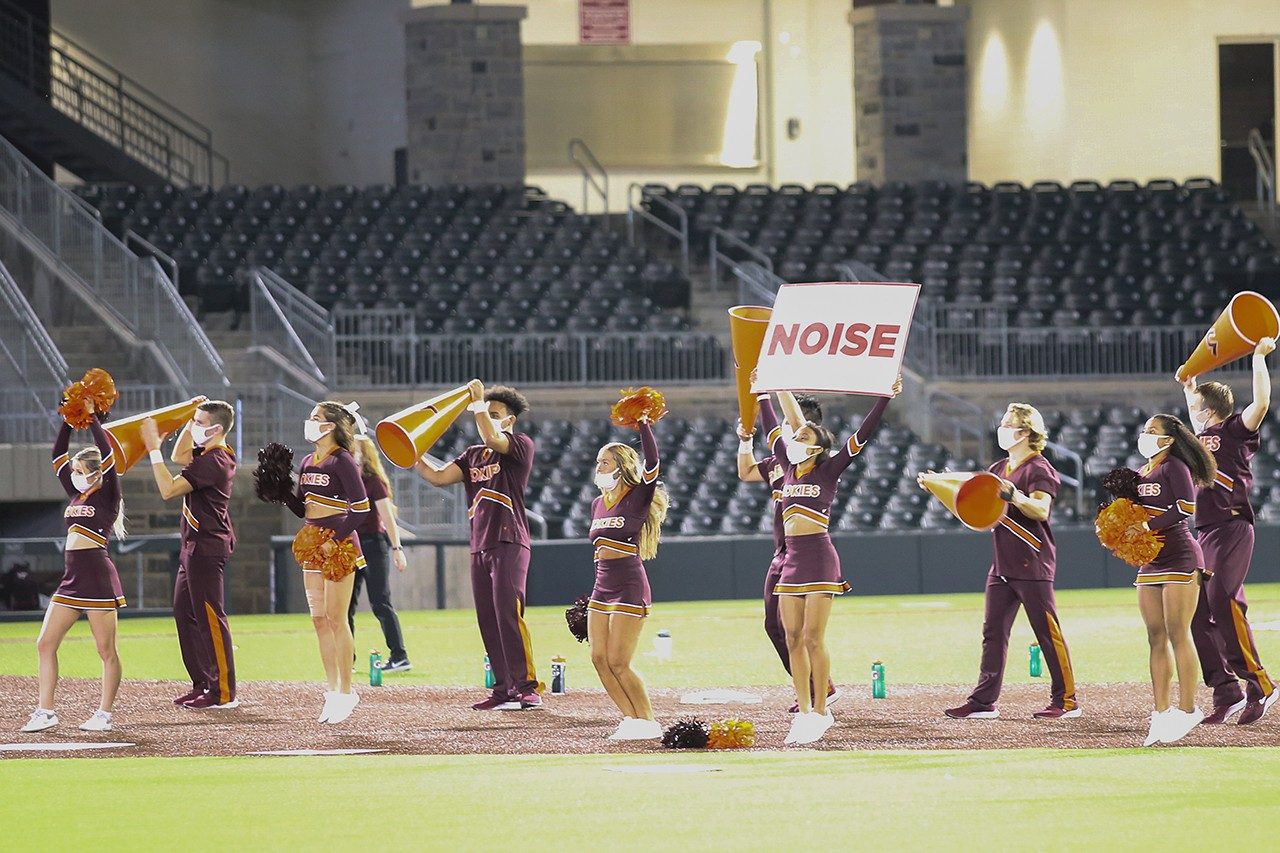 Some people even took the opportunity to honor loved ones who'd passed away by providing them another visit to Lane Stadium. Such was the case for Virginia Tech play-by-play broadcaster Jon Laaser, who paid tribute to his late father by placing cutouts of the two of them side-by-side in the stands.
"See Dad, told you you'd be back to Lane again. This will make me feel better on game day!," Laaser wrote on Twitter after ordering the cutout in August.
Just days prior to the game, Virginia Tech Athletics announced an additional effort to engage fans with the Virtual Sellout campaign. There are still seats available for the season ranging from $10 to $1,000 with the proceeds going to support Virginia Tech student-athletes and help mitigate the forecasted budget deficit as a result of COVID-19.
The effort caught the attention of Mitchell, who is also a co-creator Sons of Saturday, a podcast and website focused solely on Virginia Tech and Hokie athletics. The "Sons," which include Pat Finn '17 and Grayson Wimbish '18, immediately created an online campaign to buy all the virtual seats in Section 5 of the West Stands where they normally sit for each game. Along with Finn, Hokies Bryce Chalkley, Dave Knause, Maryanne Barlow and Jon Barlow Jr. have made sitting there somewhat of a tradition.
"When we saw that, we were like, oh yeah, we're going to buy out Section 5," Mitchell said. "For us to be able to come together and have a lasting impact, that's what it's all about."
— Travis Williams