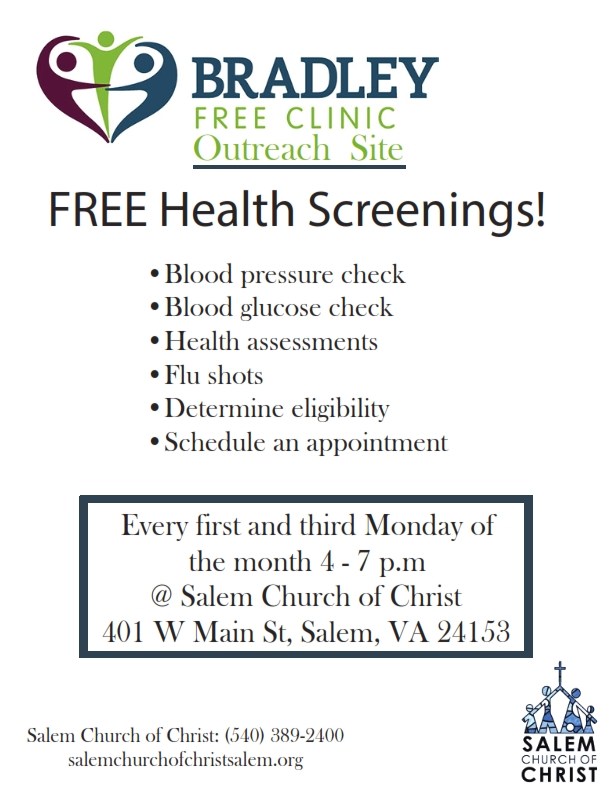 The Bradley Free Clinic will provide bi-monthly services at a new Salem Outreach Site beginning August 5, 2019 from 4 p.m. to 7 p.m. at the Salem Church of Christ, 401 W Main St. Our staff and volunteers will be there the first and third Mondays of each month. Free health screenings will be available to all, regardless of income. Representatives of the RV HOPE Initiative will also be available to offer assistance. The Bradley Free Clinic serves patients from Roanoke, Roanoke County, Salem, Vinton, Craig County and beyond.
"Through the years, we've had many patients, staff and volunteers from Salem," said Janine Underwood, Executive Director of the Bradley Free Clinic. "This provides an opportunity for us to connect to this great community and create greater awareness of our services. Everyone is welcome at our Outreach Site at Salem Church of Christ."
Since 1974, the Bradley Free Clinic has provided free medical, dental and pharmacy care to the Roanoke Valley's the low income, uninsured, and underinsured and their families through volunteer health care professionals. In fiscal year 2017-18, Bradley Free Clinic provided more than $5.4 million dollars in free services.
Founded in 2016, The Roanoke Valley HOPE Initiative is designed to assist individuals suffering from Substance Use Disorders who are seeking resources for treatment and recovery resources. Peer Recovery Specialists and Angel volunteers connect the individual or family members to resources for treatment and recovery programs and assist in navigating the application process.  This week in August also marks the 3rd year anniversary for RV HOPE Initiative.