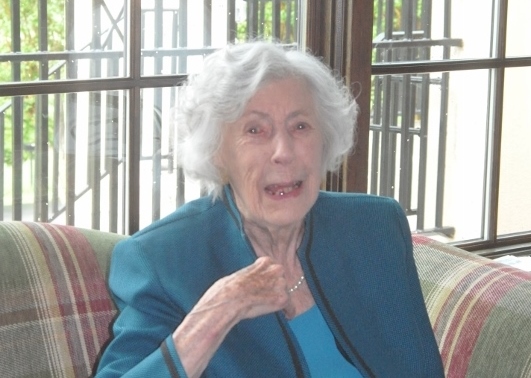 Membership has its privileges.
If that popular catchphrase is on the mark, Roanoker Emily Blake Hill should be in line for a horse-drawn carriage at Roanoke Country Club.
It would be hard to question Hill's legacy at the Northwest Roanoke club.
She became a member when she was seventeen years old. That in itself may not seem so unusual until it's pointed out the year was 1939. Franklin D. Roosevelt was President, the United States was preparing to enter World War II and New York Yankee great Lou Gehrig was giving his "I'm the Luckiest Person on the Face of This Earth" speech before retiring with ALS disease.
On the silver screen, Stagecoach, The Wizard 0f Oz and Gone With the Wind were all making their debuts.
Hill was joined by a large number of family members, close friends and fellow RCC associates at a special reception the first week of July to celebrate the 80th anniversary of her membership. A pretty impressive run for a lady who is now 97 years old and, as it's said in sports, still has her "A" game going.
"It was sort of a surprise, although I knew something was going on," Hill admitted of the celebration while sitting with her close friends and looking through pictures from her past. "I really thought it was going to be a lot smaller."
Hill was born near Detroit. Michigan in 1922 the year Warren G. Harding was President. She moved to Roanoke in her pre-teen years before her love of swimming led to her membership at RCC.
"I basically joined to go swimming," Hill noted. "Roanoke Country Club had one of the few swimming pools in Roanoke at that time."
While swimming was popular with Hill, she also tried her hand at golf and became very talented at tennis. She showed a picture of herself playing golf at Mountain Lake in 1988, ready to hit an iron shot and clad in sporty golf attire and bright red beret.
"I was about 10-12 years old when I started playing tennis," Hill recalled. "I became pretty good at tennis and won some tournaments in my day."
Emily had a great tennis partner for many years in her husband, Halsey Hill, who passed away in 2008 at age of 92. Halsey, a VMI graduate, was a veteran of World War II who was awarded two Purple Hearts and the Bronze Star. They were married for over 60 years.
But, like all athletes,  Emily Hill knew when it was time to step down. "I finally quit playing tennis about 4 years ago when I was 93," she said with a huge grin. Hill credits her longevity to a pair of interesting factors that drew laughter from her friends.
"I credit a lot of it to luck and I don't drink too much," she pointed out. "But, I do like a good vodka and tonic when the time is right." She pointed to her potent potable from the RCC bar as proof of point on this special occasion.
Now, a resident of Brandon Oaks, Hill still maintains her competitive edge by enjoying a good game a bridge. As for television, she says she likes to watch the news.
Hill's son, Charlie Hill, gave a rousing toast to his mother as everyone joined in.
"I want to thank my Mom for dragging me around to all those great backyard parties, Christmas dinners and Christmas Eve celebrations," said Hill. "
The Grande Dame of Roanoke Country Club nodded in agreement.
Bill Turner