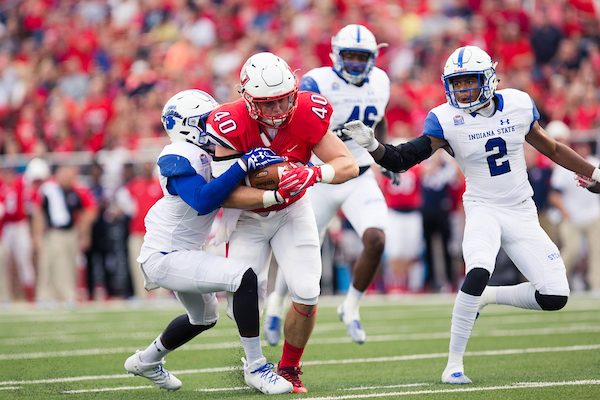 Liberty University offensive end Zac Foutz had long pursued his dream in sports.
But, with the unexpected turn his life took when he was a sophomore at Cave Spring High School, even Zac realized his dream was like reaching for the farthest star in the sky.
"Kids all have different goals and aspirations when they're young," Zac noted in a recent exclusive interview with The Star. "Some want to be doctors, some want to be lawyers or teachers. Since I was 6 years old, I always wanted to be a Division i football or basketball player. I grew up in sports."
Foutz was well on his way to being an accomplished star in both of those sports at Cave Spring, playing a key roll on head coach Tim Fulton's football team since he was a freshman. He also followed the same path in basketball for former Knight coach Billy Hicks and current Cave Spring head basketball coach Jacob Gruse, who took over the basketball program in 2015.
But, fate is the hunter, and in the summer of 2012 Zac had suffered back pain and a disc problem after participating in AAU basketball. Physical therapy and a steroid shot had worked to relieve the pain, but with the rigors of his sophomore high school football season underway, doctors prescribed a second shot. That's when Foutz's life would begin to unravel after it was determined that the second shot came from a batch that was later determined to be tainted. The news came out of the blue.
"I was in my room at home and my mom and dad called me downstairs," Zac recalled. "The news on TV was 'Shot Recall'. Everything became so serious and it was complete silence while we listened. It was the same batch as my second shot. I didn't really understand, but I had goose bumps. Two had already died in Virginia, but with me being healthy it didn't sink in. For me it was go to bed and kind of forget about it."
Problems from the condition progressed slowly. It began to affect his football performance, although he had a stellar three interception game against Christiansburg, returning one for a touchdown. That same weekend Foutz was celebrating his 16th birthday out of town with friends and things rapidly deteriorated. He started having headaches and was dehydrated. His parents took him to the emergency room at Lewis Gale Hospital where he was admitted for two days before being transferred to Carillion Roanoke Memorial for 15 days.
"At Roanoke Memorial, things kept getting worse," Foutz said. "It was a tough deal. They were concerned about kidney failure. Due to light sensitivity the room was kept dark and I wore blinders. There was a lot of pain. I couldn't eat and was violently throwing up for over a week."
But, a young doctor jolted Zac's determination when he informed him that he was close to needing a feeding tube.
"He told me 'believe me, you don't want that,' and it made me realize I had to fight to beat this disease. Thankfully, things started turning around and they got things right with my medications."
While recovery slowly progressed, few had hopes of Zac ever returning to athletics.
"Many people thought I'd never walk again, play sports again or return to high school," Zac recalled. "I was out of school for most of 4 months. Many at Cave Spring thought I was dead and when I returned, some thought they were seeing a ghost. I tried returning to basketball, and played in a couple games, but the toll my condition had taken was discouraging. My body just wouldn't do it and I kept beating myself up."
Foutz hadn't been able to attend football camps before his junior year and it affected his recruiting.
"I had been receiving 3-4 letters a day from prospective colleges. After my illness it all took a big dip. They were looking at a recruit who almost died as opposed to others who were 100% healthy. I was having two guys getting recruited in front of me at every school."
Foutz finally got a break when he was invited to a camp at Liberty University in June, 2014, where he competed with 60-70 other recruits.
"Coaches at Liberty realized my size and weight had returned," Foutz said. "They saw potential."
Then, the call came. Liberty head football coach Turner Gill offered Zac a full scholarship.
"I couldn't speak," Foutz noted of receiving the call and the offer. "Coach Gill looked at everything that had happened as a positive. Finally, I saw things coming together. Other things never went my way, but I had kept pushing. I had accomplished a dream. Many said it was not possible, but all the hard work and determination made everything worth it."
"It was a situation where we relied on information from the doctors," Gill told The Star in 2015. "There was nothing that said Zac could not play football. He's an inspiration. A young man who wants to compete and was determined to overcome a tough situation with a lot of self-motivation. These are the people you want in your program."
A knee injury during his senior year at Cave Spring led to a redshirt year at Liberty in 2015 after he realized he couldn't keep up with the speed of the game. He still was named to the Big South Presidential Honor Roll for academics.
"It's a big transition from high school to college football," Foutz said. "With what I had been through and almost dieing, I never thought it would happen. When it did, it was very rewarding."
His redshirt-freshman year in 2016 saw Foutz held out of spring practice until his knee healed from the surgery and he got back in shape. When fall arrived Foutz was ready to go.
"I was ready, had confidence in myself and played in 10 of 11 games, mostly on special teams. But, Foutz recorded a milestone on October 1st in a game against Robert Morris.
"It was fourth and one, and we were in a goal-line package, needing a touchdown to tie the game," Foutz recalled. "Usually in that situation, my role at tight end was blocking, because it would be a running play. But, they call a pass. I wasn't the first read, but no-one was inside me and no-one was outside. I was really nervous and was wide open. I thought 'blow this and I'll be the biggest loser on ESPN.' I looked it in and realized I was in the end zone. Every guy has milestones- make your first catch, make your first TD, a 30 play game, first tackle, first pancake block. That play was a dream for me."
February, 2017 brought big news out of Lynchburg. Liberty would be moving up to the FBS, the highest level in college football. It would begin a two-year reclassification without joining a conference via a NCAA waiver. By 2019, the Flames would be eligible for the top post-season bowls.
"There had been rumblings in the locker room that it might eventually happen, but then we'd dismiss it," Foutz noted. "Then the announcement came and I was soaking it all in. Another dream. I went outside to be by myself and my first call was to my Dad. I kept thinking of the teams that turned me down because my sickness had been their excuse."
Liberty started the transition with a bang, traveling to Big-12 powerhouse Baylor for their 2017 season opener.
"It was new era and we had the attitude to go to the next level," Foutz said. "The whole team worked so hard over the summer. We kept saying 'we can beat a Power-5 team.' "
And, that they did, winning 48-45 in a shootout that saw 8 lead changes and 3 ties. Foutz had a catch for 6 yards in the win, and eventually started all 11 game on offense, with 5 receptions for 51 yards including a career-best 23-yard catch in a 42-41 win over Indiana State.
Foutz had shoulder surgery in December, but is ahead of schedule to be ready for the 2018 campaign which will see Liberty take on UVA and Auburn in November.
"We're taking no-one lightly, but we want to be remembered in November," Foutz says.
"I can't say enough about Coach Gill and his staff. They gave me my shot to achieve my dream. Coach Gill had confidence in me and my ability. I'm working harder to take advantage of that opportunity as much as I can."
When a dream is fulfilled, it is always a glorious feeling. Miracles happen when dreamers take action.
Bill Turner