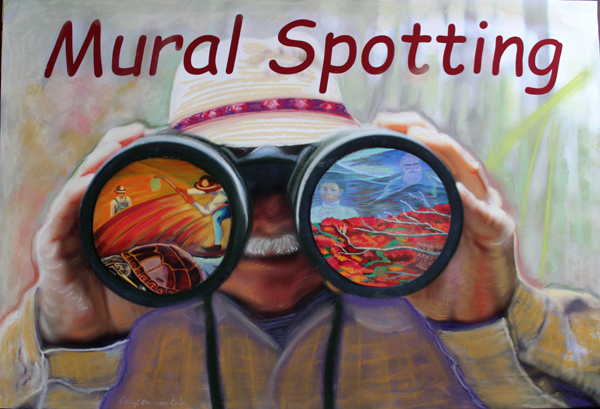 Storytelling is a vivid part of Appalachian culture, stories are handed down, drifting through many generations. Today there has appeared an even more colorful way of passing our tall tales to future generations, historical public mural art. Magnificent murals speak of life here in Appalachia as they shine a light on mountain heritage and creativity. The Appalachian Mural Trail has been developed as a way to document and share these huge works of art with the world.
Beginning as an idea some 25 years ago in a non-profit organization, Catch the Spirit of Appalachia, the Appalachian Mural Trail came alive in 2017 at the hands of Jerry and Doreyl Ammons Cain. The project has now blossomed into a viable, expanding success with 45 North Carolina historical murals on the trail.
"People enjoy the beauty of the Appalachian Mountains through experiencing nature on the Blue Ridge Parkway. Now visitors can learn more about our mountain ways as they travel into the towns and communities on a mural quest, a cultural treasure hunt!" says Doreyl Ammons Cain, mural trail Director.
"We are inspiring small Appalachian communities to create their own high quality outdoor heritage murals; painting folk tales, Cherokee legends, mountain music and the beauty of the land. These murals are placed on an interactive website, muraltrail.com  where  visitors can select and create a personalized mural trail route with driving time & directions. Most murals are within driving distance of the Blue Ridge Parkway and directions are based on Parkway mile markers. The Appalachian Mural Trail is designed to help the mountain economy through drawing Parkway visitors into the small, quaint mountain towns where they  can dine and find lodging."
Currently there are two mural maps on muraltrail.com, North Carolina and Virginia. The mural trail project started in North Carolina and is now moving into Virginia. Any town, community or business in Virginia is now eligible to be added to the Appalachian Mural Trail if they have a historical mural within driving distance of the Parkway.
The Appalachian Mural Trail is a partner with the Blue Ridge National Heritage Area and also is a member of the Blue Ridge Parkway Association. The Smoky Mountain Host, the High Country Host and the Blue Ridge Mountain Host are marketing organizations that list the Appalachian Mural Trail, promoting the trail to visitors throughout the mountain area and on the Blue Ridge Parkway.
Both North Carolina and Virginia Welcome Centers are distributing rack cards. Other marketing includes press releases to local, regional, national and international media. Dedication events for adding each mural to the mural trail are highly promoted through a variety of media.
If you'd like to get started on creating your own historical mural simply go to www.muraltrail.com and select 'membership' and fill out a submit form-and select 'Partnership.' All of your questions can be answered by selecting 'contact the Director," says Cain. "Gateway cities are also invited to sign their murals to the mural trail. Cities that are the doorways to the Appalachian Mountains, like Richmond Virginia and Greensboro & Winston Salem, North Carolina.
A new website, www.muralspotting.com  is now available for the general public to upload pictures of murals they spot. The Appalachian Mural Trail will also select murals that may fit on the mural trail from the uploaded pictures.
"We are especially interested in the WPA New Deal murals that were painted in the 1930s and 40s and placed in post offices throughout the country," says Cain. "There are quite a few of the WPA murals in the Appalachian Mountains. Our precious mountain heritage and it's amazing stories need to be shared with the world, thereby uplifting the way we see each other and telling the truth of who we really are,  talented, creative mountain folk who love to tell a good story!"