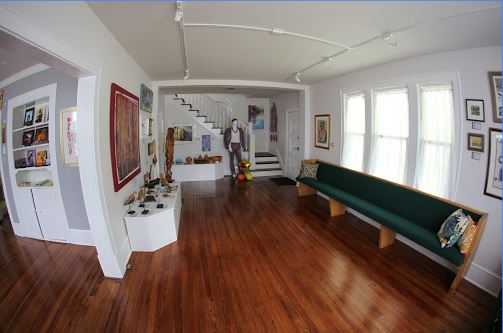 Inkular Gallery, a contemporary art gallery located in Boones Mill, had its grand opening on Saturday, May 20. Additional events including artist receptions and open houses will be held throughout the summer and fall.
"It has always been my dream to open an art gallery and when I found this wonderful space, I knew the time and place was right," said David Rakes, owner of the gallery. My goal is to support the arts in this community and place our artists' work in a wide range of public and private collections."
The building housing the gallery contains five gallery rooms and an artist's studio. The building has been remodeled for its current purpose.
The stylishly minimalist gallery exhibits emerging, mid-career and established artists creating contemporary works on paper, paintings, fine art photography, sculpture/woodworking, pottery and even stained glass. The mission of Inkular Gallery is to bridge various artist communities and provide its artists greater exposure to new markets.
The opening exhibit highlights the works of several regional artists including Ann Way Bernard's bold oil paintings of still lifes and landscapes; Steve Bernard's abstract pastels and oils and Deena B. Marion's amazing fine art macro photography of bees. Other featured artists include George Shumate, Carol Yopp, Myrtle Hooker, and Michael Nekic. Local artisans include Earl Floyd and Wayne Bishop and Rebecca Stormer.
Also included in the exhibit are the paintings of gallery owner David Rakes and others.
A youth gallery is being planned to feature the work of talented students. A portion of the proceeds from the sale of youth art will be shared with art organizations and art projects in the community.
For more information email: [email protected] or visit inkulargallery.com.