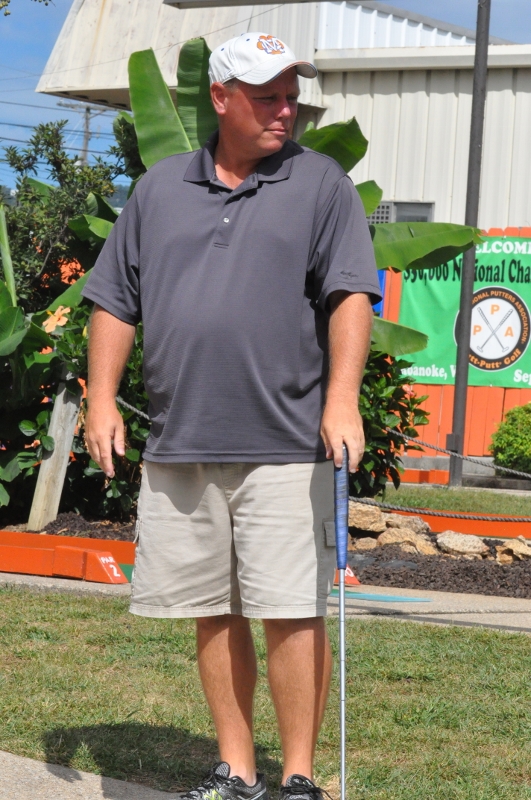 In poker, it's often played, "deuces are wild."
It would be hard to argue that aces were running wild the third week of September as the Professional Putters Association (PPA) held their 57th annual PPA National Championship at the Putt-Putt Fun Center on Peters Creek Road.
While Putt-Putt golf has been played by most as a form of entertainment on a warm summer night, when the pros of Putt-Putt gather with their national championship on the line, it's some serious business with more than just a free game at stake.
That was the case this year as 75 of the best professional Putt-Putt golfers in the world battled it out through 12 rounds, spread over three days, at the two regulation courses on Peters Creek.
On the line was a total purse of $50,000, with $10,000 going to the winner, a nifty $5,000 for second and $2,500 heading into the pocket of the third-place finisher and winding down to $250 for a top 50 finish.
For golfers thinking that putting is the strong point of their game, be forewarned – these pros will take you to the cleaners on the signature green carpet and orange rails of Putt-Putt layouts.
Founded in 1954 in Fayetteville, North Carolina, Putt-Putt originally cost 25 cents per round as the world's first copyrighted and branded miniature golf game. While there are hundreds of individual Putt-Putt hole layouts available, all courses are built to exact standards to make it popular with adults and children alike.
Par is set at 2 without exception on each Putt-Putt hole. Other varieties on mini-golf may vary widely, but in Putt-Putt every hole is designed so that a hole-in-one can be scored on each hole with a skillful putt, often requiring navigating around obstacles and rails that necessitate accurate caroms. Other forms of miniature golf often incorporate waterfalls, mountains or animals, but those never come into play in Putt-Putt.
Although obstacles in Putt-Putt are limited to small hills, metal pipes, blockers and loops, don't think these subtleties will let you off the hook. Even for the most accomplished of amateur players, Putt-Putt can have you ready to pull your hair out in frustration on getting the ball into a cup nestled on the back side of a hill or hidden behind a metal blocker.
An official Putt-Putt course has been in Roanoke for 57 years, moving to its current location in 1985 from the old location off Williamson Road in Boxley Hills.
Roanoke Putt-Putt owner David Mitchell has been in the business for 40 years, and when the course hosted the 2015 $10,000 Eastern Open, the groundwork was laid to bring the national championship to the Star City.
"The pros loved coming to Roanoke for the Eastern Open," Mitchell noted. "They liked our course and they liked the Roanoke area. We originally were hoping to bring the national championship here next year, but things fell into place to get it here a year sooner. The pros had heard good things about our course and traveled here from all over the country last year."
Watching these guys ply their trade will have you scratching your eyes in disbelief. They know every angle, every speed and readily explain all the technical aspects that most putters would never consider.
Kevin Lacey, a Putt-Putt pro since 1992 and 2008 National Champion, took time between rounds to talk about what goes into this tournament. He also demonstrated some shots where there was typically one constant. The ball ended up in the jar in one stroke.
"For all of these professionals, our entire year builds up to this," Lacey noted. "This game involves a lot of preparation. I've been here for 1 1/2 weeks to prepare, playing 25-30 rounds a day to learn every characteristic of each hole. There's a lot of mental aspects in this game."
Lacey, a computer programmer when he's not on the tournament circuit, says the Putt-Putt purses are great, but not enough to avoid having a full-time job.
Also on hand is Ohioan professional Greg Newport, in his 26th year as a Putt-Putt pro and 2010 National Champion. Newport reached the ultimate in Putt-Putt fame earlier this summer when he became only the fourth person in Putt-Putt history to score a perfect one-round score of 18 in tournament play. That's right, 18 straight holes-in-one. Newport said he never expected it.
"It was the fifth round of a six-round tournament," Newport said as he recounted the famous occasion. "Every Putt-Putt course has holes that are stoppers, holes where a hole-in-one can be made but are so technically difficult the odds are against you. It was on the 14th hole that I first thought about it (a perfect score), then the 17th was so tough I hadn't made a hole-in-one on it in any round. When that one banked in, I went to the final hole and my hands were shaking so bad I couldn't pull the trigger and had to step away to gather my thoughts. Everyone was staring and I still couldn't stop shaking. Finally, I hit the putt and knew it looked good as it headed toward the cup.
"I got to Roanoke last week and played around 50 rounds, 2 or 3 balls each round, each day to prepare," Newport noted. "One thing you try to figure out is the speed of the carpets and how the temperatures will affect the roll. When the temperatures rise during the day, the pile on the carpet rises, changing the speed of putts as the day goes on. Even the metal rail caroms change as it gets hotter."
Ironically, Rick Baird, the holder of the third perfect score in Putt-Putt history that was accomplished in 2011, was also in the prestigious field this year.
Putt-Putt pros also make sure their organization has charitable ties. During the tournament week, Carilion Children's Hospital and the Children's Miracle Network received a check for more than $6,000 from the PPA/Kroger Pro/Am Charity Tournament.
The PPA tournament was still up for grabs heading into the final day's four rounds, with Newport holding a 2-shot edge over a trio of chasers. Three lead changes unfolded during the final day before Lacey aced eight of the final nine holes to win by two shots over Texan Wade Sahmel. Two-time PPA National Champ Andy Coradini finished fourth, with Newport taking third place. Lacey's final round 23 completed a 135-under-par total for the twelve rounds.
In the 24-player amateur field, Randal Smith blew away the competition with a 17-shot win over Roanoke putting guru Clayton Craft, the 1995 and 1996 Amateur Putters Association National Champion.
"All these guys are very good," Newport said after the second day of competition. "You can't make mistakes."
Definitely a case where you better bring your "A-game" ("A" as in Ace) to the green carpet.
Bill Turner