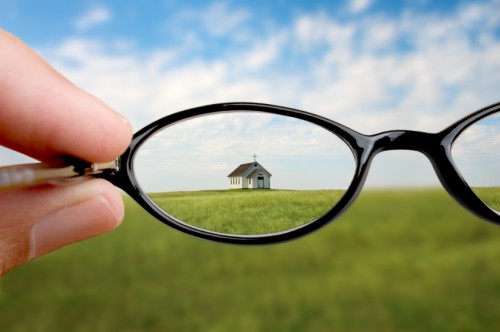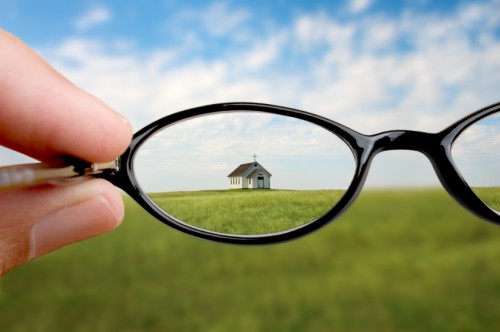 I find it interesting that just a few minutes before starting to work on this sermon I received a communication from a friend who I haven't seen in years who was professing something of her faith in response to last week's sermon. Part of what she said was, "Since I have been in Nashville I have joined a church, but haven't dedicated myself to it, and though I live my faith, there is an element of power missing. [Will you] keep an old friend in your prayers?"
And my response to this particular part of what she wrote was, "I'm so glad to hear you are on your way. Churches are good (we truly do need that community) but real Trust in Him, born of a seeking, patient and prayerful heart, is far better . . ."
And here I am preaching on why one should go to church without any conscious awareness (at least at the outset) of what I had said to her. Perhaps the Spirit wanted me to maybe think about that statement a little further . . .
Well there are lots of good reasons to go to church – and lots of good reasons not to as well I suppose. The "Top Ten" "not to go" reasons I came up with are as follows:
1.) I can't sleep in as long. (My children's main reason – and mine too when I was their age.)
My simple response to this argument is that as teenagers we all get up to go to school five days a week to better ourselves (or maybe just because both the state and our parents say we have to). So are we really going to choose NOT to get up one day a week to honor and seek the God of creation that MADE us?! You are going to have to dig a little deeper than that . . . Would you choose to ignore a good friend in such a way for the majority of your life? How much less so then, He whose love breathed us into creation and then sacrificed Himself after we went so horribly wrong? Get up a little early? Really?
2.) It's not my kind of music – and I don't like to sing anyway.
Well – no music is going to be EVERYBODY'S music! So why not embrace the simple novelty of it (if nothing else) and recognize that maybe the ability to step out of your comfort zone musically (or in any other way) might not be the WORST thing to ever happen to you. Don't be as C.S. Lewis would say, "solitarily conceited!" Which is to say a "snob." Be open for heaven's sake!
3.) Everyone seems to know so much more about God than I do.
Yes, there will people who do. They are to be learned from (not feared!) that you might develop deeper and richer understandings of God, faith and the journey that we are all on together!
4.) Everyone seems to know so much less about God than I do.
Yes, there will be people who do. They are to be gently and humbly lead by you so that they (and YOU paradoxically in giving) might develop deeper and richer understandings of God, faith and the journey that we are all on together!
5.) The sermons are just too long and tedious.
Well, sometimes they probably are! But nothing worth mining is rarely if ever found just sitting on the surface. The same goes for the Living Word of God. Allow yourself the opportunity to go digging with the Minister – ask questions, prod, cajole, critique (where appropriate!) and LISTEN. It is truly amazing what the two of you (by God's grace) might discover together.
6.) Everyone acts like everything is fine in their lives when it really isn't.
Real authenticity is hard to find anywhere these days – and maybe least of all in the hallways, classrooms and fellowship halls of the average church. But again, hang with people a while – we all wear our masks far more than we should – but in time most of us let them down and the genuine person begins to come through. They may be far different in many ways than we are, with a wide variety of gifts, abilities and backgrounds – but in the end it is that same variety that makes us strong!
As C.S. Lewis said: "The church is NOT a human society of people united by their natural affinities but the Body of Christ, in which ALL members, however different (and God rejoices in their differences and by NO MEANS wants to iron them out) must share the common life complementing and helping one another precisely BY their differences!"
7.) They are always asking you to do something.
For those of us who have a hard time saying no and have too much going on already anyway this is certainly problematic. For the church often does tend to "over-ask" for help in its ongoing "maintenance" and ministry. So, what to do? Well God has a way of putting things in front of us and the real question is simply whether we will engage in those places where we can make a REAL difference . . . or sidestep them so that we can pursue other interests. Answer the "opportunities" to serve HONESTLY – and when it doesn't feel right or real in the greater flow of things for you SAY SO. You aren't doing anyone any favors serving begrudgingly or with reserve – and maybe even less so than when for good reason you simply have to say, "I'm sorry I can't be part of that right now."
8.) I went for years and nothing really changed in me as far as I can tell.
Really? We've been eating for years too and while we probably can't remember what we had last night (much less last week, or last month or a year ago) that food has sustained our bodies for the long haul hasn't it?  In much the same way the Holy Spirit works through ALL the interaction we have together as a church to feed and nourish us spiritually. We may never necessarily be able to discern where or when the most important or "best meals" really occured, but we are being changed into a more perfect likeness of him, whether we fully know it – or not.
9.) I just don't get it. Most everything I hear in church is completely counteracted by the world.
Well, scripture tells us that the world is very much out to get us and that there is a "ruler of this world" who won't give up trying until he succeeds . . . or loses. Thanks be to God that our Lord and Savior was able to confidently say, "I have overcome the world" and that ultimately Satan would be "put behind him."
 Of course you and I have to be (no less than Christ himself was) IN this world, but not OF this world. That's easier said than done most of the time, isn't it. That's why we come to church – it re-orients us- re-focuses us – recalibrates, us so that we may indeed move about the world clothed in (as Paul said) "the full armor of Christ."
 When you really think about it, what feels most like the truth – the promises of the world? Or the healing, nurturing and sustaining words of Jesus? I thought so.
10.) Christians are just so hypocritical – they always claim to be one thing but when you see how they live their lives it is totally different.
Yes – this too is often the case – the vast majority of us struggle to put into practice what we encounter and experience in scripture. And we often ignore the very person of Christ in whom we are called to live and move and have our very being. But just because we can't yet paint like the master doesn't mean we shouldn't keep seeking to. And that can take (will mostly likely take) a lifetime of successes and failures. The church is that place where we learn about – seek to put into practice – and are able to MEASURE those successes and failures . . . and while our journeys both here and in the world are certainly less than perfect, they are what allows us to be moving toward "the stature of the fullness of Christ."
Well, those are my "top ten." Of course there is a good long list of reasons why one SHOULD go to church as well and in responding to the negative reasons we already have touched on several of the positive. But here are a few others to consider:
– By seeking God in a community of faith we discover who we TRULY are . . . And who God is and how to live in right relationship with Him.
– By seeking God in a community of faith we discover who others are and how to live in right relationship with them.
– By seeking God in a community of faith we make ourselves available to both offer and receive comfort in times of trouble and pain.
– By seeking God in a community of faith we open ourselves up to the wisdom of others and are able to share that which by grace we have discovered.
– By seeking God in a community of faith we look beyond even these great truths to a FAR GREATER TRUTH – which is the forgiving and eternal Love of our Heavenly Father given in the life, death and resurrection of Jesus Christ – as expressed and revealed to us through all eternity by the Holy Spirit. And of course, the living Word.
"Remember the Sabbath day, to keep it holy.
One thing have I asked of the Lord, that will I seek after: that I may dwell in the house of the Lord all the days of my life, to gaze upon the beauty of the Lord and to inquire in his temple.
Behold, how good and pleasant it is when brothers dwell in unity! It is like the precious oil on the head, running down on the beard, on the beard of Aaron, running down on the collar of his robes! It is like the dew of Hermon, which falls on the mountains of Zion! For there the Lord has commanded the blessing, life forevermore.
For a day in your courts is better than a thousand elsewhere. I would rather be a doorkeeper in the house of my God than dwell in the tents of wickedness.
Iron sharpens iron, and one man sharpens another.
Obey your leaders and submit to them, for they are keeping watch over your souls, as those who will have to give an account. Let them do this with joy and not with groaning, for that would be of no advantage to you.
For just as the body is one and has many members, and all the members of the body, though many, are one body, so it is with Christ.
But exhort one another every day, as long as it is called "today," that none of you may be hardened by the deceitfulness of sin.
And I tell you, you are Peter, and on this rock I will build my church, and the gates of hell shall not prevail against it.
"I will tell of your name to my brothers; in the midst of the congregation I will sing your praise."
For where two or three are gathered in my name, there am I among them."
So faith comes from hearing, and hearing through the word of Christ.
[So] let us consider how to stir up one another to love and good works, not neglecting to meet together, as is the habit of some, but encouraging one another, and all the more as you see the Day drawing near.
Let's go back to the response to my friend: "Churches are good (we truly do need that community) but real Trust in Him born of a seeking, patient and prayerful heart is far better . . ."
Well, of course that statement is TRUE – for if we are truly trusting God – that is, we are in a right relationship with HIM, which is born of a seeking, patient and prayerful heart – then we will fully know our need for the "community" that Jesus himself spoke into being  . . . In which we can share our story and be likewise be shared with  . . .  A place where we can all mutually lead, bolster, support, comfort and affirm one another!
Here's how C.S. Lewis once put it:
"When I first became a Christian, about fourteen years ago, I thought that I could do it on my own, by retiring to my rooms and reading theology, and I wouldn't go to the churches and Gospel Halls; . . . I disliked very much their hymns, which I considered to be fifth-rate poems set to sixth-rate music.
But as I went on I saw the great merit of it. I came up against different people of quite different outlooks and different education, and then gradually my conceit just began peeling off. I realized that the hymns (which were just sixth-rate music) were, nevertheless, being sung with devotion and benefit by an old saint in elastic-side boots in the opposite pew, and then you (eventually) realize that you aren't fit to even clean those boots. It [church] gets you out of your solitary conceit."
There's that term again: "Solitary conceit . . ." which is perhaps one of the darkest form of arrogance and the very opposite of love shared in HUMILITY – that which Christ himself so consistently displayed as the primary key to the Kingdom . .  which will make of us all "little Christs" as Lewis  says, "or as Frederick Buechner adds, "destroy us for our own sakes . . ."
Why go to church? To become more and more and more like him is the obvious answer. To never give up on the work that God has begun in us – that we may become more and more a New Creation . . . An imperfect one to be sure – but an ever increasingly (by God's grace) more perfect example of the original – in whom we truly do live and move and have our being and in whom we discover who we were always meant to be: Children of God. Destined for eternity with Him and one another.
Is that worth getting out of bed for?
As Lewis himself says: "I doubt the universe was created for any other purpose."
– Stuart Revercomb