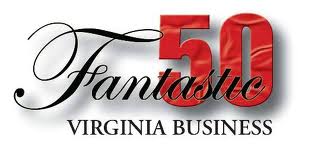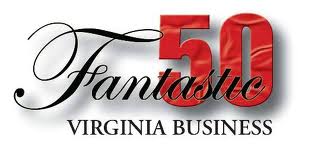 None of the companies listed are in the Roanoke Valley
The Virginia Chamber announced the names of fifty of the fastest growing Virginia companies at the nineteenth annual Virginia's FANTASTIC 50 Awards Banquet on May 1st at the Westfields Marriott in Chantilly. Nearly 500 attendees at the ceremony saluted the winners for their entrepreneurial success and contribution to Virginia's economy.
"To be successful in the global economy, Virginia must support and encourage our entrepreneurs and
the innovation they bring to our economy," said Virginia Chamber President and CEO Barry DuVal.
"Our goal is to ensure the Commonwealth is the top place in the world in which to start and grow a
business."
A highlight of the awards banquet was the announcement of the five Virginia Vanguard Winners—
one for the highest overall growth, and the other four for highest growth in the categories of
Retail/Wholesale, Service, Technology and Manufacturing. The 2014 Virginia Vanguard Winners
are:
– Highest Overall Growth: Millennium Corporation, Arlington
–  Retail/Wholesale: Morooka USA, Ashland
–  Service: PD Systems, Inc., Alexandria
– Technology: TTC, Inc., Arlington
– Manufacturing: First Line Technology, Chantilly
To be eligible, a company must be privately held with headquarters in Virginia, show sales between
$200,000 and $100 million, and demonstrate positive revenue growth and positive net income in its
most recent fiscal year over the previous year. Companies are judged on four-year sales revenue
history. The professional service firm Dixon Hughes Goodman verifies all award entries.
Virginia Chamber of Commerce 2014 Virginia Fantastic 50 Winners:
1 Millennium Corp., Arlington (Virginia Vanguard – Highest Overall Growth)
2 PD Systems Inc., Alexandria (Virginia Vanguard – Service)
3 TTC Inc., Arlington (Virginia Vanguard – Technology)
4 MindPoint Group, Springfield
5 Veteran Corps of America, Fairfax
6 Fluet Huber + Hoang, Woodbridge
7 Eagle Ray Inc., Chantilly
8 C2 Solutions Group Inc., Reston
9 WillowTree Apps® Inc., Charlottesville
10 TeraThink Corp., Reston
11 Three Wire Systems LLC, Falls Church
12 Zantech IT Services Inc., Tysons Corner
13 Kore Federal, Falls Church
14 Morooka USA, Ashland (Virginia Vanguard – Retail/Wholesale)
15 Technatomy Corp., Fairfax
16 Arcogent Inc., Ashburn
17 Reed Integration Inc., Suffolk
18 First Line Technology, Chantilly (Virginia Vanguard – Manufacturing)
19 Advanced Technology Systems Co. (ATSC), McLean
20 Markon Solutions, Falls Church
21 The Frontier Project, Richmond
22 Bloomaker, Waynesboro
23 Integrity Management Consulting Inc., McLean
24 AMATEA LLC, Leesburg
25 SimVentions Inc., Fredericksburg
26 Buchanan & Edwards, Arlington
27 Lunarline Inc., Arlington
28 Dante, Arlington
29 Valkyrie Enterprises LLC, Virginia Beach
30 Phacil Inc., Arlington
31 Vorsight LLC, Arlington
32 E3 Federal Solutions, Arlington
33 Grow, Norfolk
34 Veris Group LLC, Vienna
35 U.S. Information Technologies Corp., Chantilly
36 MRT Manufacturing Inc., Forest
37 Applied Predictive Technologies Inc., Arlington
38 Prevailance, Virginia Beach
39 Data Networks Corp., Reston
40 CORTEK Inc., Fredericksburg
41 infoLock Technologies, Arlington
42 Marstel Day, Fredericksburg
43 SteelMaster Buildings, Virginia Beach
44 JES Foundation Repair, Virginia Beach
45 AutoUpLinkUSA Mid-Atlantic, Ashburn
46 Search Technologies, Herndon
47 Cadence Inc., Staunton
48 Sevatec Inc., Fairfax
49 Bay Diesel & Generator, Chesapeake
50 APG Technologies LLC, Sterling