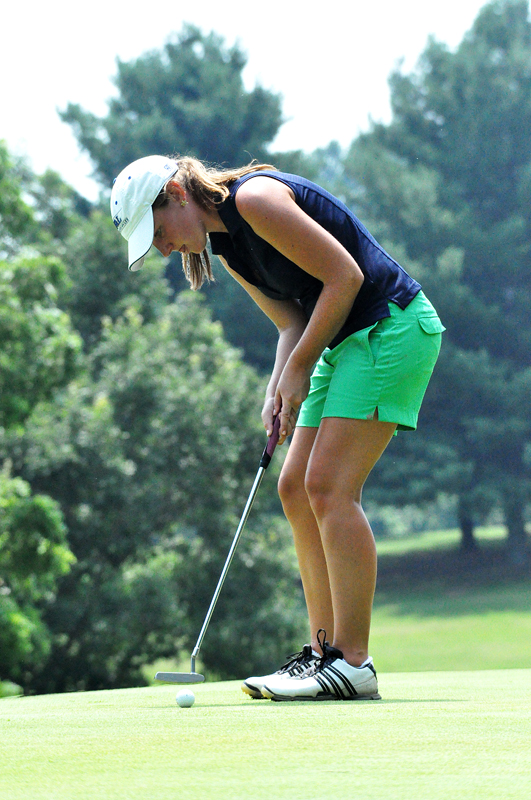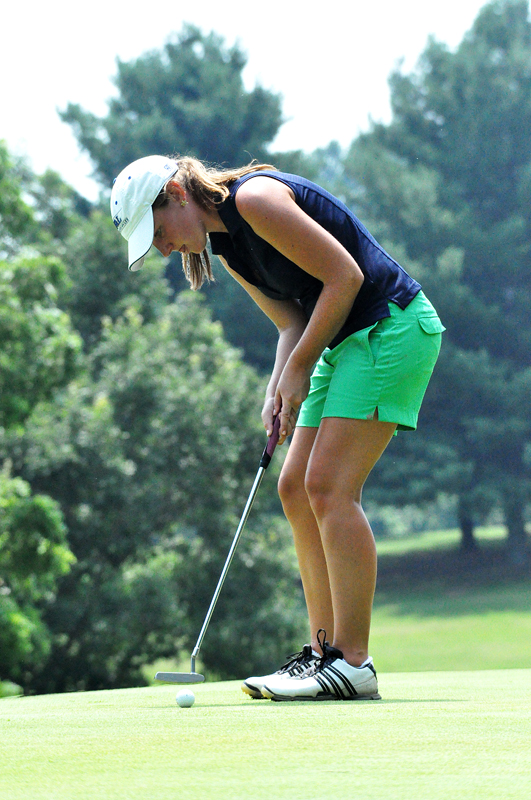 Sara Moir had been on cruise control for two rounds. Her opening scores of 69 at Hanging Rock and 72 at Blue Hills had her sitting pretty with a nine-shot lead in the Roanoke Valley Women's Golf Association City-County championship heading into the final round at Botetourt Golf & Swim Club.
Although there were a few nerves in Moir's final-round front-nine 46 at Botetourt, the lead held up well and she played the back nine in 39 to capture what she readily called her biggest win in her golfing career.
"I'd never been in the lead going to the last day," Moir said in the Botetourt clubhouse after her round. "Going in, I was thinking a little more about the tournament and wanting to play well, and I think that's what contributed to my nerves. It really didn't work out on the first nine."
Moir was 10-over-par after eight holes, but righted the ship in a hurry. Runner-up Jessee Hart could never get closer than the final six-shot differential.
"You're never too comfortable," Moir, a rising sophomore on the Washington & Lee golf team, and former Hidden Valley High School golfer, pointed out on keeping the cushion down the stretch.
Moir definitely had the edge with the gallery. Her mom, Jody, rode the course in a separate cart, keeping track of the action. But, when Sara hit her second shot to the middle of the green on the par-4 18th, her biggest fans were watching from the patio high above the final hole.
Grandparents Charlie and Betsy Moir, who gave Sara her first golf lesson as a present on her 14th birthday, watched the clinching 2-putt for par. Pretty special moment for grandma Betsy, an accomplished Roanoke golfer herself in her heyday.
Another Moir, Sara's dad Page, had to keep track from afar. The Roanoke College head basketball coach was conducting a summer camp at the Bast Center and didn't get to see Sara's win on his own 53rd birthday.
"This is for him. Happy birthday to my dad," Sara said with a big smile. "Now, I'm going to have him wear a hat that says 'W&L golf'. It has to say 'golf' on it," referring to the big ODAC rivalry between Roanoke and the Lexington school.
For Hart, a recent Cave Spring grad who is heading to play golf at Carson-Newman this fall, it was simply a matter of needing to make up too much ground.
"I hit it well today," Hart noted of her impressive 77. "I try not to keep up with anyone's scores. This was my best finish ever in a tournament. This will definitely boost my confidence. Being close to the lead can get in your head….you'd like to get used to it."
Becky Bondurant, playing with Hart and Moir in the final threesome, tied for third at 235 with Sara Cole, who posted the day's low round of 76. In addition to Hart and Cole, only three other golfers managed to match 80 or below in the excessive heat at Botetourt. Carol Brenner fired a final-round 78, good for fifth place 236, while Debbie Young (243) and Wanda Flora (250) came home with final-round 80s.
Hanging Rock captured both the McCorkindale Trophy (team championship) and Evelyn Anderton Trophy (top three players with 18-plus handicaps).
By Bill Turner