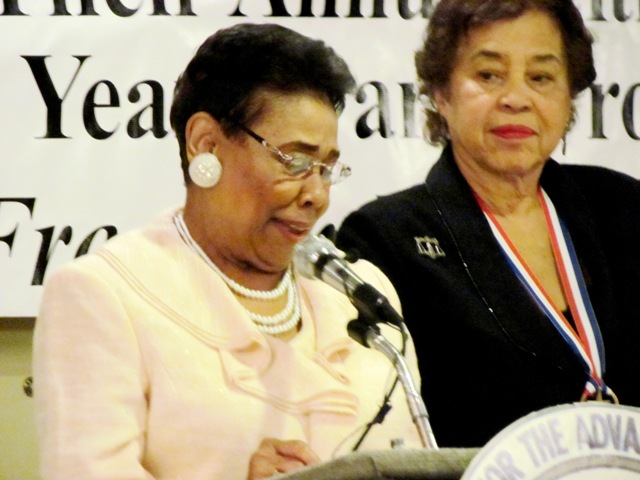 Over 200 people filled the Holiday Inn at Tanglewood Friday night to honor area citizens who have contributed more than what was expected of them by helping others. "Believe-Achieve-Succeed," was the theme of this year's program.
Guest Speaker Judge Laura Blackburne, a retired New York State Supreme Court Justice said the "Believing is not as easily said than done." Believing and dreaming of becoming a doctor or a lawyer is one thing but to "Achieve" the dream takes a lot of work.
"If you can conceive it and believe it you can achieve it," said Judge Blackburne. "Unless you put your whole self into your dreams you won't 'Succeed'."
Judge Blackburne spoke specifically to the young people in the room telling them that succeeding is not the end of the trail but the beginning – just like a baby learning to walk – "it takes courage and falling on your behind a lot." Once you can walk on your own it's time to pay it forward and help others said Blackburne.
Mayor David Bowers, a subscribing life member of the Roanoke NAACP presented Judge Blackburne with a key to the city. Kianna Wade, daughter of Councilwoman Anita Price was the MC and awards were presented by President Brenda Hale
The Lifetime Achievement Award went to retired educator Doris Ennis has had a 50-year career in the Roanoke City School System. In 1961 she started teaching English at Booker T. Washington Junior High School and became Principal of William Ruffner Middle School before retiring in 1993. Ennis later returned and held multiple positions including Principal at Breckinridge Middle School, Principal at Noel C. Taylor Learning Academy, Acting Superintendent and temporarily serving as Principal of William Fleming High School.
Awarded in the Arts category was Barbara Hubbard Clayborne a 58-year church pianist and musician serving on the music staff at Pilgrim Baptist Church. The Villages of Africa, purchasers of the Binaba Shop was the recipient in the business category.
Carla Poindexter of Advance Auto Parts an HR Manager in the Support Center was the recipient of the Corporate Award. Reverend Thomas A. Woods, Sr. was recognized for his 37 years of pastoral leadership as founder of Bethlehem Bible College and Seminary in the education category.
Receiving the Education Youth Award, Ollie Bowman Howie was voted "best all-around student." Howie is Harvard College bound and recently was selected as a Ron Brown Scholar.
Cabell Brand was the recipient of the Humanitarian Award. Brand is founder of Total Action against Poverty (TAP) and Chairman of The Cabell Brand Center for Global Poverty and Resource Sustainability Studies.
In the Media category the award went to Joy Sutton for her talk show, "The Hour of Joy with Joy Sutton." In the Medicine category New Horizon's Health Care's Executive Director Eileen Lepro accepted the award. She serves as a volunteer with the Susan G. Komen for the Cure and leads the annual Roanoke Mission of Mercy free dental clinic.
The Rev. R. R. Wilkinson Memorial Award for Social Justice went to Keith Wheaton and Manuel Dotson. The President's Award went to WTOY's Lee Walker and Carter "G."
 By Valerie Garner